We love inventing new ways when it comes to cleaning. Everybody has their secret recipes for the cleanest kitchen. If you ask me about my secret recipe, it is probably using toothpaste to clean my white outdoor shoes. I can also use the same toothpaste in my bathtub for the places the usual brushes can't reach. However, I can't say that I am an expert in cleaning because it takes too much time and I tend to do things in a loose way. While I was listening to the gossips between my mom's friends, I heard that some of them use an oven cleaner for their kitchen countertops. But, what is the effect of oven cleaner on kitchen countertops anyway?
For most housewives, the thing they could boast about most is the cleanliness of their house. For this reason, they might carry out different steps for a more clean home without thinking about the consequences. What worried me most was the fact that they have used a powerful product on their kitchen countertop.
What are the Ingredients of an Oven Cleaner?
Have you ever taken a look at your oven since you last cleaned it? If it has been a long time, you can probably see the greasy stains that stuck into your oven. After seeing those stains, you can imagine how powerful an oven cleaner must be to sweep away all those stains. Without giving a specific brand name, it would be hard for us to be more clear about the ingredients of an oven cleaner. For instance, "easy-off" is one of the most popular brand names for oven cleaning. One of their products called "heavy-duty" is as heavy as it sounds.
If you are looking for an oven that is easy to clean and use, check our Oster Roaster Oven review from our article of Best Roaster Oven reviews.
Before going any further, let's take a look at the ingredients of "easy-off" and see the possible threats those ingredients have:
Sodium Hydroxide: This chemical substance provides an oven cleaner to maximize its performance. But it may cause different problems like irritation in the skin, feeling nauseous, or itchy. That is why it is risky to touch with your bare hands. Even if you cover your hands, the vapor caused by sodium hydroxide might be bad for your eyesight.
Diethylene Glycol Monobutyl Ether: This chemical is used to dissolve at least one of the other ingredients to form a solution. But the toxic air ether releases might be harmful to your body.
As you can see, even if you are not using the oven cleaner for the kitchen countertops, you still need to be careful while using it.
How Harmful Can an Oven Cleaner Be for Kitchen Countertops?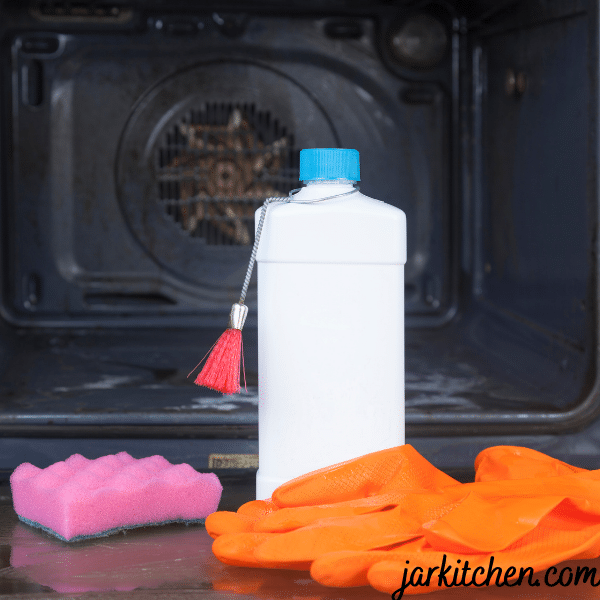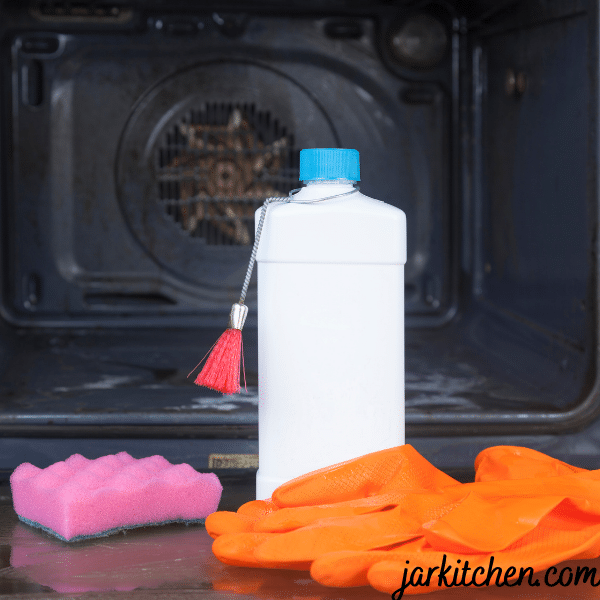 When we think of the powerful cleaning effect of the oven cleaner, we cannot help but wonder what it could do to the kitchen countertops. As there are different kinds of products to make a kitchen countertop, the effect might be different depending on the type of this product. We will be looking at them one by one and compare the effects.
Tile Countertops
Once you apply the oven cleaner on your kitchen countertop, it will start to eat the top glaze. The toxins released by the oven cleaner is the biggest enemy of your tile countertops because it will be effective from the beginning. The more you apply the oven cleaner, the less smooth your tile countertop will get.
Wooden Countertops
Considering that my kitchen's countertop is wooden, this is something I can bet on. Wooden countertops can't even handle being exposed to too much water. There is no way to clean them with an oven cleaner. It will eat away the weak varnish and the top will look sticky and ugly at the end.
Granite Countertops
Thinking that granite is a durable and expensive product, you may think that it is okay to use oven cleaner. Please don't do that to your beautiful countertop. Because the oven cleaner will destroy the top layer, you will be left with a sticky, soft countertop which will become uneven finally.
Marble Countertops
Even if your precious marble countertop is safe with the polyurethane seal, it won't be safe anymore once you start using an oven cleaner on it. You should refrain from using any chemicals while cleaning marble let alone using an oven cleaner. Otherwise, you will have a faded, ugly marble countertop left.
Laminate Countertops
Compared to other countertop materials, laminate is the most durable one by far. But that doesn't necessitate the fact that it will stay the same. Because its shape will be disturbed once you expose it to the oven cleaner, you should refrain from doing so.
Quartz Countertops
Quartz is a famous natural stone thanks to its durability and beauty. If you think of damaging its beautiful surface, how dare you? You should consider what it will cost later once the surface is damaged with chemicals.
As you can see, oven cleaners could damage and leave stains on your kitchen countertop rather than cleaning them. Once you apply this chemical to the kitchen countertop, you may think that there is no way to save it. Here are some tips that could backspace your mistake.
Fixing the Stains Caused by Oven Cleaners on the Kitchen Countertops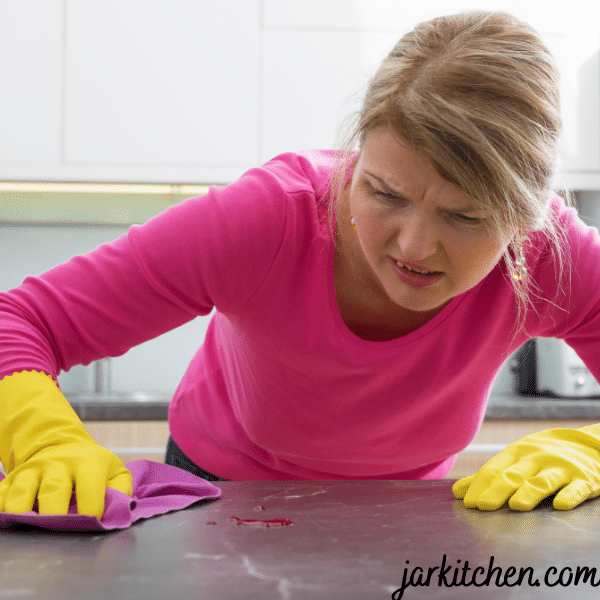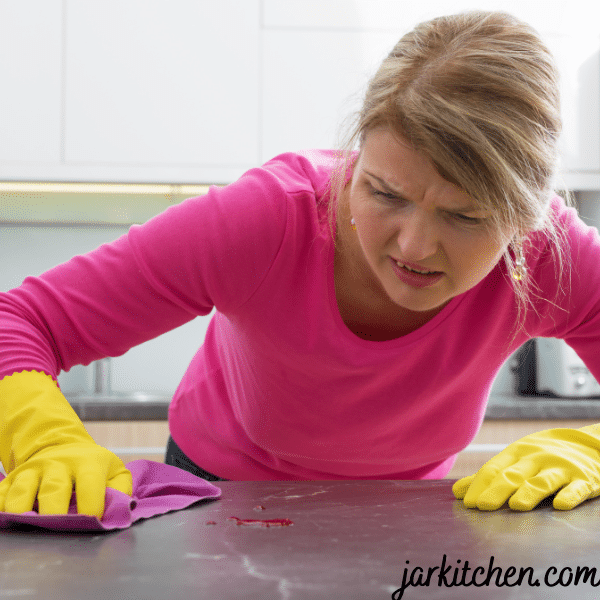 The tips we will give you may not permanently save your countertop if the damage is too much. But, if you try to remove stains after you use the oven cleaner once or twice, these steps might be helpful. And, before you try any of these steps, you should try them on a small part of your countertop to see if it does any damage.
Cleaning with Baking Soda and Water
This might be useful if the countertop has a marble or granite surface. But, you shouldn't rub the surface with baking soda and water. After you gently spread the baking soda, you need to wait for a few days without removing it.
Cleaning with Vinegar
As an acidic product, the vinegar might prevent the destructive effect of sodium hydroxide in oven cleaner. You should clean the stained area with vinegar and wait a little more to see the effects.
Cleaning with Beeswax Polish
Beeswax is a natural healer especially if you have wood or laminate countertops. It will be covering the countertop and forbid any kind of bacteria entry to the surface. Once you apply, you will see the revival of the countertop's shiny surface.
Cleaning with Dishwashing Soap and Baking Soda
This mixture is the best to remove stains from steel kitchen countertops. You shouldn't rub the surface with all your power, but you should move the cloth on the stain. For further information about how Baking Soda is a cleaning agent, be sure to check its Wikipedia page.
You can also check this awesome YouTube video for tips on using on-the-counter materials for kitchen cleaning.
Conclusion
After all, our suggestion will be to use your cleaner wherever it is supposed to be used. Even if when you want to try something new, please check the side effects that chemicals will cause. If you are already the victim of using an oven cleaner on your kitchen countertop, you can revive the counter with the steps we have mentioned before. If you are still looking for a cleaner for the kitchen countertop, be careful not to spread it all over it. First, it will be better to check on a small part of the countertop before causing serious damage.
For further questions and ideas, please do not hesitate to put a comment down below.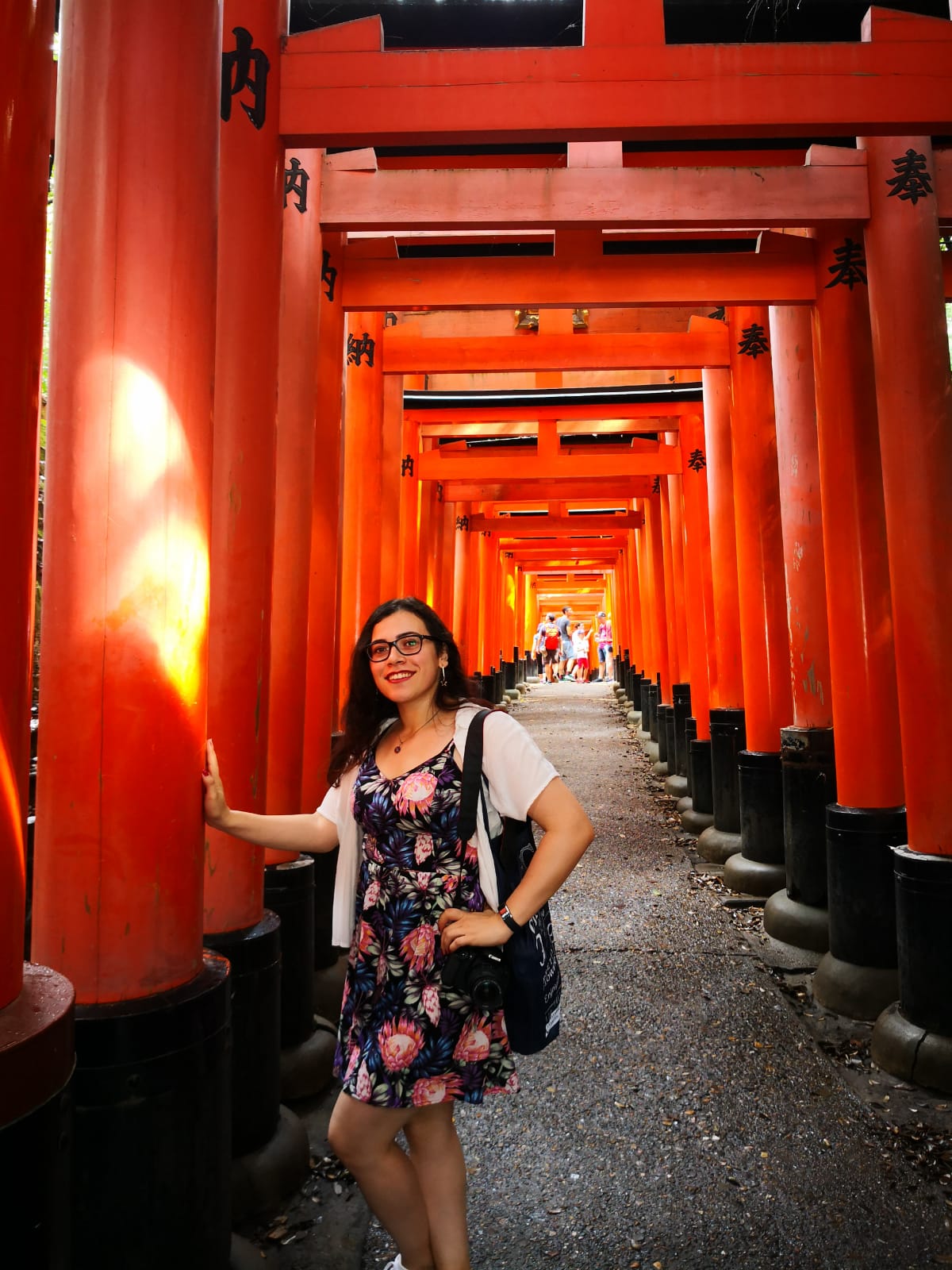 This is Merve from the JarKitchen Team. I am a freelance content specialist, and I like cooking different recipes in my free time. During the pandemic, I have had plenty of time to practice my cooking skills and cooking turned out to be a hobby for me.