Do you want something to drizzle over your pizza and biscuit? Then, you should think of hot honey sauce. This article guides you on making a hot honey sauce in less than a minute. Follow closely. 
It is essential to say that "hot" in "hot honey sauce" does not refer to temperature. Instead, it relates to how spicy it is. The spicy honey sauce is typical in homes and restaurants. People love to drizzle it over their house-made biscuits and pizzas. 
The sauce is sticky and sweet. However, the trick here is that you can make it at home. Let me show you how to do that.
Ways to Enjoy Your Hot Honey Sauce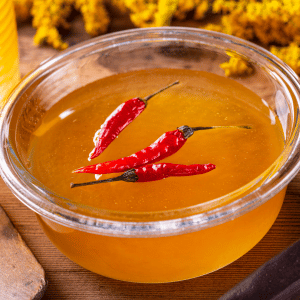 There are several ways to enjoy your spicy and sweet sauce. You would agree that everything goes well with honey. Here are lovely ways to enjoy your hot honey.
Serve with Dutch oven bread and homemade biscuits, or enjoy with vegan cornbread and butter (salted).

Drizzle over whipped feta dip. You can serve with pita triangles. 

Enjoy your hot honey with pizza for a pleasant experience. You can try mushroom pizza with herbs or homemade cheese pizza.

Sprinkle it on grilled cheese like pesto grilled cheese or grilled cheese with tomato

You can dip your French fries or mashed potatoes in it

Serve with corn on the cob 

You can enjoy it with roasted veggies 

Add to bruschetta or crostini like easy bruschetta with mushrooms or cherry & goat cheese crostini. 

Sprinkle enough of it over baked brie. You can serve it with crackers. 

Enjoy with homemade biscuits. 

Use it while dressing up fruits like roasted peaches. 
Fun Facts About Local Honey
Local honey is the most ingredient in a hot honey recipe. It contains pollen that helps the immune system and reduces allergy to pollen. You can easily find them at grocery stores near you. 
How to Make Hot Honey Sauce: The Ingredients
You need not break the bank to make your sweet, spicy honey sauce. With just a couple of ingredients, you are good to go. Unlike most recipes of spicy honey sauce that take hours, all you need is just one minute for this recipe. 
The ingredients are:
¼ cup of honey 

Two teaspoons of spice sauce. The makeup of the spice sauce is; 
One teaspoon of Tabasco 

One teaspoon of Cholula 
Now, let us discuss how to prepare it. 
Instructions on Preparing Hot Honey Sauce
Ensure your hot sauce and honey is in a container. It is better to have them in a microwave-safe container. 

Microwave the honey and hot sauce for 30 seconds and stir. 

You can heat the mixture for some moments using low heat.

You can remove it from the stovetop when they have combined. 

You can serve your honey sauce warm. 
You can make a lot of this and store it in a sealed container. However, please keep it in the refrigerator for about three months. 
Spicy Honey Nutritional Value
Honey has a ton of nutritional benefits. And it's very light. There is only 65 calories in each serving of this recipe. The daily values are:
Total carbohydrate – 6% 

Total fat – 0% 

Sugars – 17.4g 

Calcium – 0% 

Iron – 1% 

Vitamin A – 0% 

Vitamin B12 – 0% 

Vitamin C – 0% 

Vitamin D – 0% 

Potassium – 12.6mg 

Magnesium – 0% 

Saturated Fat 

Dietary Fiber – 0% 

Protein – 0% 
Final Thoughts on Hot Honey Sauce
This content is the perfect guide for you to make the hot honey sauce. You can drizzle them over as many food items as you want. Also, you can make them as an extra for birthday meals. It adds a twist on regular hot sauce, that's for sure!

Hello I am Henry! I am an avid food enthusiast and love putting together recipes from scratch. Some might call me a good cook but I prefer chef, because I create things based on my pallet. Hope you enjoy my writing!