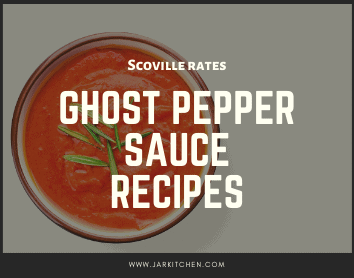 Here we are again with yet another hot article about our favorite condiment! Seriously, we're obsessed with hot sauce and today we cover the delicious and spicy ghost pepper. In this post, we compare Dave's Ghost Pepper Sauce Scoville & Dave's Scorpion Pepper Sauce Scoville and include some recipes from our chef. I need to tell you this first though, I really enjoyed this research. Some of you will probably say "Come on! It is just hot sauce, they're all same." But that can't be further from the truth! Just because the scoville units are roughly the same, doesn't mean the taste is 🙂 So let's dive in first with looking at the ghost pepper sauce scoville units. Just how hot is it?
Dave's Ghost Pepper Sauce and the Scoville Scale
Dave's Ghost Pepper Sauce is distinctive for the sweet fruity flavor that sits over the top of the sauce's blistering intense heat. Use Ghost Pepper Naga Jolokia Hot Sauce one drop at a time.
We rate this sauce INSANELY HOT!
650.000 SHUs on the Scoville scale!
Therefore it is for adventurous chili heads. It's a super hot sauce with a gourmet garlicky flavor & makes a perfect ingredient for many dishes! This hot sauce can add fiery flavor & zest to any dish. It makes a great complement to barbecue, soups, sandwiches, salads, tacos, burgers, burritos, chicken wings & much more. Dave's Ghost Pepper Sauces are low in fat, gluten-free & made with no preservatives, artificial colors, or flavors. Now that you have learned the Ghost Pepper Sauce Scoville, what is exactly is it?
What are the ingredients of ghost pepper sauce?
It contains ghost Pepper/Naga Jolokia, hot pepper extract, salt, vegetable oil, roasted garlic pulp, acetic acid. That's it. So powerful, so intense. Extremely simple and qualified ingredients.
Nutrition Facts 
First of all, there are no known allergens has found.
The nutrition facts (For one serving 1tsp = 5ml):
Total Fat :0.5 g (daily value %1)
Sodium 175 mg ( daily value %7)
Total carbohydrate  0 g (daily value %0)
Protein 0 g
0 Calories
Homemade Ghost Pepper Sauce Recipe
Let's be honest nutrition facts are important but we do not use these kinds of sauces for our daily value, this is not a food supplement. But hold on, the exciting part is coming. We have talked about our ingredients for this sauce. Let's create a recipe for our own homemade version of Ghost Pepper Sauce. Ghost Pepper Sauce Scoville will be different from the Scoville of this homemade recipe.
Ingredients
1

tablespoon

olive oil

6

bhut jolokia peppers/

ghost peppers, chopped

1

small onion

diced

2

medium tomatoes

chopped (any local organic tomatoes works). The fructose level is important because of the balance of heat and sweetness. That is why we better use sweet tomatoes if it is possible.)

2

tablespoons

red wine vinegar

1

teaspoon

salt

½

cup

tomato juice

1/2 Roasted Garlic
Instructions
Preheat your oven to 200° C
Cut your whole garlic into a half (crosswise). Put it on aluminum foil, season it with salt, cracked black pepper, and coriander seeds). Add some olive oil. After that wrap your aluminum foil like a garlic bag. It goes directly to our preheated oven. Let it roast for about 15 to 20 minutes. You definitely will know when it is ready. Your nose will know indeed.

Heat oil in a pan and add onions, make them sweat for a while, and add peppers. Stir them together.

Add tomatoes and stir. Cook for about 10 minutes.

Add vinegar, salt, and tomato juice. Simmer 20 minutes to allow flavors to develop.

Transfer contents to a

food processor

(do not forget our roasted garlic, peel them and transfer to a processor) and process until smooth.

Transfer to a container. Seal and refrigerate until ready to use.
Mission of Dave's Gourmet Hot Sauces
Dave says " We like to push culinary limits and cause some pleasure and pain along the way." For over 20 years, Dave's Gourmet Sauces made clean, organic, and Non-GMO foods that are good for your body and the earth/environment.
All Natural Organic Ingredients
From sunny California to Italy, Dave's Hot Sauces search far and wide to source fresh, wholesome, and premium ingredients.
Delicious Innovative Flavors
This brand is passionate about creating delectable, distinctive, and temptingly tasty food for you to share with your friends & family.
Dave's Scorpion Pepper Sauce and the Scoville Scale
Dave's Scorpion Pepper Sauce contains no pepper extract, just pure Scorpion Peppers. It has a nice, slightly fruity flavor that comes from the Scorpion Peppers.
500.000 Scoville Scale!
It means compared to Dave's Ghost Pepper Sauce, Dave's Scorpion Pepper Sauce has less heat. Still, we need to watch out! In addition to this, I have added some blueberries to my hot sauce. It was amazing. In this way, our sauces will get more balanced and fresh. Now that we have learned what Scorpion Pepper Sauce Scoville is, what is exactly is it?
Ingredients and Nutrition Facts
Now let us have a look at the ingredients and nutrition facts separately, shall we?
Ingredients
Scorpion Peppers
Water
Salt
Acetic Acid
Xanthan Gum (For more information on Xanthan Gum, have a look at our foods that start with X article!).
Nutrition Facts
Amount per serving (Serving size is 1tsp = 5ml)
Total Fat :0 g (daily value %0)
Cholesterol: 0 mg (daily value %0 )
Sodium 140 mg ( daily value %6)
Total carbohydrate  0 g (daily value %0)
Protein 0 g
Vitamin A %0, Vitamin C %10,  Calcium %0,  Iron %0
0 Calories
Homemade Scorpion Pepper Sauce Recipe
We already have taken a look at the Nutrition Facts and ingredients for this sauce. However, you cannot always go to the store and buy some. Sometimes, you have to do it yourself, because homemade is always healthier and you know exactly how the food is prepared! I have prepared a Homemade Scorpion Pepper Sauce Recipe for you!
Ingredients
8

ounces

 Scorpion Pepper,

pepper stems

 removed 

1

large bulb of garlic

top sliced open to expose most of the garlic

1

medium white onion

sliced in half

3

tablespoons

good quality vinegar (d

istilled white, champagne, or apple cider vinegar for a tangier taste)

½

teaspoon

salt

or more to taste

Olive oil (for roasting)

1

cup

of water

or more, as desired

4 -5 ounces blueberries
Instructions
Heat your oven to 400 degrees. Set the Scorpion peppers, garlic, onion, and blueberries on a baking sheet, season them with salt and olive oil. Bake them for about 15-20 minutes, or until the skins slightly char. Keep an eye on these. You don't want them to burn.

Add the peppers, blueberries, and onion to a food processor. Squeeze garlic out of their skins and into the food processor they go.

Add in the vinegar and salt. Process until you get a chunky mixture.

Add in a half cup of water and process again until the sauce starts to smooth out. Check it for thickness. If you'd like a thinner sauce, add in a bit more water a little at a time, processing, until you reach your desired consistency.

Pour into sterilized bottles and enjoy.
Homemade Pasta Recipe (Tastes good with Ghost Pepper Sauce)
Now I am going to do a favor to you my dear reader and will give you a homemade pasta recipe for the best of lasagna, and pasta with sauces. (You can use our JarKitchen Special Pasta recipe in our article on Hard Rock and Roll Sauce!
Before you go and take a look at the ingredients, you can use this amazing ANTREE Pasta Maker to get evenly cut pasta.
Ingredients
400 gr "00" flour
100 gr Semolina flour
12 egg yolk (you can keep the egg whites for pancakes, cakes, etc.)
40 ml extra virgin olive oil
A pinch of salt (it should not be flaky otherwise it will break your dough)
Water (the amount of water is changeable. It depends on what type of pasta we want to make. For example, if we want to make ravioli, our dough should be soft. Therefore we need to add more water into the dough. On the other hand, if we are going to make tagliatelle or pappardelle our dough should be rough. So we need to add less water into our dough.)
Instructions
Combine dry ingredients and make a hole in the flours.
Put 12 egg yolks into the hole.
Drizzle olive oil on top of the eggs and combine everything with a fork. (If you use your hands right away, it will stick to your hand.)
When the dough becomes crumble we need to add water little by little until it becomes more coherent.)
When the dough is ready wrap it with cling film and lets it rest in the refrigerator for 4 to 6 hours.
Remove your dough from the refrigerator and knead your dough with your pasta machine. ( we can also use a rolling pin but since our dough is really rough, it will take time and energy to knead.)
Cut your dough into the desired pasta shape.
Fresh Seafood Pasta Recipe
Time to put that fresh homemade pasta into good use right? This Fresh Seafood Pasta will make you drool if you are a seafood fan. It tastes so amazing you will be shocked. This recipe comes directly from my personal cookbook.
Ingredients
3 

tablespoons

olive oil 

divided use

1/4

 

cup

onion

finely chopped

1

teaspoon

garlic

minced

14 

ounce can

of w

hole tomatoes

,

pureed in a blender or food processor

salt and pepper to taste

2

tablespoons

butter

6

ounces homemade fresh pasta (we can use dry pasta also)

1/4 

pound

shrimp

peeled and deveined, 

1/4 

pound

sea scallops

1/4 

pound

clams

scrubbed

1/4 

pound

mussels

scrubbed and de-bearded

2

tablespoons

parsley 

chopped

Touch of Lime juice and zest
1 teaspoon of Blueberry Scorpion Pepper Sauce or Ghost Pepper Sauce
1/2 cup white wine (optional)
Instructions
While Dave's Ghost Pepper Sauce Scoville Unit is 650.000, Dave's Scorpion Pepper Sauce Scoville Unit is 500.000. They are both really hot. However, Ghost Pepper Sauce has more garlic flavor and sweeter than Scorpion Sauce. Garlic, however hardly affects the Ghost Pepper Sauce Scoville level. On the other hand Scorpion, Pepper Sauce has no pepper extract in it. It means this sauce is pure. We tried to share alternative versions and small touches. I hope you find this article helpful. If you have any questions or comments, feel free to let us know in the comments. Enjoy your JarKitchen day! 🙂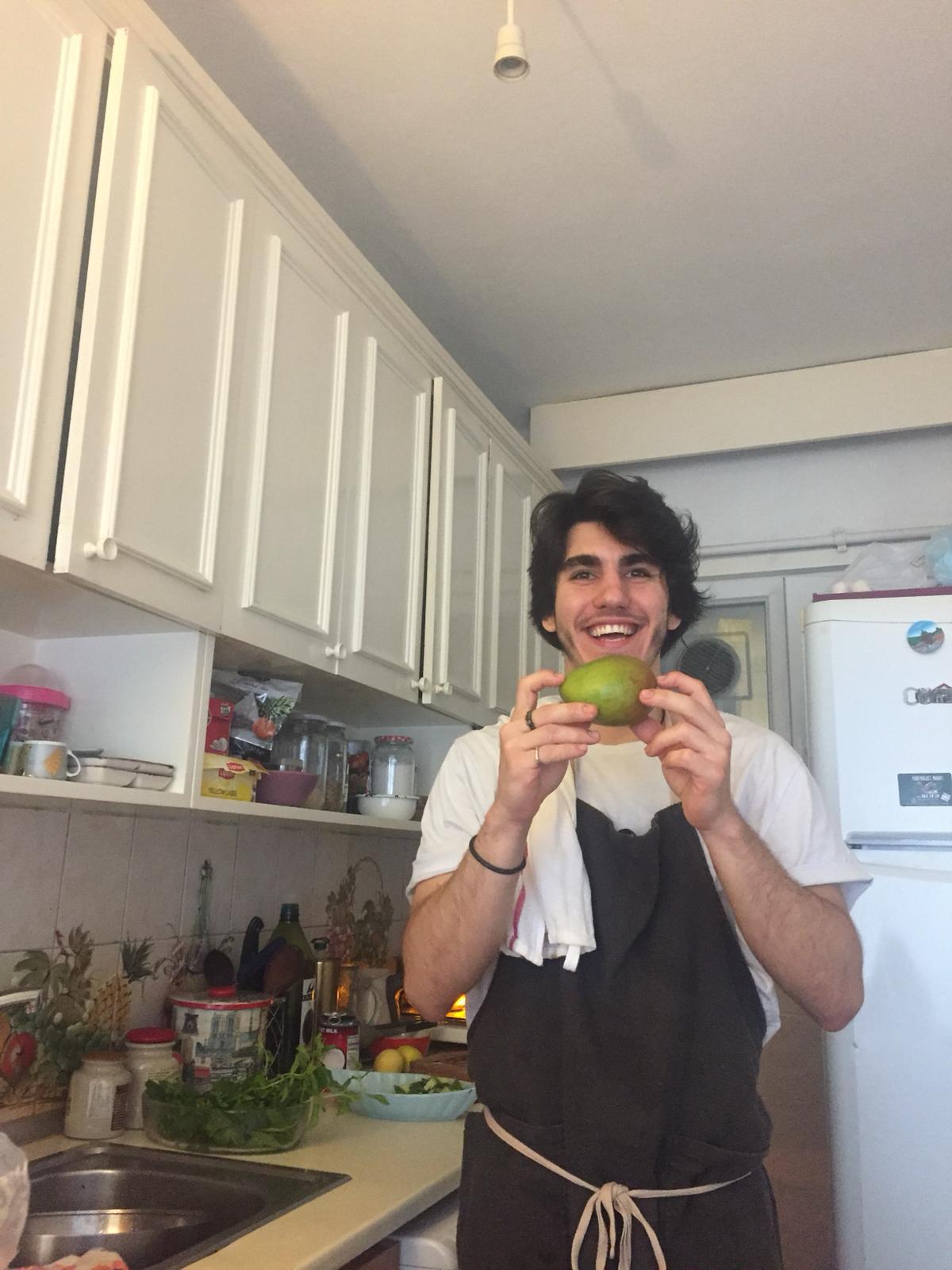 This is Pamir from the JarKitchen team. I am a chef who really likes cooking, learning, sharing. I believe cooking and eating is not just about flavor,flavor-matching, or need. It has a deeper meaning for me. At the end of the day, we are what we eat. Let's learn, cook, share, and evolve together.