I will be honest, when I saw this subject my first reaction was "what the hell is CHICKEN WING BOUQUET! " Who does that and who wants to eat chicken wings on a bouquet? Then I have remembered something. It was not like an idea though, more like an image. I told my editor that I will cook my wings Asian Street Food style, I did not know why at first. Then I have remembered.
I saw it on Netflix Documentary called "Street Food Asia; Episode Singapore". I love that documentary series.  Then I was enlightened. Singapore Style Chicken wings! And my following reaction was "Oh yeaaaah, this is a cool research topic!" I am so excited because we are going to talk about history, multiculturalism, cheap and amazing food, and of course I will share a homemade beautifully glazed, skewered chicken wings recipe. I am going to plate it but you can definitely make a Bouquet of Chicken Wings.
History of Singapore Hawker Centres (Food Centres)
Dating as far back as the 1800s, hawker culture in Singapore originated from the early migrant population selling quick, affordable meals on street pavements, in town squares and parks – wherever they could set up their makeshift stalls. Their main advertisement? The lip-smacking aromas of delicacies being cooked served and eaten on the spot by hungry passers-by. Fast-forward a couple of centuries and the Singapore government has sought to bring hawkers under one roof.
Safe & Clean & Cheap & Mouthwatering Food
Hawker centers have now become a safe, clean, open kitchen where customers can watch exactly how their food is being prepared and served. And the best part? Right next door and in every direction you look there's a dizzying array of dishes to choose from. This has got to be one of the most diverse and extensive menus on the planet.
Consider the plethora of hot drink options: there is an astounding number of permutations of tea and coffee. Say goodbye to milk and two sugars. And hello to rich condensed milk, masala spices, and ginger, left to steep, served on shaved ice, or 'pulled' from a great height. Each morning, seniors gather to read their papers whilst sipping from their saucers – an old and ingenious way to cool down their piping hot drink. Young or old, it's clear that hawker centers have shaped the nation's daily routine.
World's Cheapest Michelin-Starred Meal
There's no doubt the food is exceptional, but the significance of hawker cuisine reaches much further than a quick, cheap eat!
Support Singapore's bid to "chope" a deserved place on UNESCO's Representative List of the Intangible Cultural Heritage of Humanity today. But external factors can be tough for all of us. While I was researching ı have found myself on The Indıan Express website. It was saying that the hawker culture has been beset by problems, including the fact that fewer and fewer young Singaporeans are keen to work the long, hard hours that a street hawking stall requires. Additionally, the rising costs of ingredients have made it increasingly unsustainable to sell high-quality food that is cheap.
Covid-19 Effects
Which has left much of the global food and hospitality industry in tatters, also hit Singapore's street vendors hard. While community initiatives, such as Hawker Heroes SG, which offers a completely free delivery service to the worst-hit hawkers, have come up, the Unesco announcement is expected to provide a much-required boost to Singapore's unique street hawker culture.
I will not jump into politics. I just want to add that for a long time I really am thinking and reading about sustainability, agricultural policies, food, and social status relations. In addition to this; as I said external factors can be tough but internal factors are as important as external factors. So I hope that we can protect our planet, our cultures as an individual and as a member of the society. We just need to be proactive, caring for each other, and fulfilled with love. I am not going to attack selfish governments…  Anyway, let's jump into the homemade chicken wing bouquet.
Homemade Chicken Wing Bouquet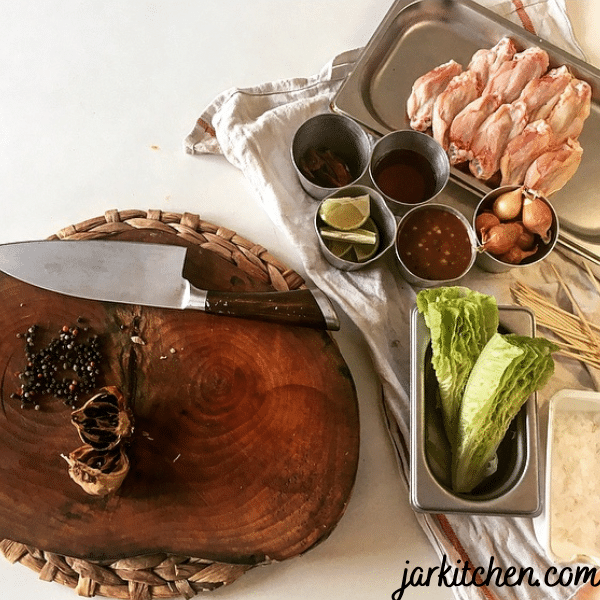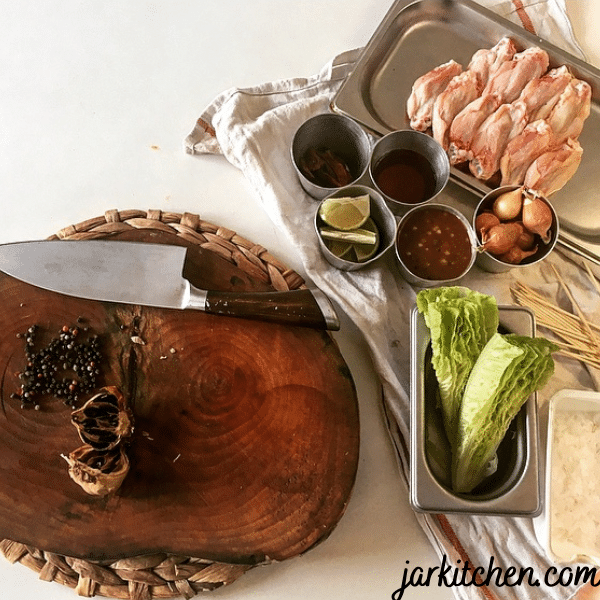 First of all, there is an important question. How can we add a smokey flavor to our dish if we do not have Bbq, charcoal, smoking gun, or any other ways of smoking? We just need one simple thing!
Stainless Steel Flat Strainer
I admit this cooking technique can be messy. But I have some tips for that. We always cover our stoves with aluminum foil in our restaurants. At the end of the service, we have to do our deep kitchen cleaning but after the rush and messy nights, we naturally get tired. But with this simple, practical move we just need to remove the mess with aluminum foil and wipe our stoves. That is it. It is a really practical way. I already took photos of marinating and cooking process. I will try to share it with you so you can follow it easily and this will help you make your chicken wing bouquet.
Since Singapore is a multicultural society I have used ingredients from India, Japan, China etc.
Ingredients
Marination
25g Shallot

5 cloves Chopped Garlic

10g Ginger

3 tablespoon Sesame Oil

1/2 tablespoon Caramelised Dark Soy Sauce

2 tablespoons Light Soy Sauce

1 tablespoon Oyster Sauce

1 tablespoon Fish Sauce

1/2 tablespoon Honey

1 tablespoon Sugar-Free Peanutbutter

1/2 teaspoon Chili Flakes

1/2 teaspoon Ground Black/White Pepper

1 Lime Juice and zest

Salt (I won't give you an amount of salt because we are using soy sauce here. Saltiness changes brand to brand, therefore put salt at the end of your marination preparation)
Others
10 pcs Chicken Wings
Sides
Satsuma wedges

Baby Gem Lettuce / Caramelized or Raw
Note: Satsuma mandarin may have originated in China. Some say Japan…So if you do not have Satsuma, you can definitely use mandarin, lemon, orange etc.
Instructions
Day 1
1.

Blend all the ingredients in the blender into a paste

.
2. In a large mixing bowl, add all the blended marination and our pat-dry wings. (You should check our best blender articles, if you want the best quiet blender or if you are not planning to get it

, you can just go with your knife and prepare your imagination.)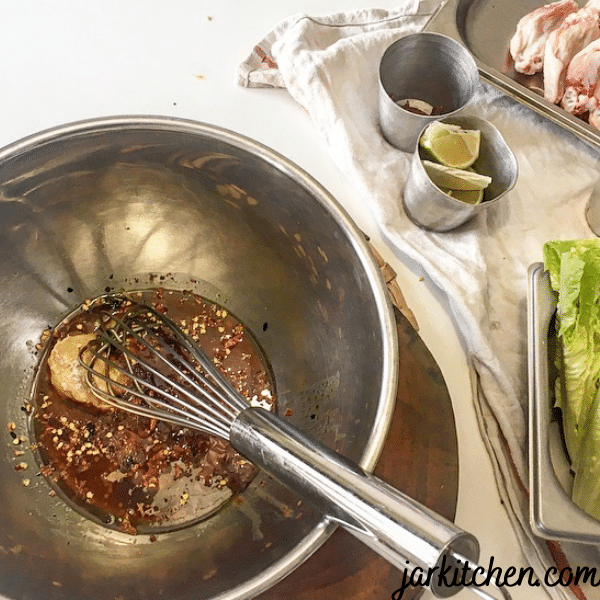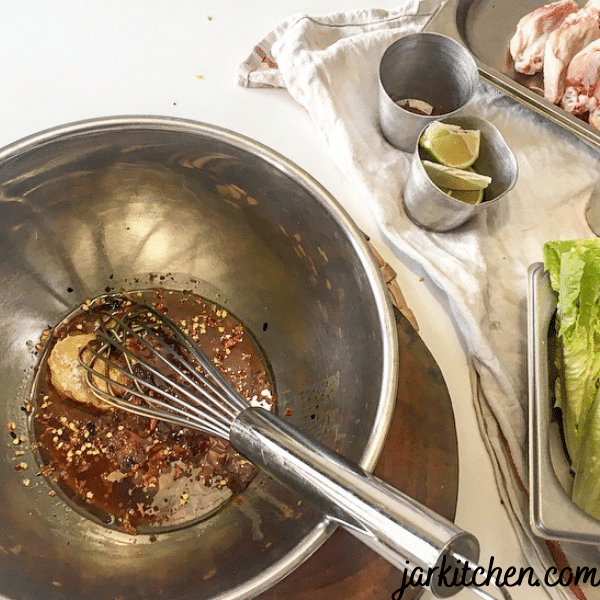 3.

Mix well and cover with cling wrap

.
4.

Marinate overnight, in the fridge.
Note: Since there are salt and citrus (acidity) in our marination it will be chemically cooked a bit. Because of that marinating time is important. Besides that, if you keep our wings in marination for 6 hours instead of keeping them overnight, our marination will be infused into the chicken weaker.
You can use these skewers to get your chicken wings in order.
Day 2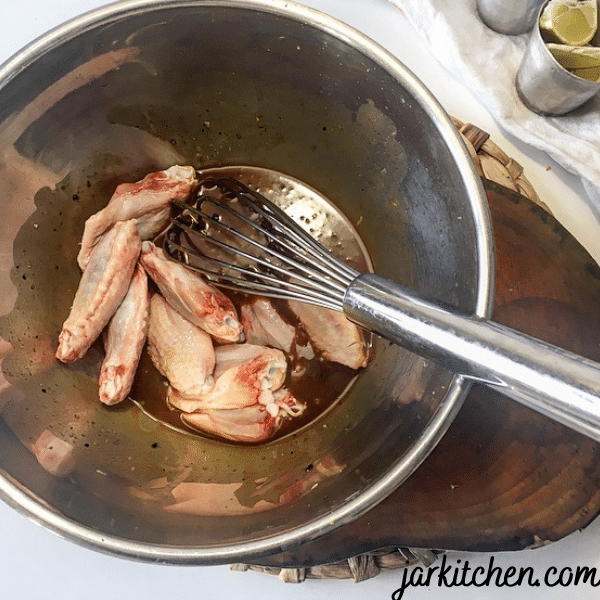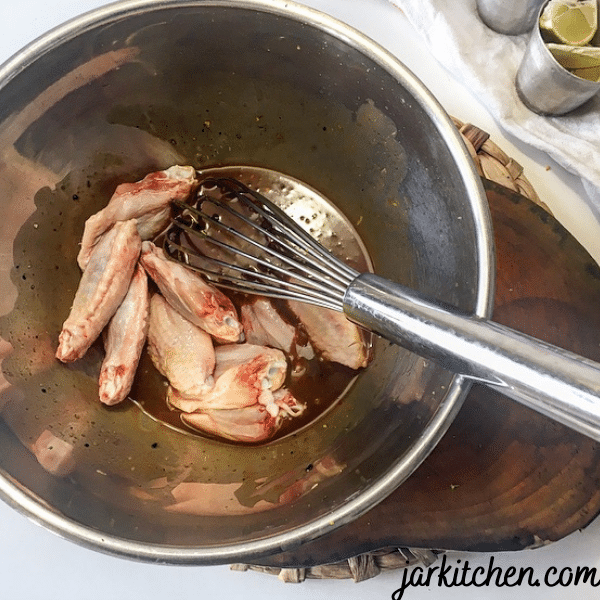 Remove our wings from marination

Skewer the wings and put them on a grilling tray or cooling rack,

let it rest for a while
Transfer remaining marination into a saucepan and reduce it

. This will enhance the flavor and our marination will be a thick sauce.

Brush our wings with reduced marination

Cook them on a stainless steel strainer.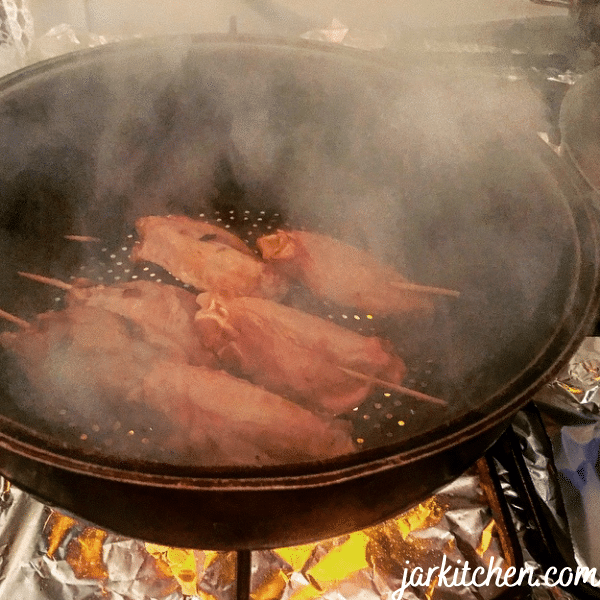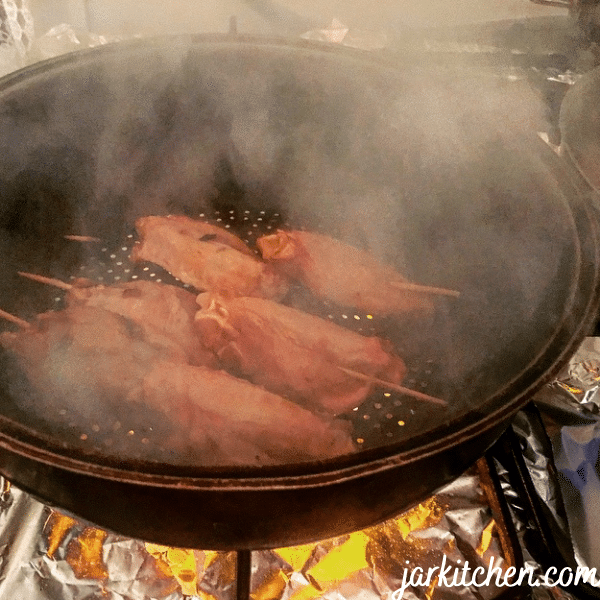 Note: You can definitely cook them on a pan, grill, or even cook them in the oven. I just want smokey BBQ flavor. That is why I want to share with you. Since the article is about Bouquet of Chicken Wings, there is no reason for going further and surprising our guests with simple and tricky cooking techniques.
First of all, if you have a thermometer please check our cooked wings' internal temperature. It has to be 165F. If you do not have a thermometer, cut one of them and check it. If they are undercooked, finish your cooking in the oven or on a pan. And do yourself a favor! Please do not overcook the wings. I believe we all want them juicy and smokey 🙂 The chicken wing bouquet should be juicy and smokey!
Plating
Put the skewered chicken wings on the plate.

(Or make a bouquet with your cooked chicken wings.)
Put your reduced marination/sauce on the plate.
Cut your Baby Gem Lettuce or any other fresh crispy lettuce in a half. If you are going to caramelize them, drizzle some sesame oil and a pinch of salt.

Then cook them on an open fire(on your stainless steel strainer) or caramelize your lettuce on a heated pan.

Put it on the plate with Satsuma/any other citrus wedges

Sprinkle Sesame Seeds on top of the Chicken Wings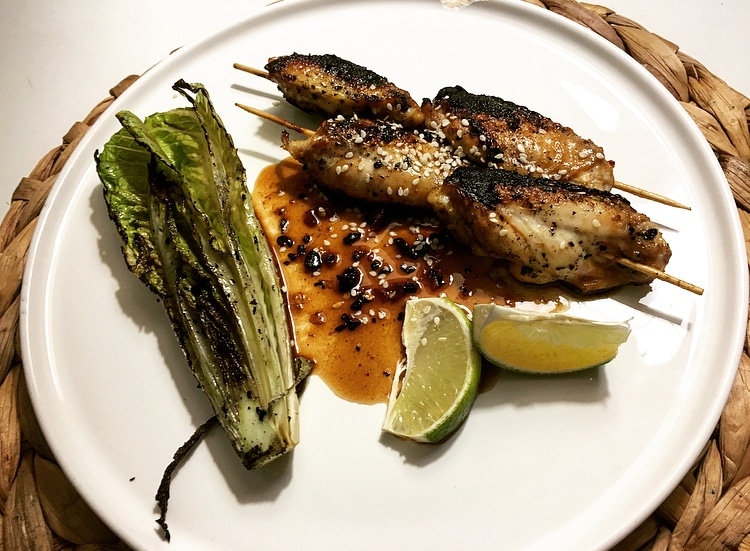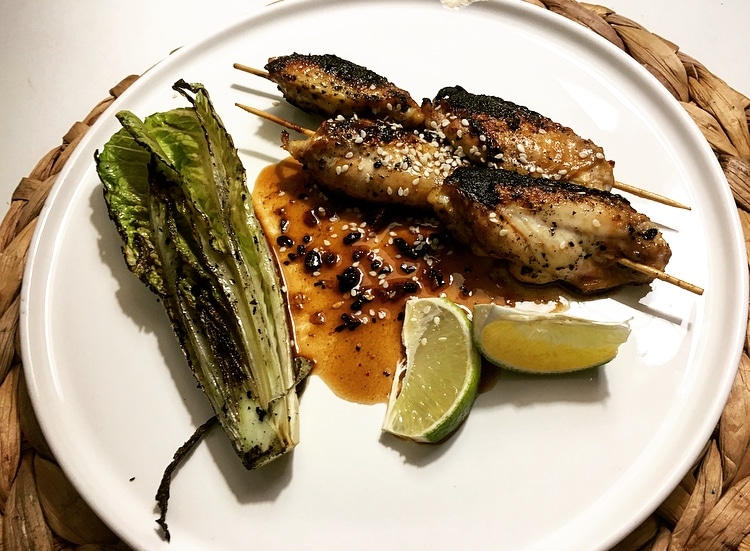 Conclusion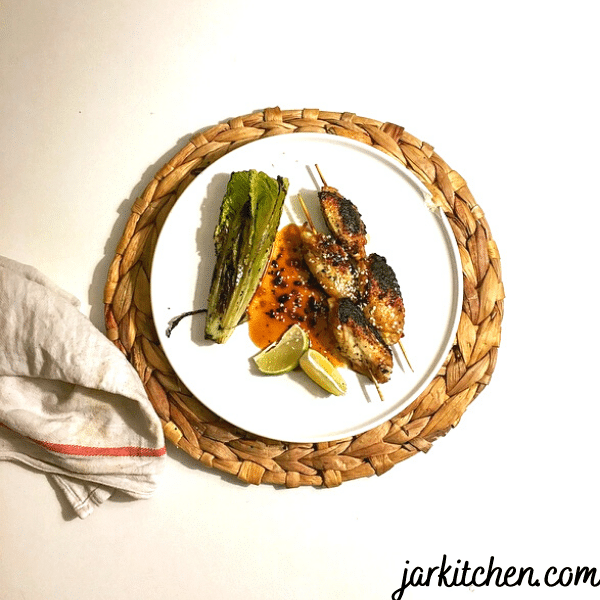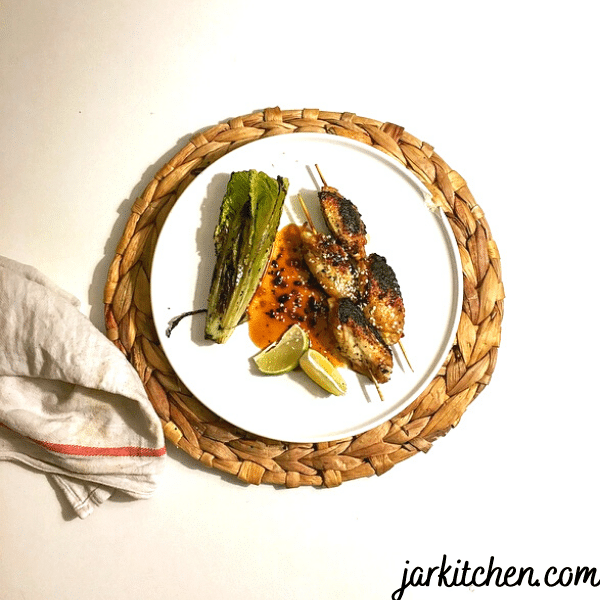 I need to add that this kind of cooking techniques are not totally healthy because of the smoke, there is no barrier between the open fire and the products. But since this is street food I think it is fine to eat for pleasure sometimes. However, if you prefer to eat more healthily you can cook your Chicken Wing Bouquet on a pan or in the oven. I wanted to show you all the process. I hope this will help you. This is the end of another JarKitchen day, be creative. Surprise your guests. Cook some Wings!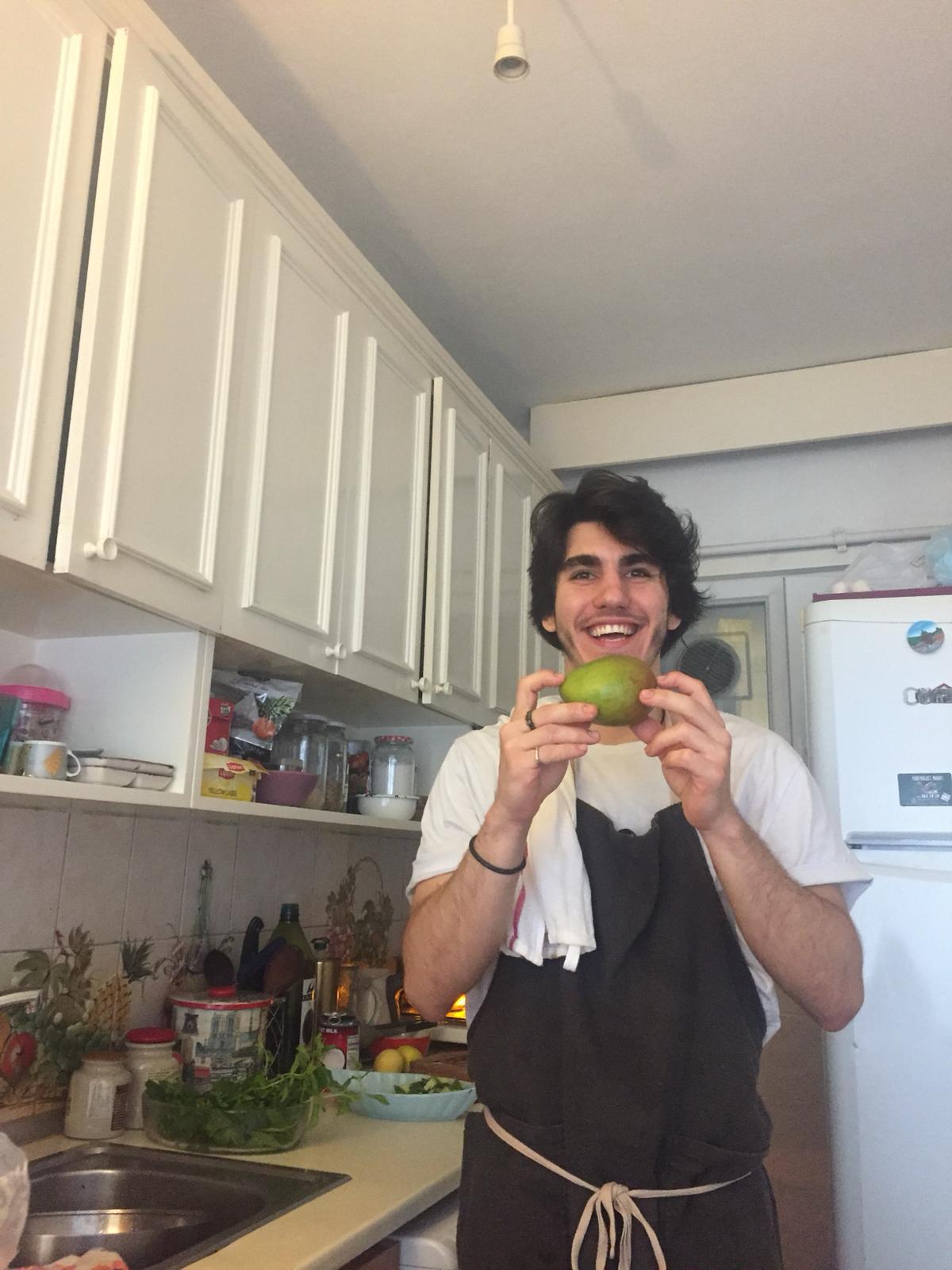 This is Pamir from the JarKitchen team. I am a chef who really likes cooking, learning, sharing. I believe cooking and eating is not just about flavor,flavor-matching, or need. It has a deeper meaning for me. At the end of the day, we are what we eat. Let's learn, cook, share, and evolve together.