Thinking about sprucing up your kitchen appliances this year? Do you want to step up your cooking game? Or maybe you just want to get started cooking in the first place? Well, food processors may be the perfect way to do that. Choosing to buy a food processor can be a great first step to updating your kitchen appliances. It also gives you the ability to make more delicious meals. But when it comes to choosing the right appliances for your kitchen, it can get a bit complicated. You want to know the options you have, the prices, the specs, and all of the nitty-gritty details. If you're ready to make new and improved recipes, it's time to get a new food processor! Dive in below to see which top rated food processor is best for you.
1. Ninja BL770 Mega Kitchen System: #1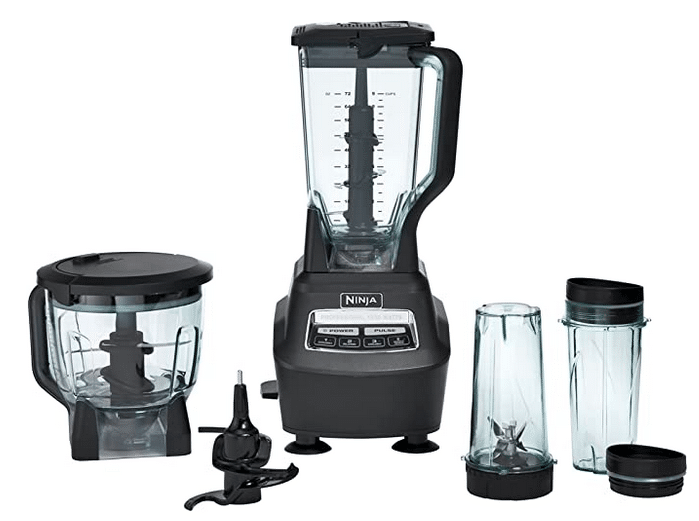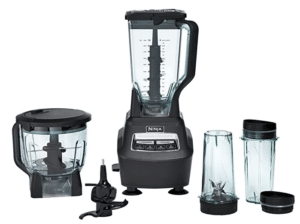 If you're looking for more than just a simple food processor, the Ninja BL700 Mega Kitchen System is THE top rated food processor, but so much more at the same time. This one takes the cake in 2022 as the most highly rated food processor on Amazon.
Not only will you get a food processor, but you will also be getting a blender, a few blades, a dough mixer, and single-serve smoothie cups for blending and drinking. With the dough mixer, you can make pizza dough, cookie dough, and so much more! Your kitchen will be one that everyone wants to come to in order to make some fun recipes!
So what are some of the more nitty-gritty details of the system?
The blender is a 72-ounce pitcher and the food processor holds 8 cups. The smoothie cups come with their own lids and are perfect for single-serve options if you don't want to get an entire blender dirty. Say goodbye to having to wash an entire appliance for one small smoothie!
All of the parts (except for the base) are dishwasher safe so it makes cleanup extremely easy and saves a ton of time!
The Ninja BL770 Mega Kitchen System is a great option for those looking for a medium price point. They average around $150 for the set.
2. Ninja BN601 Professional Plus Food Processor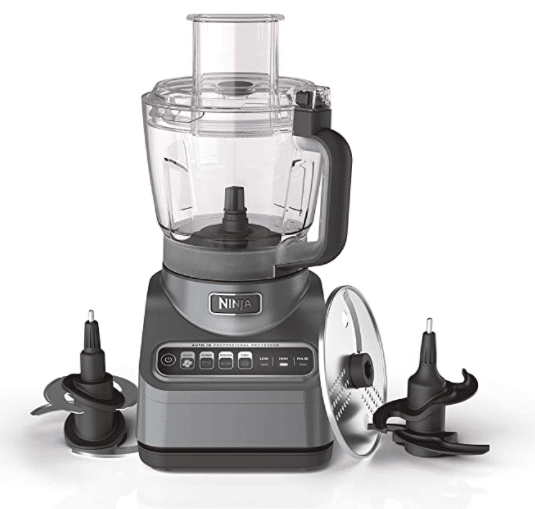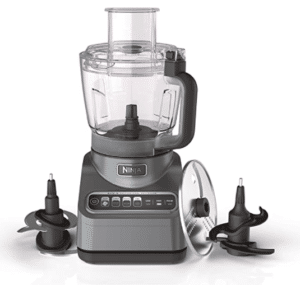 Are you looking for another top rated food processor that does a whole lot more than food processing? Well, you've found the one.
If you don't feel like chopping onions yourself, the Ninja BN601 Professional Plus Food Processor will do it for you. Say goodbye to crying! And, of course, you can chop any other veggies you need to chop!
If you feel like making a pizza, you can create the pizza dough in this food processor. You can even shred the cheese to go on the pizza in this processor.
And while you're waiting for the pizza to cook, you can get the cookie dough for your scrumptious chocolate chip cookies ready for after dinner!
With over 5,000 5 star ratings on Amazon while still being priced under $200, this is a great option for one of the best food processors.
3. Vitamix Ascent 3500 & Food Processor Bundle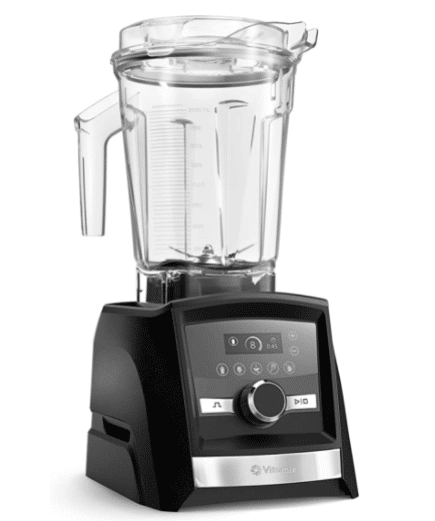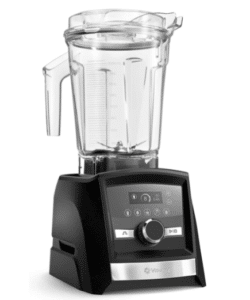 The unfortunate part about the Vitamix is that there is not a separate food processor. There is a separate food processor attachment, but it has to go on the Vitamix Ascent 3500. If you are in need of both a blender and a food processor, this may be a good option for you.
You will want to keep in mind that this bundle is upwards of $700, although you are getting two kitchen appliances in one! And if you already have the Vitamix itself, you can buy the food processor attachment for around $150.
And you don't have to worry about the bulkiness of getting an entirely new food processor as an additional appliance in the home. Instead of taking up even more space, they work together as a smaller attachment but no new clunky base!
With this appliance, you can make everything from salsa to pizza dough and pie crust to nut butters. And it doesn't just end there.
An amazing part of this food processor is that it uses SELF DETECT technology, so if the food processor is not assembled correctly, it will shut itself off. No need to worry about if you've put the lid on right! The food processor knows!
It is dishwasher safe and easy to clean up, too!
4. Cuisinart DFP-14BCNY 14 Cup Food Processor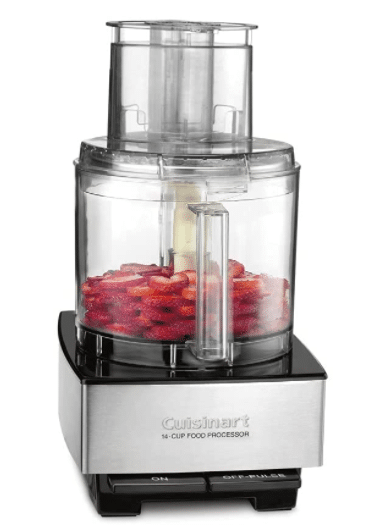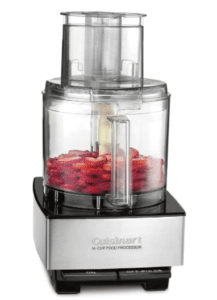 One of the coolest parts about the Cuisinart DFP-14BCNY Custom Food Processor is that it comes in various colors. Whether you want a stainless steel look or a red or a blue one, there are options for you! Having kitchen appliances with color can spruce up your kitchen style.
Just like many of the other food processors have, the Cuisinart DFP-14BCNY has slicing and chopping capabilities. However, this style only offers one size chopping and slicing blade – they are not adjustable.
That doesn't mean that they can't get the job done, though! The food processor can slice strawberries, mince garlic, and mix up dough for your next pizza party!
If this sounds like it would work for you, the price ranges in the $250 range.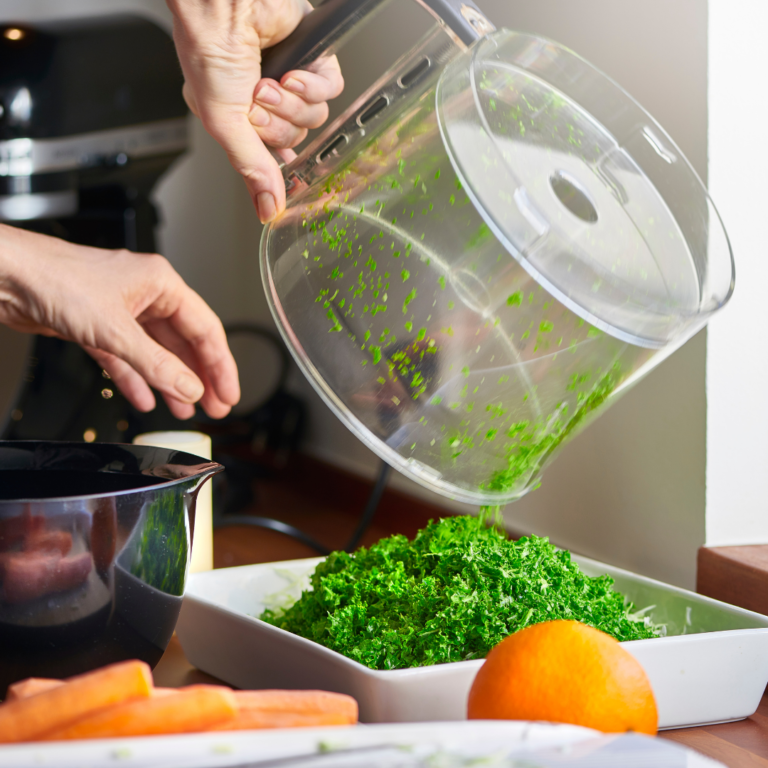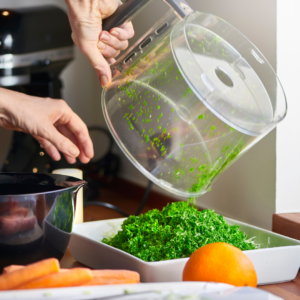 5. Breville BFP800XL Sous Chef 16 Pro Food Processor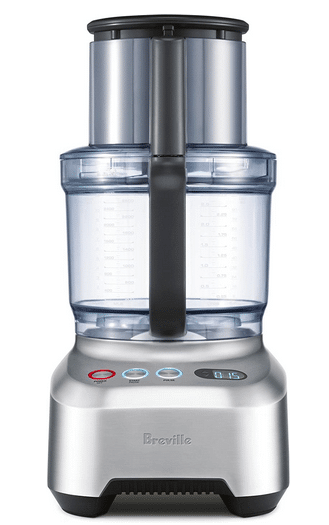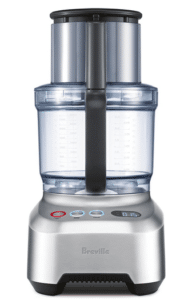 If your budget to buy a top rated food processor is a little more flexible, the Breville BFP800XL is a great option to go with.
This food processor also offers dicing capabilities, but with different size blades to get the correct size dice for the recipe you want. And the best part of this food processor? It can peel, too!
Instead of wasting your time in the kitchen peeling all of the potatoes for dinner, and possibly hurting yourself in the process, the Breville Food Processor can peel up to 7 potatoes at a time!
So what else can you do with this food processor? Since the capacity of the Breville food processor allows you to put 16 cups worth of food in it, you can easily make a ton of servings for entertaining purposes without having to do it in batches. However, if you are only cooking for yourself or a small number of people, the mini bowl is perfect to use so you don't have to wash such a big appliance!
If you're in the market for a higher-priced item, the Breville BFP800XL costs about $599 on Amazon.
6. Hamilton Beach 10-Cup Food Processor & Vegetable Chopper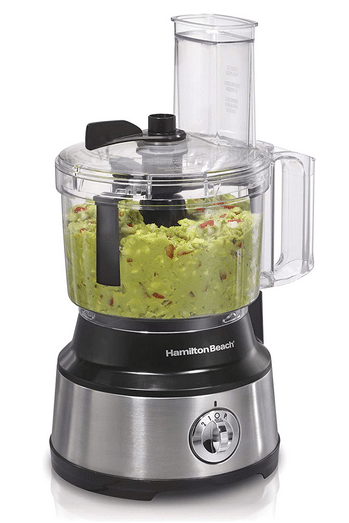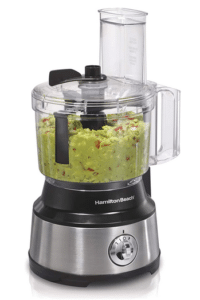 If you're on a budget but know that you need to up your kitchen game with a food processor, the Hamilton Beach Food Processor is a great option to look into. At just $59 on Amazon, it is affordable as a kitchen appliance, but will also get the job done.
Even with the lower price point, this food processor still offers the capability to cut, dice, slice, and even spiral veggies! With the larger chute, you can put an entire zucchini or block of cheese into the food processor. If you choose to make a dressing or salsa, there is a pour spout that you can use to pour directly onto salads or into bowls.
If you want to spend below $50, you can knock down the size of the Hamilton Beach food processor and go for the 8-cup one.
7. MAGICCOS New 7-in-1 Large Digital Food Processors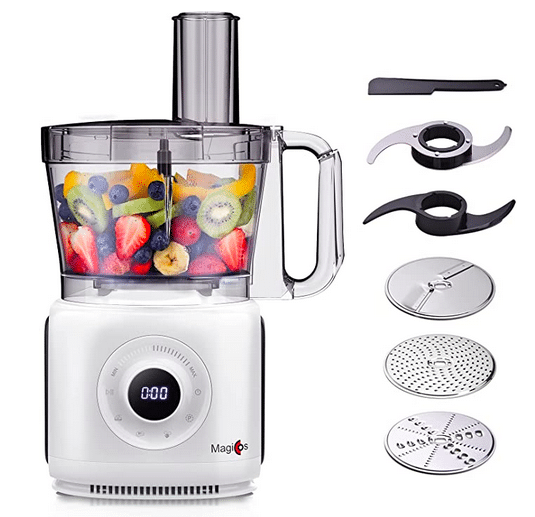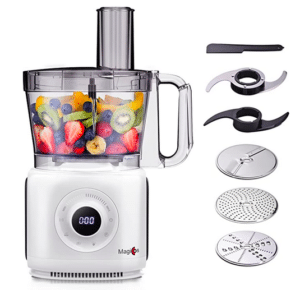 Have you ever thought about how you may not actually have to cut up your own beef with a cutting board and a knife? Well, you don't need to do it yourself! With the MAGICCOS Food Processor, it can do that for you!
There are preset timers for different options like chopping beef, crushing ice, or making a smoothie so that you don't have to worry about keeping watch. MAGICCOS will do it for you so that your time and attention can be spent elsewhere in the kitchen. It can chop beef in as little as 15 seconds and mash potatoes in 10 seconds!
Instead of a traditional low, medium, high speed functioning, the MAGICCOS offers 7 options so that you can make your food the exact way it needs to be – not too choppy and not too mushy. You'll get the perfect outcome!
If you're still not impressed, this food processor comes with a digital display control panel to stay up with the times. The feed chute also doubles as a measuring cup so that you can keep your measurements as precise as possible.
Priced at just $169, this top rated food processor is a great option to get so many options in one.
8. KitchenAid 9 Cup Food Processor – KFP0921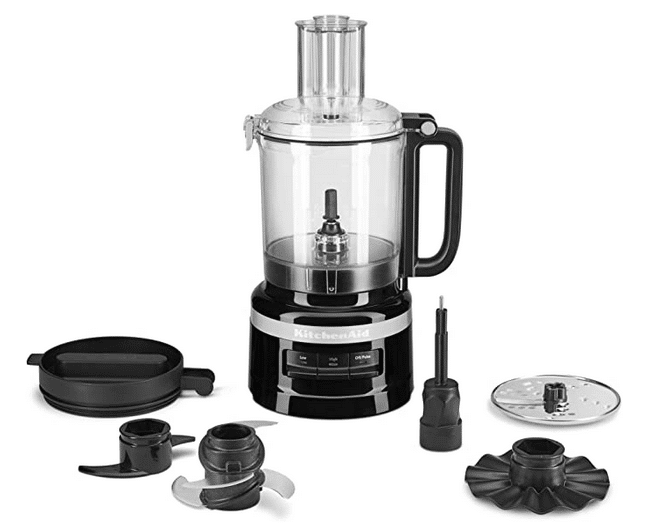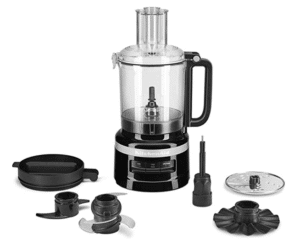 The KitchenAid Food Processor comes in a few different color options – stainless steel, black, red, and black matte.
The KitchenAid is not just a food processor either, it can mince meat and also make whipped cream with the whipping attachment. You can also make dough for pizza and cookies or puree cheese to make your own parmesan to sprinkle on top of your spaghetti.
As a noteworthy spec, it weighs a lot less than some of the other food processors mentioned here, which makes it easier to take out and put away. It makes it easier to clean, too.
If you are interested in this top rated food processor model, it costs about $150 on Amazon.
9. Hamilton Beach Mini 3-Cup Food Processor & Vegetable Chopper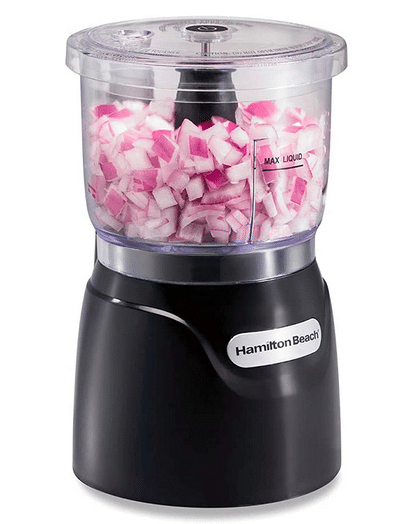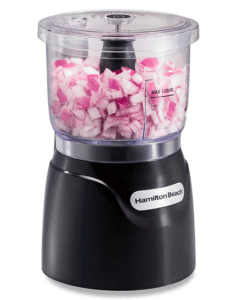 If you aren't looking for a full-sized food processor, the Hamilton Beach Mini 3-cup food processor is a perfect option! It is perfect to bring on the go (like a getaway vacation or in your RV!). Since it doesn't pull too many watts, you don't have to worry about battery power or plugging into shore power if you are traveling via an RV or camper van.
Without that worry, you can still make some delicious recipes with the mini food processor! It has all of the same capabilities of a bigger food processor, just has a bit less power.
It's not just a food processor either! It's also a chopper! You can chop up to 3 cups of onions in here, as well as any other fruits or veggies you want diced.
You can make just about anything in this food processor that you would be able to in any other one, just a little less food! And it's easy to you! To dice or puree the food, all you have to do is press down on the lid!
And you can get all of this for less than $30!
10. Cuisinart FP-8SV Elemental
Much like the other top rated food processor options, the Cuisinart FP-8SV Elemental Food Processor gives you the option to simply pure your food or choose to dice or slice it as well. With this Cuisinart, you can choose to dice and slice either finely or at a medium coarseness.
The chopping and mixing blade is also able to create and knead dough for recipes that require and call for dough.
There are options to add on a few other attachments to this food processor, or you can simply stick with just the food processor. For just the processor itself, it won't run you above $100 if you choose the smaller option! You can also choose which size processor you want ranging from 8 cups to 11 cups (which is a bit more expensive).
And yes, you heard that right! For the chopping, slicing, kneading, and so much more, you don't need to spend over $100 with this model.
Add a Highly Rated Food Processor to Your Kitchen
After reading all about the top rated food processors, it's time to choose one that is in your budget, fits your needs, and will be a good addition to your kitchen appliances! There are options for those with a higher budget, those who want a portable appliance, or those who want a food processor that gets the job done without breaking the bank.
Whichever one you decide on, you'll be sure to love it since these are all top-rated food processors. With so many reviews to back up their quality and performance, they won't disappoint. They're also easy to find since they are all on Amazon!
You'll be making delicious new recipes, impressing guests, and learning all about food processing in no time!
It is time to get cooking! Check out these recipes to get some inspiration for your new-and-improved kitchen!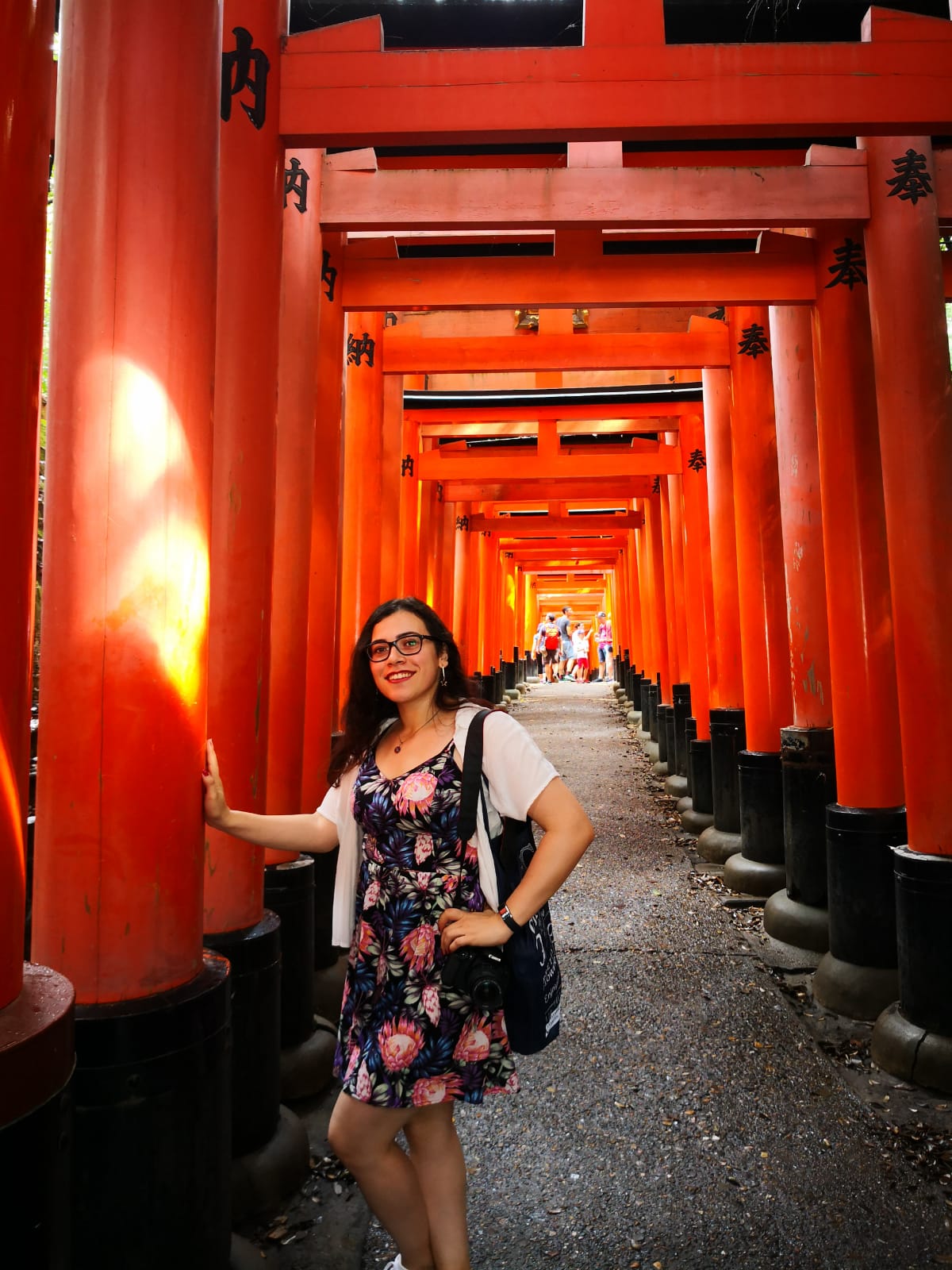 This is Merve from the JarKitchen Team. I am a freelance content specialist, and I like cooking different recipes in my free time. During the pandemic, I have had plenty of time to practice my cooking skills and cooking turned out to be a hobby for me.