There's really nothing better than a fresh blended smoothie. A fresh banana, peanut butter, and your favorite powdered protein make for a great meal-on-the-go. And smoothies are always best right when they're blended. So what if you want a smoothie in a few hours and don't want to blend it now? If you want to keep your smoothies fresh, feel incredible, and save time and money, you need to invest in a portable blender. Not just any blender, though. You need the best portable blender, one with all of the best features to get the job done. So what portable blender for smoothies will meet all of your needs? Read on to find out, counting down from #15 down to the best one.
15. FBEMOZ Multifunctional Portable Blender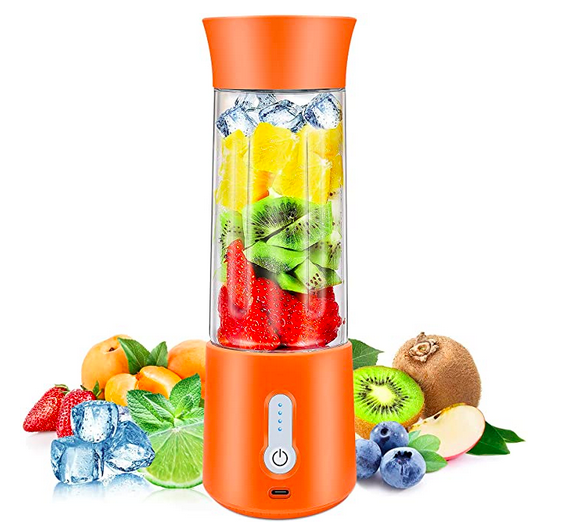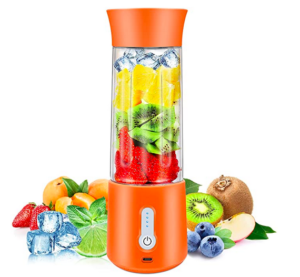 Small yet mighty, the FBEMOZ blender can do so much. The FBEMOZ blender is perfect for making personal smoothies that are 17 Oz or smaller.
Using a type c rechargeable base, you'll find it's easy to have power wherever you go. As far as safety and health are concerned, the entire blender is made of food-grade PCTG material, and it's also BPA free.
Thanks to the magnetic sensing switch design, you won't have to worry about the blender operating when it's not put together correctly. The FBEMOZ blender is also waterproof, which is helpful when it comes time to start cleaning the blender.
Weighing in at only 1.1 lb FBEMOZ is the perfect portable blender. You won't have to worry about leaks either; the leak-proof design will work no matter how much you shake the smoothie cup.
The only downside we see with this blender is that it's not equipped for ice. You can add tiny ice cubes, but not large amounts of ice. This ranks as the 15th best portable blender for smoothies on Amazon.
14. Oster BLSTPB-WBL My Blend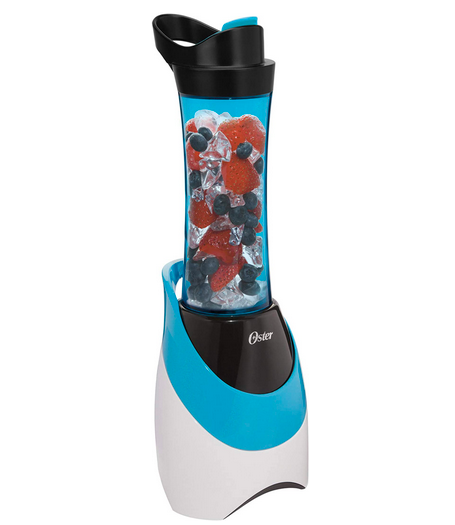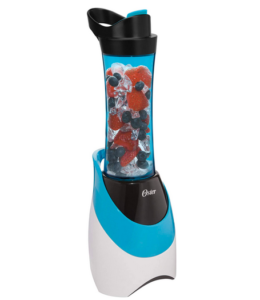 The Oster My Blend portable blender is one of the most compact designs on our list. Using only 250 w of blending power, you'll be able to enjoy a lightweight machine.
The Oster Blender features a well-designed sports bottle for the smoothie jar. Simply blend your favorite smoothie in the sports bottle, and go about your day. Pro-tip; if your drink isn't getting the liquidy consistency you want, you may need a juicer instead of a blender.
The sports bottle itself can hold 20 oz of delicious smoothie, and it's BPA-free. This blender couldn't get any easier to use, thanks to a one-touch setting.
If the Oster blending motor overheats for any reason, it'll automatically reset. Simply wait 15 minutes, and the resettable fuse will get the motor back up and ready to go.
What about storage and portability? The cord is only 16 inches long, making this compact blender even more convenient for travel.
13. IIooIIus Personal Size Blender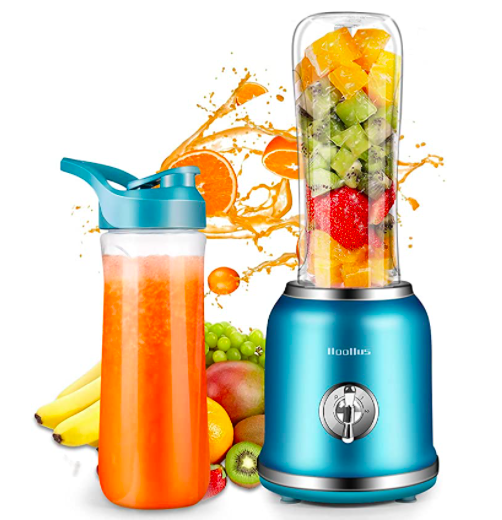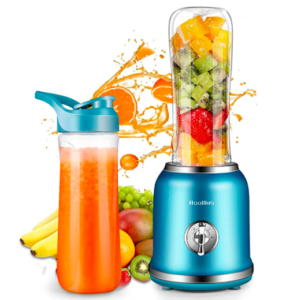 The IIooIIus blender offers another portable option with a convenient sports bottle design. The entire bottle is BPA-free, so you can sip your smoothie without worrying.
Using 300 watts of blending power, you'll find it's easy to crush vegetables and fruits with the IIooIIus blender. However, you'll need to stay away from using big chunks of ice. Instead, the IIooIIus blender is the perfect choice for an extra liquidy smoothie or a delicious protein drink.
Weighing in at only 3 lb, you'll find that the IIooIIus blender is easy to take with you on the road or in the office. How does it operate? Instead of pressing buttons or working with pre-programmed settings, the IIooIIus blender offers a simple design.
All you have to do is press down and twist the bottle until you hear the sports bottle click into place. Once it's firmly in place, the IIooIIus blender can start working its magic.
Thanks to its overheating prevention features, you'll be able to enjoy an automatic recovery function. In other words, if this blender does overheat, it'll reset itself without you having to do anything.
12. Gracejoful Portable Blender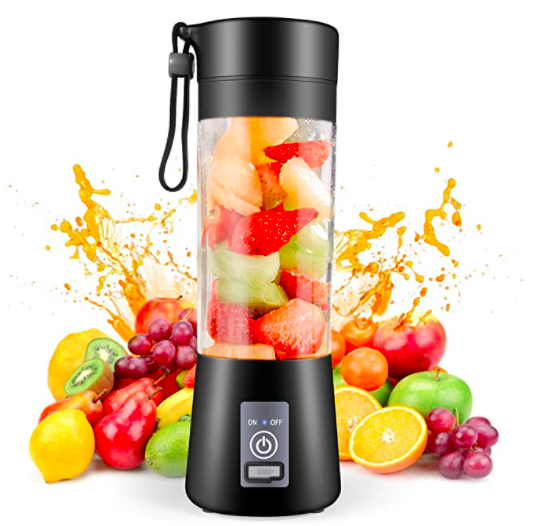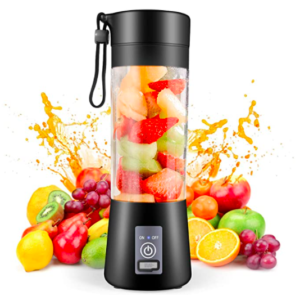 When you want beverage versatility and portability, look no further than the portable Gracejoful blender. Not only can the Gracejoful blender help you make smoothies, but it's also a wonderful way to stir up your food.
You'll find that this juicer is great for most cup car holders car cup holders. You'll be able to easily make your smoothie, hop in your car, and go about your day.
It's the perfect portable blender for work, travel, and more. If you like the small design and want to expand your collection, consider getting a hand blender too.
The juicing cup uses the environment to leave friendly materials, so you'll know you're putting your health first. Thanks to the 6-blade design, you'll be able to enjoy more blending power than traditional 4-blade blenders have to offer.
When it comes time to clean up, take advantage of the automatic cleaning mode. Simply add some water to the cup, press the button, and let it clean itself!
For safety reasons, you'll find that there's a magnetic induction switch. If the smoothie jar separates from the machine, it'll automatically turn off.
11. La Reveuse Personal Blender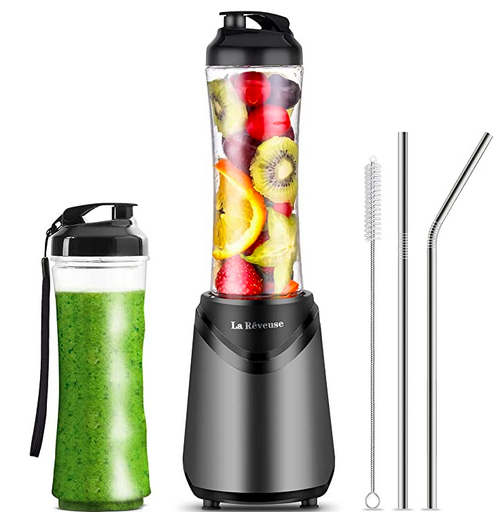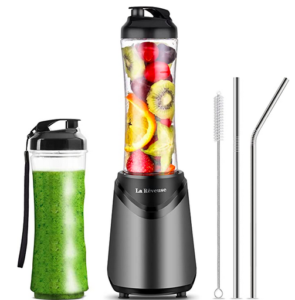 Hands-free blending? It's possible all thanks to the new La Reveuse blender for smoothies. Place the smoothie container on top of the base, touch the go button, and let go.
There's no need to twist and push or hold this smoothie jar in place. Using a 250-watt motor base, you'll be able to make some of the best smoothies, shakes, and beyond.
Using top-of-the-line magnetic drive technology, the smoothie jar locks into place. The magnetic lock is easy to slide in and out.
Other features of the snake blender include a stainless steel blade assembly. You'll also be able to buy bear-shaped ice cubes. You can also opt to buy the complete kit, which comes with bear a bear-shaped ice cube tray, a portable cup, and, of course, to go lid!
The portable cup can hold 10 oz of delicious smoothie, and it's completely BPA-free. The La Reveuse blender also has non-slip feet pads along with the cooling system, making it extra safe to use.
10. Redmond Personal Smoothie Blender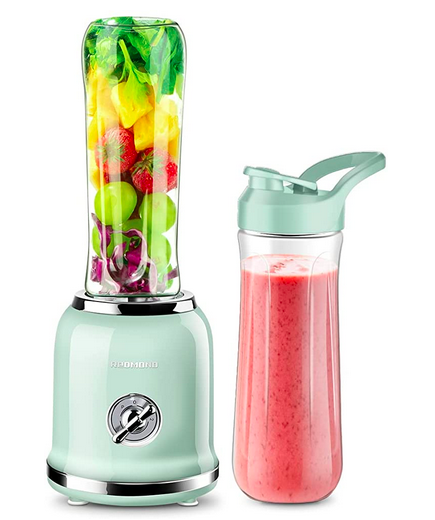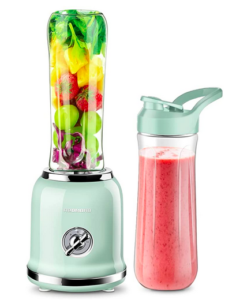 Another 300 w personal blender worth mentioning is the Redmond model. The Redmond unique smoothie blender has a modern design and great functionality. You'll be able to enjoy a two-speed rotation control button along with a pulse function feature.
If your smoothie gets stuck on an extra fibrous piece of fruit, you'll be able to work your way through it. Not sure what fruits to use? Here's a high fiber grocery list you can use the next time you're shopping for smoothie ingredients.
Using 6 stainless steel blades, you'll find that the Redmond blender can take on even the toughest of fruits. The Redmond features a retro design for those of you who are vintage lovers.
You'll enjoy a couple of different colors to choose from too, including cream and green. You'll also be able to enjoy 2 BPA-free portable cups that are 20 oz each.
As far as cleaning goes, this blender is dishwasher safe. If you need to wash it on the go, all you'll need is some soap and warm water to get it squeaky clean.
9. HERRCHEF Smoothie Blender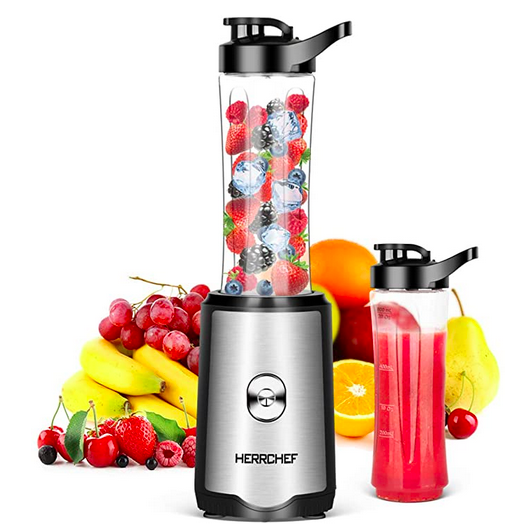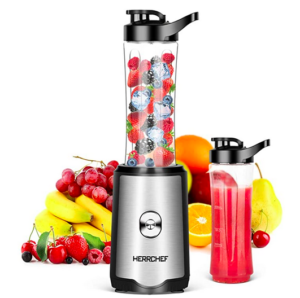 Enjoy a powerful motor and fast rotating speeds with the HERRCHEF's personal blender. Nutrition enthusiasts will love the power behind the HERRCHEF's 4 incredibly sharp steel blades.
You can make the tastiest of smoothies in as little as 10 seconds. Don't worry about the settings either.
Using a one-touch blending technology, simply plug this blender in and get to work. The simple design makes this a great portable blender for the younger and older crowd. Kids will love the independence the blender provides, and senior citizens will enjoy the convenience!
The smoothie cup itself and base are separate. It's easy to clean the cup and then attach it to the base when you're ready to blend.
When you buy the HERRCHEF blender, you'll also get 2 BPA-free bottles. We suggest taking one of the bottles with you to work and leaving the other one at home. That way, no matter where you go, you can always have a tasty smoothie!
The smoothie jar uses a sports bottle design, so it's great for taking to the gym too. Just make sure to pack enough protein for your post-workout shake!
Not sure you're getting enough protein each day? Then check this chart to find out! You can customize your smoothies to have extra doses of protein with a scoop of peanut butter or plain greek yogurt.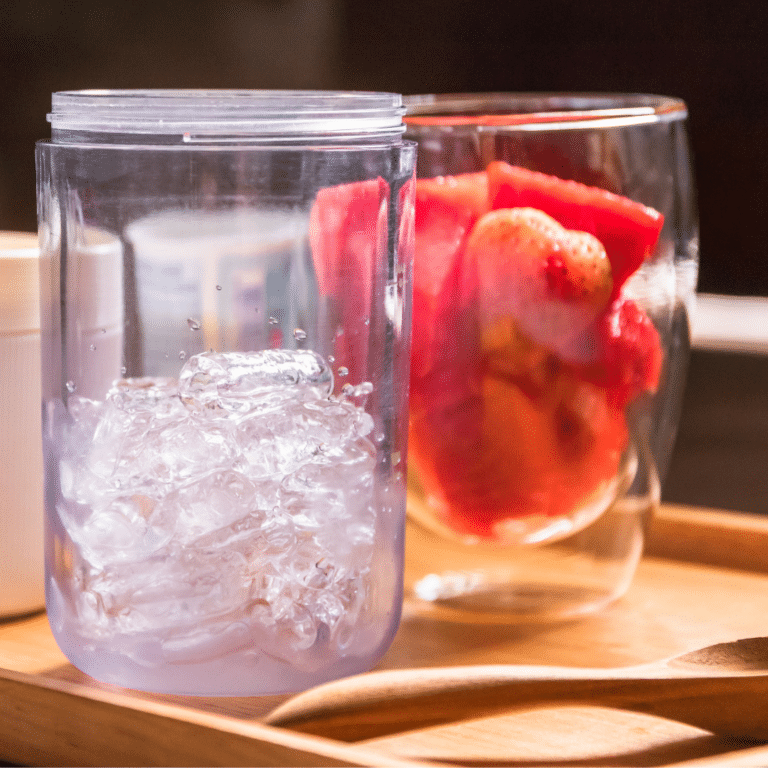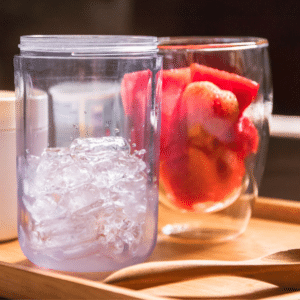 8. KOIOS Watt Personal Blender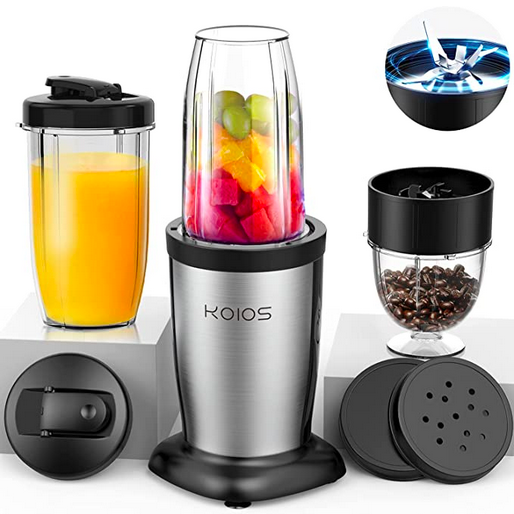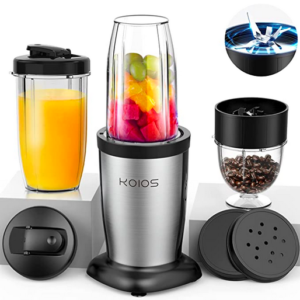 It's time to get more creative with your smoothies with the help of the KOIOS personal blender. This compact blender comes with 850 watts of pure power.
Take your shakes and smoothies to the next level, with the help of intense blending modes. That's right, the KOIOS blender does more than chop up ice. Along with chopping, you'll be able to grate, puree, and mix together the wildest of ingredients. You'll find that the KOIOS blender gives you unlimited options.
KOIOS is also known for offering some of the best money-back guarantees. You should feel comfortable reading the fine print for any blender warranty you're considering. If it's been a while since you've read a warranty, check out these tips for reading the fine print. You don't want to miss out on any of the warranties perks.
For instance, with the KOIOS warranty, you can try the blender risk-free and send it back if you have any problems. However, we're pretty sure you're going to fall in love with this small beast of a blender.
7. Moss and Stone Single-Serve Smoothies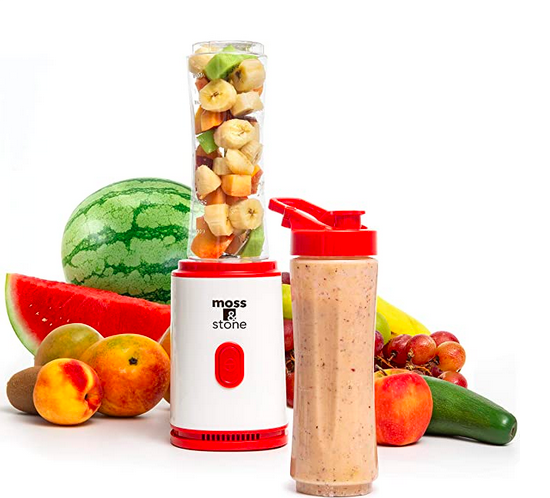 The Moss and Stone personal blender checks almost every box! You'll be able to enjoy a compact design that's easy to clean, and the 20 oz smoothie jar is completely BPA-free.
Like a lot of personal blenders on the market, the Moss and Stone personal blender only needs 300 watts of power. Using a stylish 20 oz plastic sport bottle, you'll be able to easily fit your smoothie and your cup car holder car cup holder.
When it comes time to store the blender, the base is small enough that it can easily rest on the countertop all day. That way, when you're ready to walk out the door, your blender is right there waiting for you.
Keep it simple. Using one-touch blending, you won't have to worry about deciding what buttons to push.
The Moss and Stone personal blender also has a non-slip base. The non-slip base is incredibly convenient when it comes time to mix together protein shakes.
As far as weight goes, the Moss and Stone personal blenders only weigh 2.57 lb. You'll find it's easy to throw into your bag and be on your way.
6. ICucina Personal Portable Bullet Blender
Another one button action portable blender worth mentioning is that ICucina model. ICucina features a convenient design using a non-slip base and leak-proof lids.
All it takes is 30 seconds to get the perfect consistency for your smoothie. Using 4 stainless steel blades, you'll be able to chop through fibrous fruits and ice.
Thanks to the 300 watts of motor power, frozen blending on the go have never been so easy. The small design makes the ICucina portable blender easy to transport and store.
When you buy the blender, you'll also get a 28 Oz BPA-free smoothie cup. The to-go lid for the smoothie cup is dishwasher safe, and the cup itself fits in most car holders.
Along with making smoothies, you can enjoy chopping and grating too. It could be the perfect time to finally make that salsa you've always been dreaming about.
5. PopBabies Personal Blender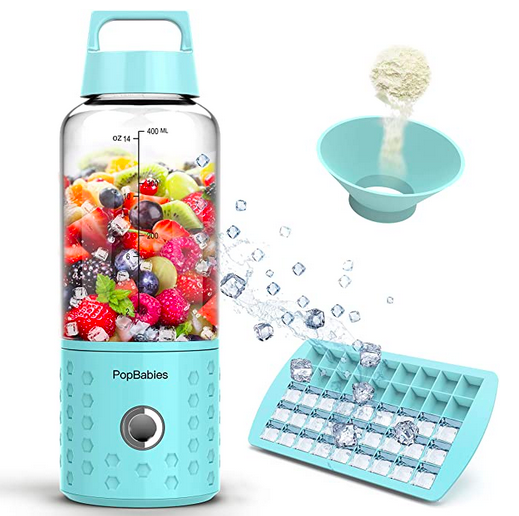 If you want a personal blender that's efficient and artistic, then you have to check out what PopBabies has to offer. PopBabies blender designs come from a team of artists. Then they're manufactured in a factory with decades of manufacturing experience.
Combining artistic skills and manufacturing expertise, you get a product that's efficient and cool-looking! PopBabies are the perfect portable blender for smoothies on the go. You'll be able to get all the nutrients you need with very little effort.
Using a 175-watt motor, you'll have plenty of smoothie power. You might be thinking that 175 Watts isn't enough to crush ice. You'd be right if the blender was using standard ice.
With the help of a free mini ice cube tray, you'll be able to make personalized pop baby ice smoothies. When you purchase the portable blender, a micro ice cube tray comes along with it.
Using the small ice cubes, you'll be able to get the perfect texture for your smoothies and shakes. As far as hot drinks go, the PopBabies portable blender doesn't work with drinks that are hotter than 50�. If it's too hot, there could be leakage.
However, as long as you stick to moderately warm drinks, you should be just fine. Imagine the potential this blender has for long hikes and camping trips. It's personally one of my favorite portable blender for smoothies.
4. Hamilton Beach Shakes and Smoothies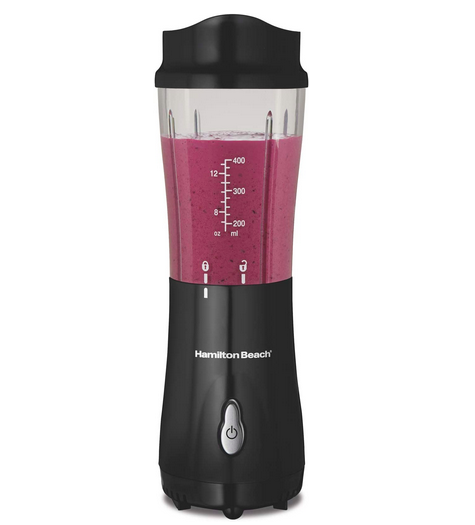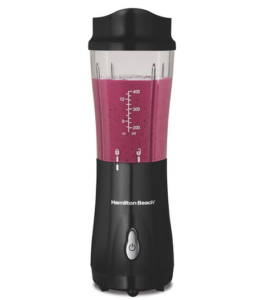 Are you looking for a budget blender that you can take with you anywhere you go? Then look no further than the Hamilton Beach personal blender. Featuring a 14 Oz smoothie jar, you can have icy drinks anywhere you go!
The Hamilton Beach blender uses a 170-watt motor. You'll have all of the power you need for efficient and reliable performance. Thanks to one-touch blending, so you won't have to worry about pushing different buttons.
One of our favorite things is that the Hamilton Beach blender is great at pulverizing ice. Unlike other budget blenders that work best for liquidy smoothies, this blender can make the iciest of drinks.
You'll also find that the Hamilton Beach blender is incredibly compact. Enjoy the ability to make nutritious drinks no matter where you are.
It's the ultimate portable blender for portability and versatility. Simply fill the smoothie jar with your ingredients, and let the one-touch blending do all of the work. Remove the smoothie jar from the base, and go on about your day!
Cleaning the Hamilton Beach Blender is easy too. All you need is a little warm water and soap, and you can blend another delicious creation.
3. Regenerate Portable Blender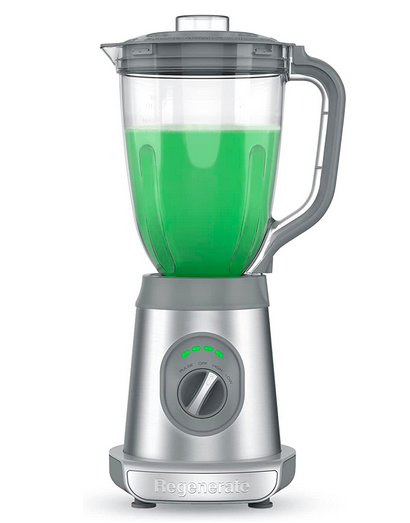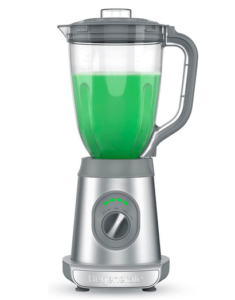 Embrace the streamlined design that the Regenerate portable blender for smoothies has to offer. This single-serve blender not only looks great, but it also works great too.
All of the materials meet the safety standards for food-grade materials. You'll be able to enjoy a long-lasting blender that has your health in mind.
Using 4 powerful stainless steel blades, you'll be able to make whatever kind of smoothie your heart desires. The Regenerate personal blender can crush through large ice cubes, frozen fruit, and more, all in a matter of seconds.
Similar to a lot of the other portable blenders on this list, you can enjoy a one-button push technology. That means no worrying about getting the right smoothie setting.
You can also control the pulse of the blending to get the perfect texture for your smoothies. The pulsating feature makes the regenerate blender extra helpful when making baby food. You'll be able to blend your ingredients to the perfect smooth consistency.
2. Homeleader Retro Design Personal Blender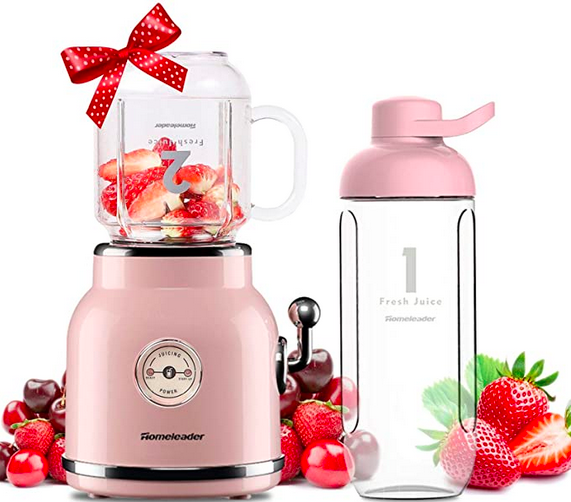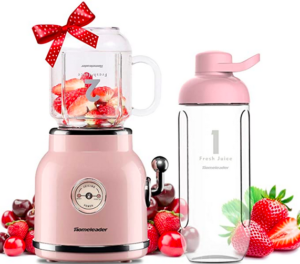 Homeleader delivers a portable blender for smoothies with a fun retro design. If you love all things retro, check out this list of vintage things to do. You can have a vintage-themed day and take your Homeleader personal blender with you!
The HomeLeader blender does a lot more than just look good. It can also make some of the most amazing smoothies you've ever had!
Using 6 powerful stainless steel blades, you'll be able to enjoy one of the most efficient blending experiences around. The Homeleader personal blender can handle all sorts of hard ingredients ranging from frozen fruits and veggies, all the way to the toughest of ice cubes.
Thanks to the BPA safety design, you'll be able to enjoy healthy smoothies that are safe to drink. The portable blender also stops working automatically if there's anything misaligned with the base and body. That means a safer smoothing experience for you.
The Homeleader portable blender has 300 watts of power working behind it. It's perfect for that one-person smoothie.
When you're done making your smoothie, you'll find the blender is easy to clean. You can easily remove the mason jar cup for washing cleaning.
1. Ninja Nutri Pro 900 Watt: The Best Portable Blender for Smoothies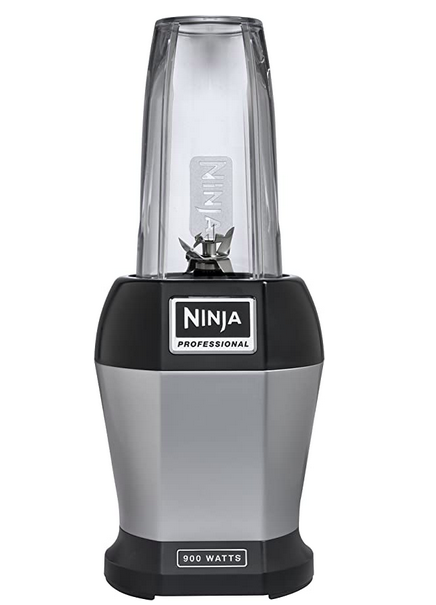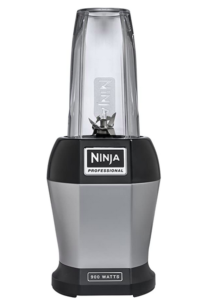 What's our number #1 choice when it comes to a portable blender for smoothies? The Ninja Nutri Pro 900 Watt compact personal blender! Bringing together the best portable blender features, the Ninja Nutri Pro can do it all. Using the same power as a food processor, you'll get the smoothie and shake consistency you want every time.
As you probably already know, Ninja has a stellar reputation in the world of blenders, and for a good reason too. Ninja uses innovative designs and convenient programming to provide you with an excellent blending experience.
The Nutri Ninja is one of our favorites because it's powerful, convenient, and affordable. The Nutri Ninja also has 900 watts of power working behind it. You'll be able to break down big chunks of fruits and veggies, plus all the ice your heart desires!
The blender does take up a good amount of space, but the cord is only 3 ft long. While it isn't as lightweight as the other options on this list, the extra weight is well worth it. You'll have a reliable portable blender that you can use multiple times, without ever worrying about overheating.
The Ninja portable blender even comes with personal blender cups to go. You'll be able to enjoy an 18 oz and a 24 oz personal-sized cup. The twist on spot lids makes it easy for you to take your drink with you wherever you're going.
Discover Your Favorite Portable Blender for Smoothies
Now you know about the best blenders when you're on the go. Out of all the portable blenders for smoothies on this list, which one do you like the most?
Do you like the blenders featuring over 300 watts of blending action? Are you interested in a sports bottle smoothie jar design? Of course, if you're looking for a fun style, the retro designs from Redmond or Homeleader are sure to delight.
Along with delicious smoothies, these portable blenders are perfect for making sauces too. Check out our zesty hot sauce recipe and discover an entirely new world of flavor.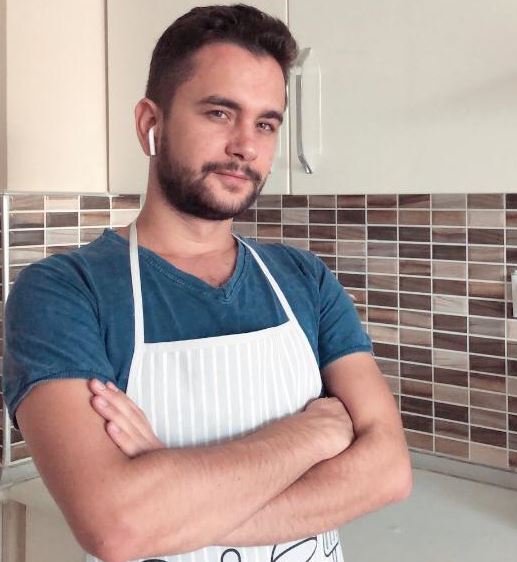 This is Berk from the JarKitchen Team. I am a Mechatronics Engineer and I like cooking in my spare time. By bringing my engineering background into the business, product reviews are a specialty for me. During my travels across Europe, I have learned/tested many recipes and now I plan to bring them to you here!