According to several market research firms, the kitchen appliances industry benefited from Covid-19 in a big way, with the industry expected to grow to $337.7 billion by 2027. As more and more people shift permanently to work from home, appliances are in demand, especially for convenience items like a small blender for smoothies and single-serving drinks.
But finding the best personal blender can get complicated. There are so many brands, so many options, and a lot of different price points. Once you know what to look for, however, the choice gets a lot easier.
Why Buy a Small Blender for Smoothies?
The most obvious reason to buy a single-serve blender is to make your own smoothies and other blended drinks at home. But a standard-size blender can do that as well.
There are a few areas where personal blenders shine in ways that standard blenders don't.
Personal blenders are good for making salad dressings and cold sauces like mayonnaise and pesto since the smaller container helps bring together the ingredients faster. Single-serve blenders also work well as an emergency spice grinder or coffee grinder.
In fact, there are tons of recipes out there specifically for bullet blenders and single-serve blenders.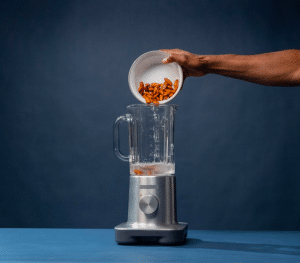 Save Countertop and Cabinet Space
Apart from the convenience factor of personal blenders to make smoothies, sauces, and other small-scale blender recipes, these kitchen appliances are good for saving space. If you have a tiny kitchen or just limited space on your counter or in your cabinets, small blenders make sense.
Bullet blenders and other single-serve blenders take up less space compared to a standard blender. Most models take up about the same space as a toaster and less space than a standard drip coffee maker. They're also lightweight, so it's easy to move them from the counter to the cabinet and back.
While it may be challenging to blend up an entire pot of soup with a single-serve blender, it's possible, and if you have limited kitchen space, these appliances can help.
Who Should Choose a Small Blender for Smoothies?
Personal blenders are a smart choice for a lot of different people, for different reasons. The most obvious market for single-serve blenders is people who love fruity, frozen drinks like smoothies and milkshakes. Most bullet-style blenders are tough enough to handle frozen fruit, and many of them can even crush ice.
Another group of people who might get a benefit from small blenders is parents. Bullet blenders are great for making baby food, and they're also easier for kids to manage than full-sized blenders. This is especially true when you compare the BPA-free plastic that most personal blenders use to glass models for full-size blenders.
These kitchen appliances are also ideal for kitchen nerds, who want to experiment with making their own sauces, or even with high-end cuisine concepts like molecular gastronomy. The compact size and high power of these small blenders make them a great choice for whipping up small batches of puree for making gels and coulis.
All in all, personal blenders are helpful for a variety of reasons, and they definitely make a lot of everyday kitchen tasks easier.
What to Look For in a Small Blender For Smoothies
When it comes to the question of how to choose a small blender, there are a few factors that you should keep in mind before making the purchase. There are a lot of different models on the market, and it can be hard to know which is better.
Some of the features of a small personal blender are the same as the ones you should look for in a standard-size blender, just with an adjustment based on the size. But there are a few key features that bullet blenders should have. When shopping for a single-serve blender, keep the following traits under consideration.
Blender Cup Capacity
Because there are so many personal blender models on the market, there are a lot of options when it comes to cup capacity as well. Think about what you plan to use your single-serve blender for, and decide on the right cup capacity based on that.
If you mostly plan on making smoothies and drinks with your blender, it's best to choose a cup capacity that's closest to how much you want to drink in one serving. But if you plan to use your personal blender for a lot of different purposes, think about the maximum and minimum capacities you'll want.
Many personal blenders come complete with more than one blender cup, so you may not have to choose just on that factor. It's still a good idea to keep capacity in mind when making your choice. After all, you don't want to get a blender cup that is too small to be useful, or so big that you end up wasting food.
Power
This factor is one that personal blenders and standard-size blenders have in common. The power or wattage of your blender will make a big difference when it comes to crushing and chopping up the ingredients you put in the cup. There is a wide range of wattage options on the market, and once more the question comes down to what you want to use your blender for.
Keep in mind that wattage isn't everything, however. The sheer amount of power that a blender pulls doesn't always mean higher performance. In some cases, a lower-watt blender will do a better job because the components are designed better.
Ultimately, though, the best choice regarding power and wattage depends on your use. If you're planning to blend a lot of frozen fruits or veggies, ice cubes, or other hard ingredients, a higher wattage is the best choice. If you just need a machine to whip up some soft ingredients regularly, lower wattage isn't going to get in your way.
Settings
The most basic models of personal blenders typically only have two real settings: on (blending), and off (not blending). Some of these simple models let you get things going just by twisting and locking the blender cup into place, or by pressing down. Others have an on-off button or a switch.
But since bullet-style blenders have taken over in popularity, flashier models with several settings have begun to enter the market. These models bring the same versatility as standard-size blenders, but with a more compact size and performance.
Accessories
At its most basic, your bullet blender should come with a blender cup, the blades that go inside of it, and a blender base. But most of the blenders on the market today have a lot more than that.
The most common accessories for personal blenders include extra blender cups (sometimes in different sizes), tops to convert the blender cup into a tumbler to drink out of, and different blender blades for alternative uses. Blades designed for drinks, for grinding coffee, spices, or nuts, or for other functions like making baby food, could come with your blender.
Choose the blender with the accessories that make the most sense to you. If you're going for a versatile machine that you can use every day for different cooking tasks, having several cups and different blade options may come in handy. On the other hand, if you just want something to fill with smoothie ingredients and blend them up, you may not need so many bells and whistles.
Cleaning and Maintenance
It's important to clean your blender after every use, and standard blenders traditionally have a bad reputation on this front. Personal blenders often make things a bit easier, since in most cases the blade and blender cup come apart without much stress.
Check the blender you want to buy to make sure that you can get it clean between uses. Some models even offer dishwasher-safe components, which makes things even easier. But even if you can't just pop everything in the dishwasher, you should be able to take it apart, clean everything, and put it back together. If you can't, that blender isn't a good buy.
Price
Last but not least, price is always a big factor. Most personal blenders are reasonably priced, usually around $50. But depending on your budget, some options may be a better fit than others.
If you want a starter model, choose a basic personal blender that doesn't have a lot of bells and whistles, and doesn't come with a lot of accessories. These models tend to be closer to the $25 ballpark. While they may not last as long as some more expensive bullet blenders, the cheaper models will get the job done and give you an idea of whether you'll use it as much as you think.
The 12 Best Small Blenders For Personal Use
These twelve blenders consistently get high reviews from consumers and show up often on consumer product testing sites and magazines. They have all been thoroughly tested, and all of them offer the best value for the price in the market.
Healnitor Nutri Personal Blender Large
Pros
Separate blades for grinding and blending
1,000-watt motor
Multiple blending speeds
Two sizes of blender cups to make as much or as little as you want
Cons
Some reviews suggest this model is not as durable as others
A large blending cup may be too big for personal use
The Healnitor Nutri Personal blender comes with two large-sized blender cups, a 32-ounce, and a 15-ounce, making it a versatile choice. The 1000-watt motor and 21,000 RPMs quickly reduce ingredients to a fine puree. The blades, cups, and resealable travel lids are all dishwasher-safe, making cleanup easy.
Magic Bullet Blender, Small Blender for Smoothies
Pros
Simple to use, press down on the blender cup to start blending
The high-torque base makes quick work of ingredients, including hard items like coffee
Different-sized cups mean you can blend as much or as little as you want
Cons
250-watt motor isn't as powerful as some other models
Doesn't crush ice as efficiently as other models
The Magic Bullet Blender is one of the original models on the market, and its staying power is a testament to good design. The 250-watt motor works almost as well as other more powerful models without being as much of a power drain, and the accessories make it a multi-use blender for grinding, blending, and more.
Hilax Personal Bullet Blender
Pros
Versatile blending functions from smoothies to ground coffee
Powerful motor blends ingredients quickly
safety features prevent overheating and damaging the blender base
Cons
Noisier than some of the other models on this list
Some customers say that the pulse feature isn't as reliable as they would like
The Hilax Personal Bullet Blender features a powerful 1200-watt motor and upgraded stainless steel flat blades to efficiently process smoothie ingredients or grind coffee or nuts. The secure travel lid swaps out easily with the blades, making it simple to take your beverage with you anywhere.
Dumcuw Portable USB-Charging Personal Blender
Pros
USB charging cable for extra portability
6-blade construction and 20,000 RPM speed make quick work of ingredients
Fully waterproof construction
Cons
20-Ounce bottle may be too small for some
Higher price than most of the blenders of its type
The Dumcuw Portable USB-charging personal blender doesn't have the most powerful motor but still provides strong performance. The 6-blade design and waterproof construction of the blender body make it convenient and efficient.
KOIOS Small Blender for Shakes and Smoothies
Pros
Two 17-Ounce bottles and one 10-ounce bottle for versatility
Overheating and overload protection prevents breakdowns
Blades, travel bottles, and lids are all dishwasher safe
24-month money-back guarantee and lifetime tech support for added confidence
Cons
Some customers report that the blender doesn't always fully process frozen ingredients
Silicone parts are not as durable as some other models, but in-warranty replacement is easy
The KOIOS Personal Blender for Shakes and Smoothies features an 850-watt motor and multiple accessories to make it a versatile kitchen appliance. Along with three blending cups, the KOIOS includes two flip-top caps, a resealable lid, and a shaker lid, to go with the grating and crushing function for nuts and spices.
Black & Decker FusionBlade Personal Blender
Pros
Compact design takes up less space than many other blenders in the category
Dishwasher-safe parts (except for the base) make cleanup easy
Fusion blade design crushes ice into fine snow
Simple on-off button function means you won't activate the blender on accident, but you also won't struggle to use it
Cons
The motor does not tolerate long blending sessions, but short bursts are fine
Several buyers report that the drinking lids take some getting used to
The Black & Decker FusionBlade Personal Blender doesn't have the most powerful motor, but the high torque and well-designed blades still allow the machine to blend ice and other hard ingredients. The machine comes complete with two blender/travel cups and lids, and cleanup is easy.
Domaya High Power Personal Nutri Blender
Pros
Multiple speeds and blade configurations make the blender a multipurpose kitchen accessory
The high-torque motor makes crushing ice, or frozen ingredients, easy and efficient
Less noisy than many other blenders on this list
Simple on/off, high/low settings are easy to use
Cons
Some reviews indicate that this blender may not be as durable as other models on the list
The machine is somewhat heavy for the size
The Domaya High Power Personal Nutri Blender brings together a high-wattage motor and solid blade design to make a multi-functional food preparation accessory. Between the blades and the accessories, this blender can tackle a variety of different kitchen tasks from drinks to grinding coffee and making baby food and beyond.
Swiitol Portable Mini-Blender for Smoothies
Pros
Safety lock and other security features prevent accidents
The lightweight design and other features make this blender even more portable than others on the list
Most components are dishwasher safe
Very affordable price point
Cons
Not the most durable blender, some buyers report that the rubber rings on the blade mounting break down relatively quickly
Blending takes a little longer, and frozen ingredients or ice create uneven results
This mini-blender by Swiitol makes it easy to make drinks on the go. While it's not the most versatile of the options on the list, the travel bottles and lightweight design make it a good option for on-the-go smoothie lovers. Easy cleanup and an affordable price are very nice extras.
HENA Personal Blender
Pros
Simple push-button operation
Compact design takes up a minimum of space on the counter
Two ergonomic blender cups and one small blending cup for grinding make the blender a versatile tool
Under $30 price point makes for good value
Cons
Can't handle ice or frozen ingredients very well
Not the most attractive option
The HENA personal blender combines smoothie and shake making with the ability to switch to grinding and grating items easily with cups you can swap out. Though the motor isn't very powerful, the price point makes it a good first model for people interested in trying out this type of blender.
La Hestiare Cordless Personal Blender
Pros
Cordless function and lightweight construction make this blender very portable
2-3 hours of charging for up to 20 blended drinks
Easy clean design and accessories
push-button function and LED indicator make the process straightforward
Cons
Not as versatile as some other options on the list, mostly good for smoothies and shakes
Some customers report that the USB charging cable isn't as durable as they would like
The La Hestiare Cordless Personal Blender lets you take the party on the road, with a powerful motor and USB charging. The blender can make up to 20 drinks on a single charge, and cleanup is easy afterward. Perfect for taking to the gym or for students living in the dorms.
Bear Personal Blender for Shakes and Smoothies
Pros
Sturdy, durable construction means a long life for the blender
Fast blending speed means your drink is done in 30 seconds
Blades and base come apart for easy cleanup
Easy push-button operation
Cons
Not as versatile as other models, some packages only include one blender bottle
Some reports that the blender overheats quickly if you use it for longer than 30 seconds at a time
The Bear Personal Blender for Shakes and Smoothies is a very good budget model, providing fairly consistent performance in making blended drinks. It isn't as multi-functional as some other models, but it has a sturdy construction, and efficient motor.
IMURZ Small Blender for Smoothies
Pros
BPA-free plastic and silicone cups and accessories are safe and odor-free
Under $30 is easy on the budget
Leak-free design to blender components and tops means you don't have to worry about spills
Responsive customer support to help you get extras or repairs when needed
Cons
Requires a lot of extra liquid to efficiently blend frozen items
Not very versatile, only really good for smoothies and blended drinks
The IMURZ Smoothie Blender is exactly what the name implies, blending smoothies and shakes easily and quickly. The silicone and BPA-free plastic are durable, and the blades make quick work of fruits and vegetables. It's a budget option, but a solid choice for people who just want something to make blended drinks.
Frequently Asked Questions
Finding the right small blender and making the best use of it can be confusing, but we have the answers to all of your questions. Find out what you need to know about your next personal blender purchase.
How Powerful Are Personal Blenders?
Most personal blenders aren't as powerful as their full-sized counterparts. The main benefit that bullet-style blenders offer is their lower cost and smaller size, and it just doesn't work to put a huge motor in a small blender.
The amount of power behind a blender depends on its wattage. The higher the watts, the more powerful the blender. But keep in mind that power isn't everything. A well-designed blender with lower wattage may work better than a high-wattage blender with bad blades or bad conversion. Compare power and performance on your blender options before buying.
Can Personal Blenders Crush Ice?
Some personal blenders can crush ice, but not every model has that ability. It depends on a few different factors, such as the power of the motor, the materials used in the blender cup, and the quality and number of the blades.
For the most part, blenders rated for smoothies and frozen drinks will crush ice, because they have to be able to break down frozen fruits or vegetables. But pure ice is a bit harder than frozen fruit, so check the manufacturer's guidelines for your model. If your blender can't crush ice, the manufacturer will spell that out clearly.
How Do You Clean a Personal Blender?
There are a few different methods, depending on the model and the setup for your personal blender. Always check the manual and manufacturer's instructions, since those are based on the specific materials your blender uses.
Most bullet blenders or small blenders come apart pretty easily, and hand-washing them in hot, soapy water will not go wrong. Some high-end personal blenders have dishwasher-safe components, which means you can take the blade off of the cup, rinse both thoroughly, and put them in the top rack of your dishwasher.
Be careful, however. If your blender instructions do not state that your personal blender is dishwasher safe, it's best to hand-wash the components.
For a quick fix, you can often get your personal blender mostly clean by filling it halfway with water, adding a few drops of dish soap, and blending it for a full cycle. Rinse, check for any lingering bits of food, and you're good to go.
Finding the best small blender for smoothies makes life healthier.
Whether you're a health and fitness fan who wants to take control of your smoothies at home, or a parent who wants a piece of kitchen equipment your kids can safely use, a small blender for smoothies can make life easier. Personal blenders may not be as powerful as their full-size counterparts, but they free up kitchen space and offer some unique possibilities for cooking and food prep.
Learn more about picking the right kitchen appliances with some of our other articles.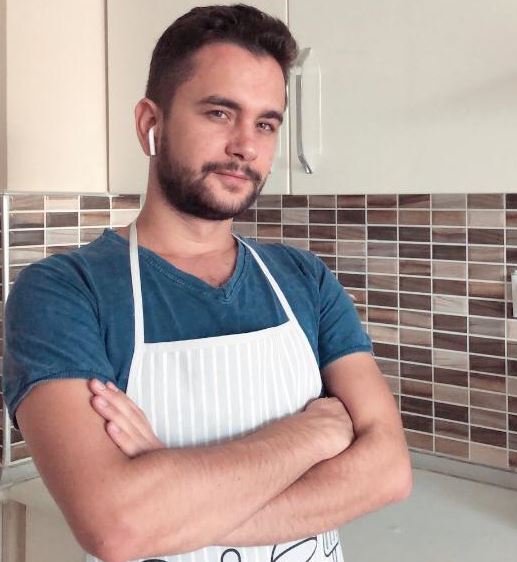 This is Berk from the JarKitchen Team. I am a Mechatronics Engineer and I like cooking in my spare time. By bringing my engineering background into the business, product reviews are a specialty for me. During my travels across Europe, I have learned/tested many recipes and now I plan to bring them to you here!