The smoothies market is worth a little over $12 billion, which isn't surprising when you think about how delicious these treats are. And, while you're welcome to purchase smoothies at your favorite restaurants, it's far more affordable to make smoothies at home! To do that, however, you'll need to have a smoothie maker or blender on hand. And, if you don't have one, it's time to buy a blender! If you're in the market for a new blender so you can whip up some delicious drinks, we're here for you. Here's a guide to help you pick the best smoothie blender in 2022.
1. Ninja BL770 – The BEST Smoothie Blender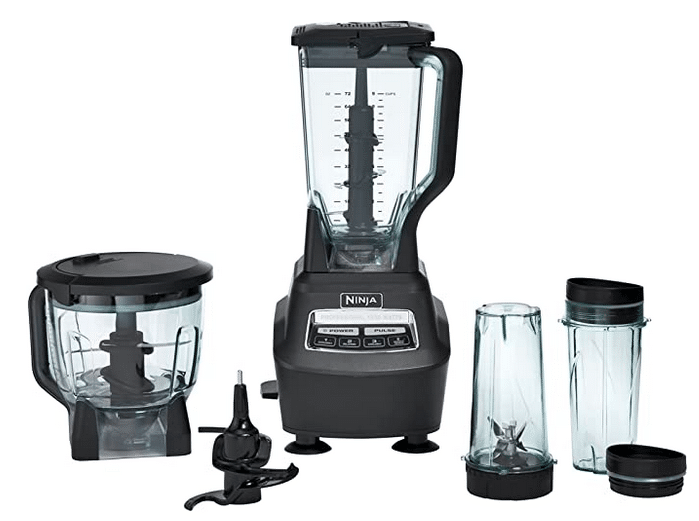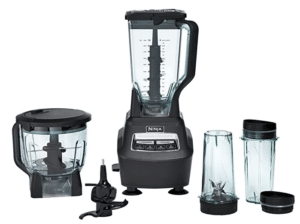 First up on our list is a blender made by the ever-popular blender brand, Ninja. Ninja is a company that's reached more than $35 million in sales thanks to its fantastic blender designs.
The Ninja BL770 is one blender that showcases exactly why Ninja is such a popular brand. It has tons of amazing features, including a 1500-watt motor that can crush veggies, frozen fruits, and ice.
One of our favorite aspects of this blender is that it comes with an oversized pitcher with a capacity of 72-ounces. It also comes with a 64-ounce food processor bowl if you're planning to use your blender for meals other than smoothies.
Features
The NinjaBL770 also features offset and stacked blades that apply extra cutting action. They do a far better job at blending your meals than blenders that only have a single blade in the bowl.
Another great feature of this blender is that there are multiple speed settings for you to choose from. You can select, for example, a pulse speed to help you chop frozen fruits.
One of the reasons we put this blender at the top of our list is because it comes with two 16-ounce smoothie cups to help you easily transport your drinks. That's perfect for those who enjoy making smoothies and drinking them on the road.
We were hard-pressed to find a downside to this blender. However, it's worth noting that the lid doesn't have a hole for you to add extra ingredients to your smoothie as you blend.
Ninja BL770
Pros
Comes with 72 oz. pitcher
Also comes with 60 oz. bowl
Powerful 1500-watt motor
Two 16 oz. cups included
Super easy to clean
Cons
Lid has no hole for new ingredients
2. NutriBullet Pro NB9-1301 Blender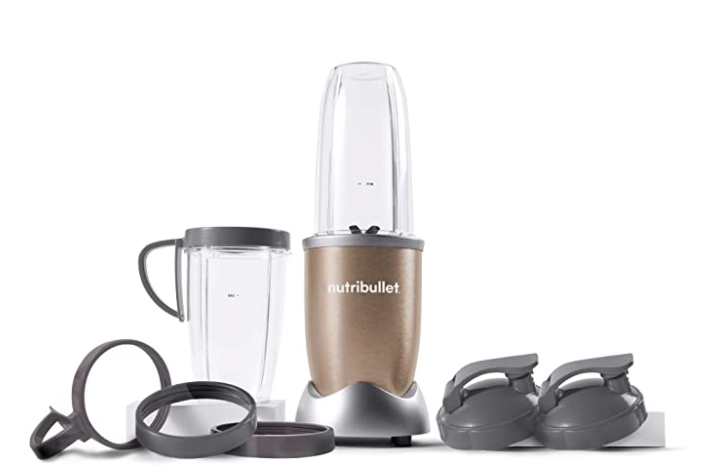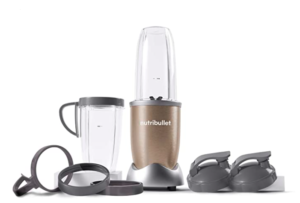 If you're looking for a blender that offers great value, you've got to check out the NutriBullet Pro NB9-1301. This blender is a great choice if you're only wanting to make a single smoothie at a time since it uses your smoothie glass as the blender pitcher.
The NutriBullet Pro NB9-1301 comes with two different smoothie glasses. You can have one in the dishwasher while you whip up a delicious drink in the other.
This blender also features a powerful, 900-watt motor that quickly chops up everything you put in the cup. Plus it has stainless steel extractor blades that use a cyclonic action to finely chop the fruits and veggies you put in it.
One of the best features of this blender is the fact that it's easy to clean. All you have to do is rinse the cup and the blade and you're ready to make a new drink.
The only real downside to this blender is that it's super noisy. That's especially true considering the small size of the blender.
And, the blender can sometimes unscrew while you're blending your fruits and veggies. It's best to keep one hand on the lid to ensure that your drink doesn't end up on the counter instead of in your mouth.
NutriBullet Pro NB9-1301
Pros
Powerful motor
Recipe book included
Super easy to clean
Amazing color variety
Cons
Unnecessarily noisy
LId can come loose while blending
3. Vitamix Professional Series 750 Smoothie Blender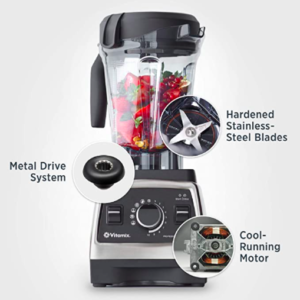 Vitamix blenders are a great choice if you're looking for a premium blender. And, more specifically, we recommend checking out the Vitamix Professional Series 750 Smoothie Blender.
This blender has a motor that runs cool, helping to prevent it from overheating. And, it offers as much power as you might find in a swimming pool pump!
The blender has a 64-ounce pitcher that's not too large but not too small, either. And, the machine features a dial to help you adjust the speed and blend your smoothies to perfection.
Vitamix's Professional Series 750 Blender doesn't come with a stacked blade design nor does it come with a cheap price tag. However, if you're willing to splurge a little bit, this is a great blender to pick.
Vitamix Pro Series 750
Pros
Extra powerful motor
Variable speed settings
Large pitcher size
Cons
4. Oster Pro 1200 Blender for Smoothies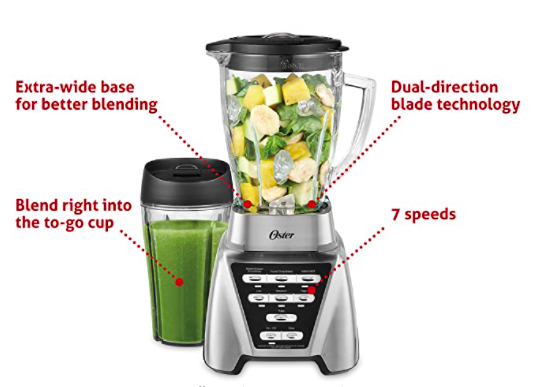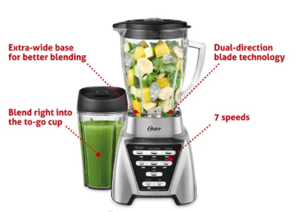 Oster is a brand that's been around for a while and is well-known for creating great kitchen appliances. The Oster Pro 1200 is one of those fantastic blenders and is a compact option for those who don't want to sacrifice a ton of counter space. This blender allows you to choose from seven different speed settings as well as to use a pulse option. There are three main pre-programmed settings built-in as well, which you can use for most blending purposes.
This blender features a 900-watt motor and dual direction rotating blades to help you chop up your ingredients without a problem. The pitcher is on the smaller side since it's only able to hold 48-ounces, but the system also comes with a 24-ounce smoothie cup.
The major disadvantage to this blender is that it's tough to clean. And, it's really hard to find replacement parts so if you break anything you'll have to buy a whole new blender.
Oster Pro 1200
Pros
Powerful 900-watt motor
Dual direction rotating blades
48 oz. pitcher size
24 oz. smoothie cup
Cons
Difficult to clean
No replacement parts available
5. Hamilton Beach 54221 Wave Crusher Blender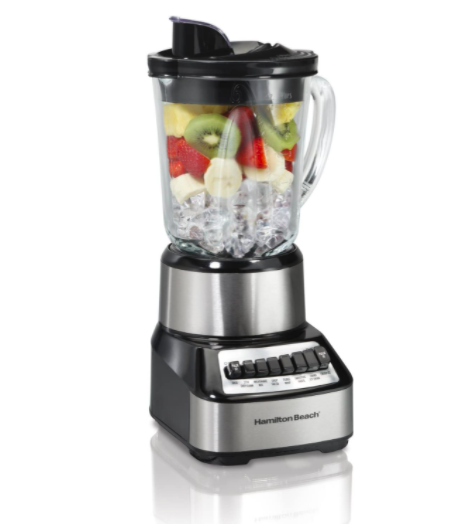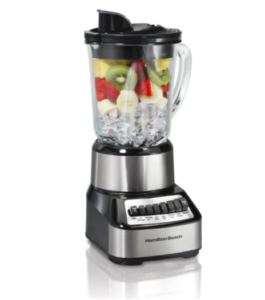 The Hamilton Beach 54221 Wave Crusher is another great blender that we can't leave off our list. This blender comes with a 40-ounce glass pitcher that's on the small side but has a convenient, no-mess spout.
There are fourteen different blend settings on this machine so you can use your device for any situation you can think of. The blender also has a 700-watt motor that uses a wave-action method to force the food down toward the blades.
The biggest issue with this blender is that it has a blade design that causes food to get trapped at the bottom of the blender. Plus, the blades aren't offset which means it doesn't chop as well as some other blenders out there.
Hamilton Beach 54221
Pros
14 different blend settings
700-watt motor
40 oz. glass pitcher
Cons
Poor blade design
Food gets stuck at the bottom of pitcher
6. Blendtec Designer Series Smoothie Blender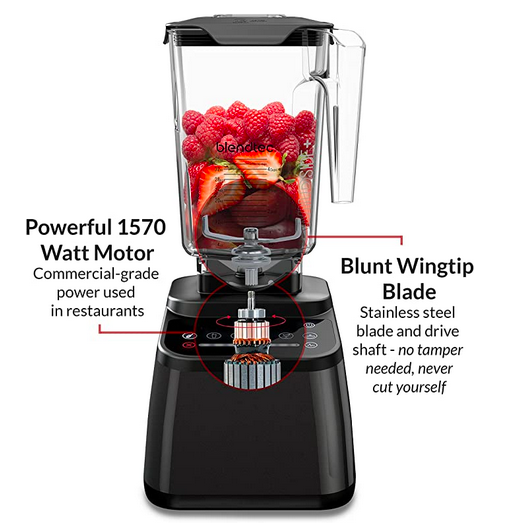 The Blendtec Designer Series Smoothie Blender comes with an absolutely enormous pitcher that's a whopping 90-ounces. This pitcher size is really only appropriate for parties or big gatherings and can feel a little silly if you're blending a single smoothie.
The blender has a fifth side design so that ingredients don't get stuck. And, it has a slightly dull blade that makes it great if you're wanting to whip up ice cream or make dough.
The dull blades are also great for warming soups. And, the blender is easy to clean.
The biggest problem with this blender is that it's too big for practical use. Plus, the dull blades don't chop ice or frozen fruits very well.
Blendtec Designer Series
Pros
Cons
Expensive
90 oz. pitcher is too big
Can't chop or crush ice
7. KitchenAid Diamond Smoothie Blenders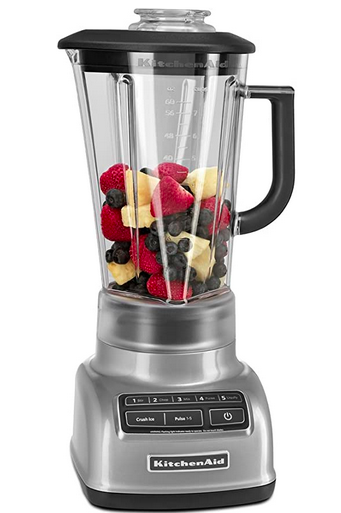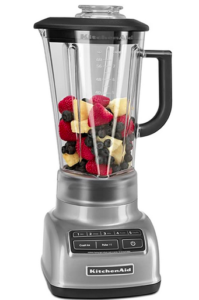 One brand that's famous for creating outstanding kitchen appliances is KitchenAid, and when you see their Diamond Blender you'll immediately understand why.
This blender has sleek, classic styling and comes with a 60-ounce pitcher. The blender can blend multiple smoothies at once but isn't so large that it's inconvenient to create a single drink, either.
KitchenAid's blender has five different speeds you can choose from via a panel on the front of the machine. The buttons are built with a long-lasting and easy-to-clean design.
The base of the blender is made out of die-cast metal, providing tons of stability. Plus, the coupler between the base and the pitcher is reinforced with steel.
You'll also love that there are easy-to-read measurement markings on the pitcher. It's easy to follow pretty much any recipe with this blender thanks to that feature.
Even though the blender is BPA-free and has tons of great qualities, the pitcher's plastic design isn't built to last. Plus, the blades of the machine are tough to clean since they don't come out, so you have to clean around them and try to avoid cuts.
KitchenAid Diamond KSB1575MC
Pros
Die cast metal base
60 oz. pitcher included
Clear measurement markings
Cons
Difficult to clean
Have to push food to blade
The pitcher is plastic
8. COSORI C700-PRO Smoothie-Blender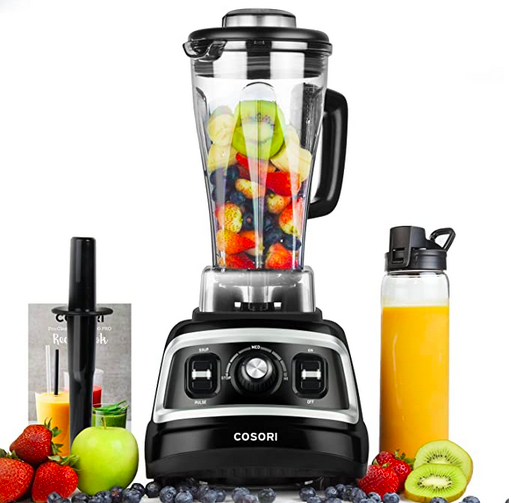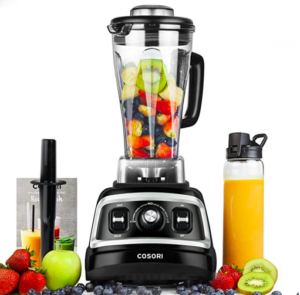 If you want a professional-grade blender that makes creamy smoothies the COSORI C700-PRO Blender is a great choice. This blender has a 1500-watt motor that can chop frozen vegetables and ice without a problem.
The pitcher for this blender is huge, but it's not overly conspicuous meaning it still won't take up too much counter space. The pitcher clocks in at a whopping 70-ounces so that you can blend up everything from simple smoothies to spicy hot sauces for your pasta dishes.
The COSORI C700-PRO doesn't feature buttons for adjusting the power. Instead, you can move the blade speed with a dial knob. That makes it easy for you to select the exact speed you're looking for.
The downsides of this blender are mostly that it only has a single set of blades, making it tough to get a consistent blend for thick ingredients. You'll have to keep pushing the ingredients down into the blender to make sure they get cut properly.
COSCORI Smoothi Blender
Pros
1500-watt super powerful motor
Has variable speeds
Features a large pitcher
Cons
Can't blend thick ingredients
Quickly overheats
Pros
Has variable speeds
Includes a 1500-watt motor
Features a large pitcher
Cons
Can't blend thick ingredients
Quickly overheats
9. Homgeek H22259US Blender Smoothie Maker
Another blender to keep in mind is the Homgeek H22259US Blender Smoothie Maker. This bladder features a hyperspeed design that functions at 25,000 revs per minute and has a 1450-watt motor.
The blender has eight different speeds that you can set using a rotary dial on the front of the device. However, the truth is there's not a whole lot of difference between each of the settings, which can be a bit disappointing.
This blender comes with a huge 68-ounce pitcher. It's quite tall and takes up a fair chunk of counter space, but is great if you're wanting to blend multiple beverages at the same time.
Homgeek Smoothie Blender
Pros
25,000 rotations-per-minute
68 oz. pitcher
Cons
Gets stuck on frozen foods and ice
No variance in speed
Extremely large and clanky
10. Jamba 58910 Blender
Last but certainly not least on our list is the Jamba 58910 Blender. This model isn't a premium blender, but it still has some great features that make it worth mentioning if you're looking for a great blender.
For one thing, this blender features a powerful motor with multiple speeds. You can change the speed of the blender just by moving a knob on the front panel of the machine.
Another great feature is that it has a 64-ounce plastic pitcher. That's large enough to whip up a few different smoothies at a time.
The biggest concern for this blender is that it's not a very durable appliance. The plastic pitcher tends to crack and the motor occasionally sticks on the ice. Plus, the blender gives off an engine smell when it's running and is tough to clean because ingredients get lodged under the blades.
Jamba 58910 Blender
Pros
Powerful motor
64 oz. pitcher
Cons
Jams from ice
Difficult to clean
Can smell the motor
Choose the Best Smoothie Blender in 2022
With this guide to the best smoothie blender in 2022, you'll be able to purchase a blender and start whipping up delicious beverages in no time. Just make sure to choose one of these amazing blenders so you get a great deal.
Did you love this article? Are you looking for more helpful tips, tricks, and guides? Be sure to check out our other articles all about juicing.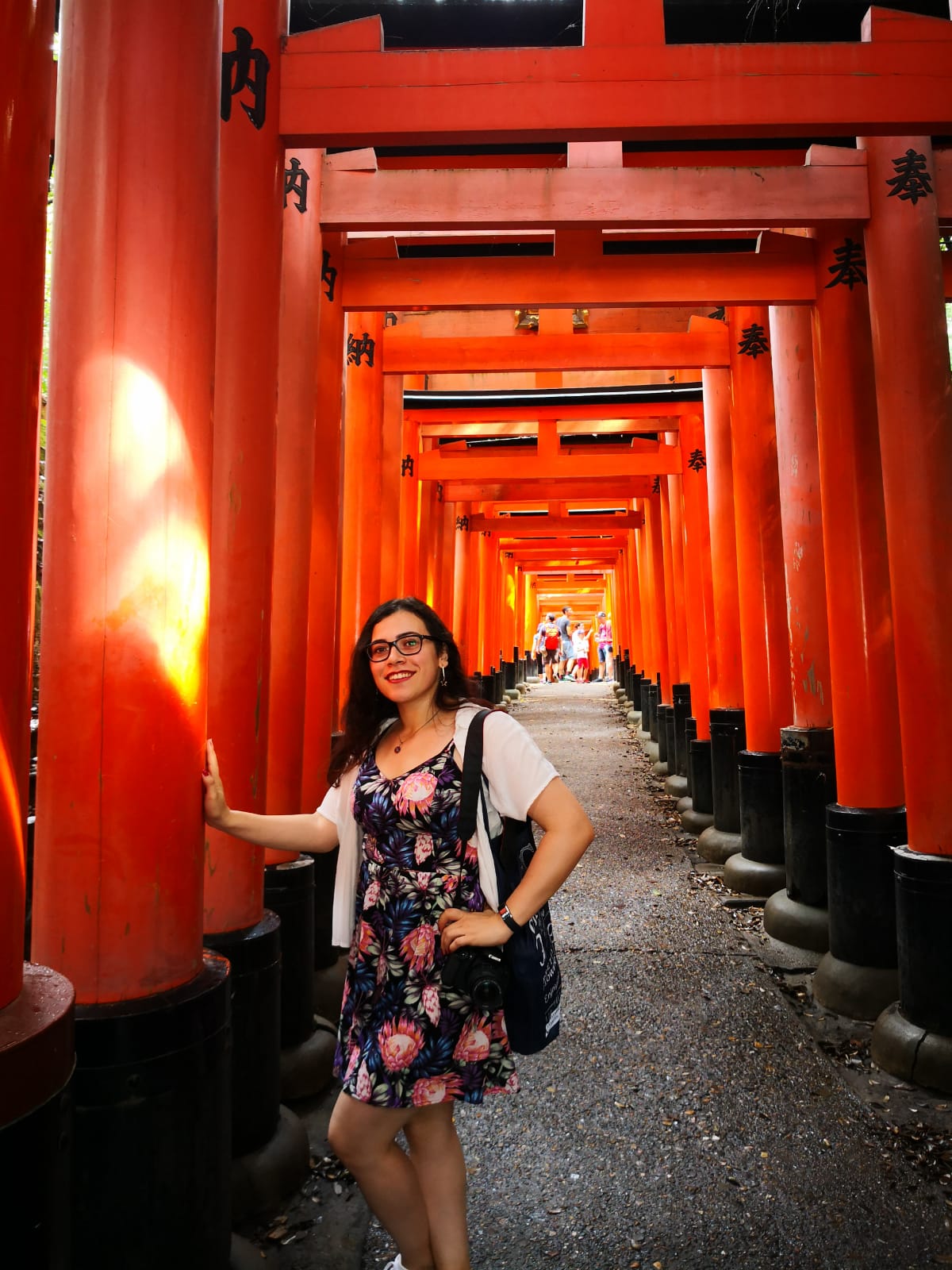 This is Merve from the JarKitchen Team. I am a freelance content specialist, and I like cooking different recipes in my free time. During the pandemic, I have had plenty of time to practice my cooking skills and cooking turned out to be a hobby for me.