You would agree that Taco bell jalapeno sauce is a creamy and delicious sauce. Firstly, you can drizzle it over your already-made burritos, tacos, or chicken quesadillas or serve it alongside dinner. You can have a great first experience with your sauce as this content marks out a step-by-step process. Follow closely, and your preparation will be a complete success.
What's in the Taco Bell's Jalapeno sauce?
From the name of your sauce, Taco Bell Jalapeno Sauce, it is easy to predict that jalapeno is a significant constituent. However, another essential components include various easy-to-get spices and ranch dressing.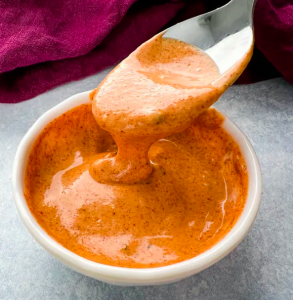 There is always the first trial!
Truly, there is always the first trial when doing anything in life. For instance, people see their first trial as an opportunity to make mistakes, but you do not have to. And this content explains how to get it right from your first attempt.
With this in mind, it is important to note that your bottle of the ranch is a significant ingredient as it shares similar ingredients with creamy jalapeno sauce. However, there is a need for extra spices to get the closest result to Taco Bell Jalapeno sauce. Similarly, you would love it to satisfy your Taco Bell craving.
Ingredients & Recipe
Above all, to cook your well-nourished Taco Bell Jalapeno Sauce, you need the following ingredients, namely;
One tablespoon of pickled Jalapenos (half for fresh pepper)
A cup of Original Hidden Valley Homestyle Ranch Dressing
½ teaspoon of cayenne pepper (ground)
½ teaspoon of paprika
Two teaspoons of granulated sugar
½ teaspoon of onion salt
Three teaspoons of sriracha sauce
1 ½ teaspoon of cumin (ground)
½ teaspoon of onion salt
¼ teaspoon of cocoa powder (unsweetened)
Preparation Time
Do not buy the lie that you need all the time in the world to prepare a delicacy. Consequently, you only need a maximum of ten minutes to prepare your Taco Bell Jalapeno Sauce. With a preparation time always capped at seven minutes and cooking time capped at two minutes, you can have sixteen servings of the sauce.
All you need is to ensure that you have your ingredients available. In the same way, you are seven minutes away from delivering delicious sauce for a nice treat.
As a result, you can enjoy your creamy sauce with chicken quesadillas. You will love every bit of it.
Important tips to keep in mind during preparation
Unlike others, an amazing fact about this sauce is that you do not need to break the bank before you prepare it. Here are some tips that will be additional information for you during preparation.
If you do not have garlic or onion salt, you can employ garlic powder and onion. Also, you can sprinkle a little salt.
You can choose between pickled or fresh jalapenos. Any of the two options will do the job.
Beyond all doubts, Hidden Valley Ranch gives the most desired results you could want for your yummy creamy jalapeno sauce.
Making sure the sauce freezes well is critical.
Preparation Process
Important Note to keep in mind
Not only but also before you proceed, it is essential to note the following;
You can augment the onion and garlic powder by adding an extra ½ teaspoon of salt.
It is essential to use Original Hidden Valley Homestyle Ranch Dressing to get the best result.
With the recommended recipe, you can make about 12 cups of the sauce
The flavor of the sauce will taste better if you allow the sauce to sit better
You can store the rest of the sauce after serving in the refrigerator for up to 2 weeks
Instructions to prepare your Taco bell jalapeno sauce
Preparing your Taco bell jalapeno sauce is the easiest thing to do if you have been following this content thus far. Accordingly, the process includes;
Ensuring all your ingredients are well-blended till it is smooth.
Do not add much water because it is best you have it creamy.
Allow it to cool down before serving to enjoy the optimum flavor.
You can freeze or refrigerate it for about two weeks. In short, do not forget that the longer it takes, the better the flavor. However, do not preserve it for more than two weeks.
Nutritional value
Also, do you want to know what you would stand to gain for every one tablespoon of your jalapeno sauce? Next, here is the breakdown of the nutritional value.
Sodium: 330mg
Vitamin C: 1mg
Calcium: 6mg
Vitamin A: 88IU
Potassium: 14mg
Fiber: 1g
Sugar: 1g
Cholesterol: 5mg
Saturated Fat: 1g
Calories: 76kcal
Fat: 8g
Iron: 1mg
Carbohydrates: 2G
Protein: 1g
Frequently Asked Questions about Taco Bell Jalapeno Sauce
Moreover, as an expert in making this delicacy, here are some frequently asked questions people may have about Taco bell jalapeno sauce.
What is in Taco Bell's Jalapeno Sauce?
Equally important, there are a couple of ingredients in Jalapeno sauce. They are water, soybean oil, buttermilk, jalapeno peppers, dextrose, cage-free egg yolk, chili pepper, garlic powder, onion powder, cocoa powder, minced onion, sugar, paprika, salt, modified food starch, propylene glycol alginate, xanthan gum, lactic acid, propylene glycol alginate, disodium inosinate and guanylate, sorbic acid, citric acid, potassium sorbate, calcium disodium, sodium benzoate, and glucono delta-lactone.
What are the ingredients in Taco Bell'ss Creamy Jalapeno Sauce Recipe?
At length, the ingredients are ranch, jalapeno, paprika, cayenne pepper, sugar, cocoa powder, onion salt, sriracha sauce, cumin, garlic salt, and onion salt.
What is the Taco Bell Quesadilla Sauce?
Similarly, the chicken quesadilla always has chicken, cheese blend, and creamy jalapeno sauce. Basically, you can say the significant sauce of the chicken quesadillas is creamy jalapeno sauce.
One final note
Still, the beauty of learning how to cook may not always be for your consumption. Sometimes, you may want to entertain friends and families on special occasions.
Finally,  you can prepare Taco Bell Jalapeno Sauce to add extra spice to the already-made meals of the day. Without a doubt, everyone would love the other addition.
Interested in more Taco Bell hot sauces? Check out this article on the Taco Bell Diablo Scoville rating.
Hello I am Henry! I am an avid food enthusiast and love putting together recipes from scratch. Some might call me a good cook but I prefer chef, because I create things based on my pallet. Hope you enjoy my writing!