Are you looking for a way to save time in the kitchen, but still create a delicious meal? When it comes to cooking meals, we seem to always be looking for products and resources. We do this to make it easier and less time-consuming. Cooking meals during the holiday time can be daunting for any host family, which is why most opt to search for a large oster roaster oven, to save space on the kitchen counter and time in the kitchen.
Choosing a roaster oven is not always an easy task, as there are so many different brands out there all promising the same great results and great meal quality? The Oster Roaster Oven with Self-Basting Lid: 22 QT, offers a large variety of features to help you minimize time and effort in the kitchen, and it comes at a fairly reasonable price, with a 4.7 rating on Amazon for value for money.
With an overall four and a half star rating on Amazon.com and over 2212 ratings all up, it's easy for this roasting oven to catch your eye over other brands, however, it's important to review all the facts, before purchasing something that might not be ideal for you, your family or situation. The last thing you want to do is order something you don't use, so this review is here to answer any questions before you go making a decision. We also picked the top 10 roaster ovens here for you!
About the Oster Brand:
Oster, is a large and well-known kitchen appliance brand, offering a wide and vast range of merchandise. With the catchphrase "Legendary Performance, Designed to Last", they draw in a huge audience, promising "Performance, Versatility, and Durability". Some of the different products they offer on their main website include:
Blenders and Juicers.
Ovens and Toasters.
Waffle Makers.
Air Fryers.
Juicers.
Snacks and Yoghurt Makers.
Blenders.
Pizza Ovens.
Can Openers.
Bread Makers.
Kettles.
Steamers.
Panini Makers.
Electric Knives.
Food Processors.
And so much more.
The Oster Roaster Oven (22QT), stands out to most individuals, due to its sheer size, which allows individuals to cook large amounts of food for guests, including a 26-pound turkey, with ease. It's basic and chic design suits most homes and can be used to cook breakfast, lunch, and dinner due to its three different cooking options.
Product Specs:
Length 23.3" x Width 15.6" x Height 11.8"
Weight 15.4lb
Cord Length 24" (Can be used with extension cords if required, but not recommended due to safety reasons)
Watts 1450W
Product Inclusions:
Lid
Removable roasting rack
Removable roasting pan
Side handles
Lid rest
Roaster oven body
Indicator light
Temperature control
Buffet server insert
Oster Roaster Oven Pros:
Due to its large quart capacity (22), this roaster oven would be ideal for those who like to entertain guests during the holidays. As mentioned above, it can fit a 26-pound turkey inside, allowing you to serve multiple guests quickly. You won't have to worry about purchasing two turkeys, and there will be no more fears about it not fitting into the oven. The roaster oven size and structure also take up fairly minimal space on the kitchen bench, allowing you to keep your stovetops free, to create more dishes. Some reviewers online who consistently make meals for the homeless and those in need, say that the size of this product is wonderful, and allows them to easily transport food to and from multiple venues without hassle or mess.
One of the main outstanding and well-known benefits of this product is its ability to self-baste. The specially designed lid maintains moisture in the meat by recirculating the air. This saves a huge amount of time, and you won't have to complete the tedious task of hand basting. Oster states that using a roaster over your regular oven can save up to 30% of the time, due to both its cooking ability and self-basting ability.
Whilst also saving your time, Oster states that using their roaster oven will use 36% less energy, compared to an average oven due to its size. This can be a huge selling point, for individuals who want to cut down on their power bills and create less heat in the kitchen whilst they are working.
Another pro for this product is that the roaster oven design itself allows for easy mess-free cleanup. The enamel-on-steel pan and rack are removable, which allows for an in-depth clean so it's ready to use for the next time. This individual model also has an adjustable temperature dial, which allows you to control the cooking experience, depending on your needs. This ranges from 150-450 Fahrenheit. The 'Keep Warm' setting also works to ensure that the food remains at the ideal serving temperature. The stainless steel exterior is also a favorite for customers, as it is said to complement a range of decor.
One of the main pros, of the Oster roasting oven, is its vast versatility when it comes to cooking meals. As mentioned above this model can cook a variety of dishes as it can roast, bake, and slow cook. Some of these dishes you could try include:
Roasts
Biscuits
Meatballs
Cake
Pies
Casseroles
Pasta Bake
Sauces
Cheesecake
Baked Beans
Lasagna
And More!
The cooking options for this are almost unlimited, and many other reviews share their recipes and ideas online, allowing you to be part of a cooking community. One of the pros that Oster shares with us, is the ability to make an easy homemade gravy with the pan drippings. The design of the Oster roaster oven, allows you to easily simmer gravy, and it's mess-free.
Upon purchasing the Oster roaster oven, you will also receive an instruction booklet in the box. Inside this, there is a cooking guide that allows you to see what temperature to set the roaster too, so you can get the best results for different meats and cuts. This includes bone-in ham, tenderloin, meatballs, chicken and more. There are also some recipes included which outline the roasters' different techniques of roasting, baking, and slow cooking. This is great in case you need some ideas.
The price for the Oster Roaster Oven compared to other brands seems standard. However as mentioned above, the oven has a 4.7 rating for value for money, showing that customers do seem happy with the price they pay for the product. Alongside this, it also has a 4.6 accuracy rating and a 4.5 versatility rating.
Oster Roaster Oven Cons:
The cons of this product are listed below:
Quite a large number of online reviews of the Oster roaster oven have stated that they usually have to adjust the temperature dial frequently as it seems to be inaccurate compared to the temperatures stated on the dial. This could be an issue for those who are using the oven for the first time or following a recipe with strict guidelines. Customers have complained about burning food, or not cooking it for long enough.
In the information booklet, Oster states that some countertop surfaces such as Corian are not designed to withstand heat from certain appliances such as the roaster oven. They recommend placing a hot plate underneath the appliance to prevent damage. If you have a certain type of countertop, it is important to check this out before purchasing. Although this may be considered a hassle, this is again common for most products and appliances similar to the Oster roaster oven.
Even though the size of this product may be considered an asset, it is highly possible to overcook a large amount for yourself or your family. Compared to other ovens, users have stated they have had to adjust recipes and grocery shops, so they do not end up with a large number of leftovers. If you are a couple or a single individual, this particular product may be too big for your needs.
Reviews of the product also mention that they have had difficulty getting their turkey to brown and turn crispy. Furthermore to have alternatively had to finish it off in the oven. However, this is a concern that is raised with most roasting oven brands and may have something to do with the overall product design.
One of the main complaints that have risen all over the internet is that the enamel coat that covers the pan is prone to chipping, therefore devaluing the product immensely. One individual stated that after only two uses, the enamel appeared to be dull and looked as if the coating had been burned off. Another stated that when she began washing and scrubbing the pan after its first use. Then the enamel began to flake off, causing her concern for her health. There are many other reviews like this, saying that after a few weeks they begin to see signs of the roaster deteriorating. Also due to its chipping, some users believe that the pan quickly became sharp causing small cuts and abrasions and they eventually returned the product.
When compared to different brands that offer a similar size pan and cooking experience, the price for this product is reasonable, but not exceptional. There are cheaper options out there, but all usually fall around the same price mark if you are after something this size with the self-basting option.
As stated in the information book, the Oster Roaster Oven with Self-Basting Lid offers a 1-year limited warranty, which has quite a few holes in it. For instance, it will not cover any misuse/negligence of the product, use on improper voltage, use contrary to the instruction manual, alteration by the user, and disassembly by the user. The warranty also states that it does not cover any 'Acts from God', including flood, fire, and hurricanes. Although the warranty on this product is not great, it is similar to a lot of other products with similar specs and design qualities.
Pros and Cons Recap of the Oster Roaster Oven with Self-Basting Lid Review
Large Quart Capacity – Ideal for those with a big family, or entertainers.
Saves time with a self-basting lid (up to 30%).
Easy to clean, and take apart.
Adjustable temperature dial
Keep Warm Setting
Able to cook a variety of different meals, including breakfast, lunch, and dinner.
Stainless Steel Design
Instruction booklet with recommendations.
4.7 Value for Money rating on Amazon.com
The temperature dial said to be inaccurate.
Easy to overcook large amounts of food.
Enamel coating prone to chipping and flaking.
It can't be used on certain benchtops.
Struggle to get a turkey to brown and crisp.
1-year limited warranty.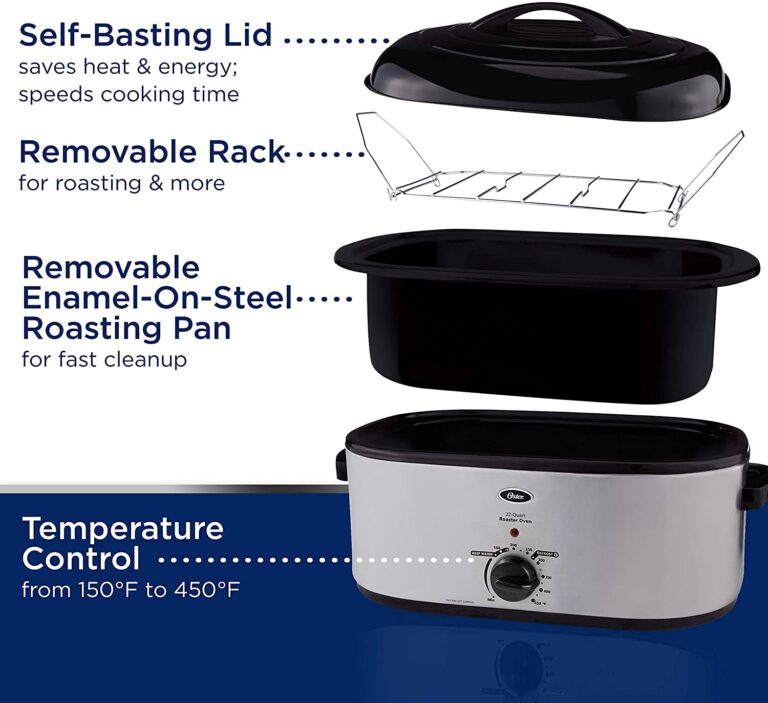 Final Thoughts for the Oster Roaster Oven with Self-Basting Lid: 22 QT
Overall, this product would be perfect for entertainers who host events like Christmas and Thanksgiving. Alternatively, large families or charity workers looking to make a large quantity of food would also benefit from purchasing this product.
The self-basting option stands out compared to other roaster oven brands. Since it saves time in and around the kitchen, and you don't have the hassle of basting by hand. This could entitle you to more time with your family, or more time cooking other meals.
If you are a small family, who doesn't host a lot of events, research smaller models. But do it before handing over the cash for something that could be deemed unnecessary. You could probably find something cheaper, that will suit your family's needs, and you'll be able to follow recipes clearer. The price of this product is reasonable, and most products similar have the same price tag and warranty.
The main default in this product that causes great concern would be the number of reviews of chipping and flaking enamel. When compared to other products, this stands out and should be considered before purchasing.
Again, I would consider this an overall great product. Since it has high reviews online, many people seem to enjoy cooking with it. The Oster Roaster Oven with Self-Basting Lid: 22 QT should be on your list to check out.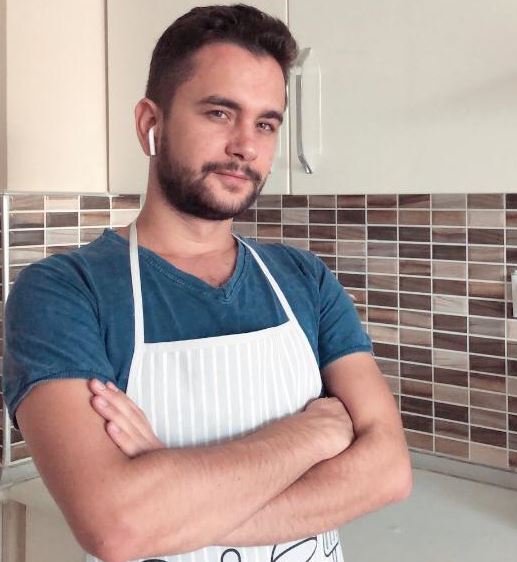 This is Berk from the JarKitchen Team. I am a Mechatronics Engineer and I like cooking in my spare time. By bringing my engineering background into the business, product reviews are a specialty for me. During my travels across Europe, I have learned/tested many recipes and now I plan to bring them to you here!