Pomegranate Juice is one of the healthiest juices to start your day with. Our team at JarKitchen loves to start our day with a fresh glass of pomegranate juice early in the morning. Pomegranate juice is not only delicious, but also rich in antioxidants compared to red wine and green tea (yes, you read that right). Plus it's filled with nutrients that keep you energetic throughout the day, without the need for caffeine. If you're wondering which is the best juicer for pomegranate, you'll find the answer below. Keep in mind one thing as you read – juicing pomegranates is not easy.
It's a challenging task to juice pomegranates. If you've tried it before, then you know the challenging part. Most people who try to juice pomegranate try with many different types of juicers, have have no luck. To get the most out of the pomegranates, you need to find the absolute perfect juicer.
Pomegranate is not a simple fruit to process as it contains a cluster of juicy fleshy, red gem-like seeds inside. In addition, it's not easy to remove the ripe juicy flesh from the seeds; pomegranate is a bit complicated to juice compared to other citrus fruits. That's why the pomegranate juicer market is hot. 
Pomegranate juicers are designed to make your job easy to enjoy your favorite juice with less effort. Drinking fresh pomegranate will hydrate you the entire day, and also keep you healthy with its anti-inflammatory effects. You can learn more about the benefits of pomegranate juice here.
You can squeeze the juice from the pomegranate seeds in an ordinary juicer, but need to strain the juice using the strainer to remove the seeds. Also, the ground seeds can change the taste a bit so be sure to use a tight strainer. Another option is to feed the cluster fleshy seeds in a manual press, and press the seeds with your fingers to extract the juice. However, this option is time-consuming as well as requires intensive labor. But the juice is worth the squeeze 😉
If you love pomegranate juice and like to drink this nutritious juice every morning, then buying top pomegranate juicers is the best option. Manually operated juicers are designed to work with pomegranate and citrus fruits. The best juices will squeeze the juice completely from the seed without mashing the seeds, giving you the best flavor.
Pomegranate Juicing: Features to Look For
If you want to buy a manual pomegranate juicer, then make sure to look for the following features:
Comes with non-toxic plastic components
Safety against acids on the exterior
Food-safe materials, durable, and stainless steel
Appropriately designed handles for simple operation.
Here you can find Top 10 Pomegranate Juicer Reviews that can help you choose your juicer to make fresh pomegranate juice every morning effortlessly.
Zulay Pomegranate Press
Zulay is one the best citrus and pomegranate press that captures all the flesh from the pomegranate seeds efficiently. With Zulay press, you do not have to de-seed the pomegranate before you put them in the juicer. This juicer is faster and more efficient at juicing pomegranates compared to any other top electric juicer available on the market.
The Zulay Pomegranate Press is a tall juice press made of strong cast iron. This professional press extracts the most juice possible and it is one the efficient juicer squeezer. To get the maximum juice from the fruits like pomegranates, lemons, grapefruits, limes, and other fruits, you just need to pull the grip handle down for the quickest and easiest juicing while your hands stay safe and clean.
This commercial graded Zulay press is made of heavy-duty and durable cast iron with a comfortable design. The juicer uses power and gravity to get the perfect job with minimal effort. This is because the lever-action does all the work for you. It can easily crush and squeeze different types of veggies and small fruits comfortably in your kitchen. Now, with this juicer, you can have a glass of fresh juice every morning and keep yourself refresh the entire day. The citrus press squeezes every drop from the seeds of the Pomegranates without mashing the seeds.
The 5-inch diameter cup of Zulay press allows you to enjoy more fruit juices than your handheld juicer. It can easily squeeze different sizes and types of fruit, and it can easily squeeze the largest grapefruit. Now, your family can enjoy the healthy & nutritious juices that you can get from pineapple, apples, pomegranates, key limes, Meyer lemons, Mexican limes, limequats, Rangpur or Tahiti limes, Lisbon or Eureka lemons, from California, Florida, or abroad.
Made of durable and solid cast iron
No need to deseed the fruits like pomegranates before juicing
Comes with a Lifetime Guarantee
Contains extra tall 32oz tumblers below it
Juices citrus and pomegranates fruits like professional
It is a bit heavy and not easy to move around
The juicer topple a bit forwards while juicing
Some customers are not happy with the press handle
With easy clean wipes, you can clean Zulay juicers easily. Some juicers come with a stainless steel strainer cup and dishwasher safe removable parts. In addition, the heavy cast iron juicer comes with rubber feet that keep the juicer firmly in one place and it is the safest and stable citrus press that you can find in the market.
CILIO Juicer
CILIO is an oustanding commercial grade juicer for citrus and pomegranates. It takes every bit of juice and detains the antioxidant power of pomegranate juice. Also, The Press juicer is great for juicing grapefruits, oranges, lemons, and limes easy and fast with less effort, and also, it is easy to clean up. The lengthy handle facilitates greater power to take out the maximum juice from each seed without crushing the seeds. The heavy base and rubber feet offer consistent stability, and it is made of durable cast aluminum. The extractor and funnel are made of stainless steel. All other removable parts of the juicer are completely dishwasher safe and easy-to-use.
To extract the pomegranate juice, place a glass on the base and place half a fruit on the raised Conde and now press the handle down. Cilio is a well-known band headquartered in Solingen, Germany, and it is known for its top-quality workmanship. It is famously known as "The Press" and it is designed to press any fruit from pomegranates to citrus fruits such as grapefruit, orange, and limes.
Cilio "The Press" is also popular for its high-quality tabletop, and comes with serving and other bar accessories. The company stresses a lot on combining functionality and eternal design to bring you top-quality products and these ideas of greatness runs through all parts of their products.
Easy-to-use and easy-to-maintain
No plastic parts, all are made of aluminum
Outstanding fit and finish
Food safe stainless steel
Non-removable parts not easy-to-clean
A bit expensive
With a Cilio Juicer, pomegranate juice extraction is easy as it comes with an extended handle that offers outstanding grip. You do not need to apply a lot of pressure to extract the juice from the seeds. Minimal effort and easy-to-clean up and offers dishwasher safe removable parts.
Best Chef Titan Juicer
Titan is the best commercial graded citrus and pomegranate juicer and it is made of strong zinc alloyed that offers years of daily use. The juicer comes with an extra-large heavy-duty base with leverage cups for extra stability. It also features a stainless steel handle with a rubber shaft for additional leverage when pressing hard to squeeze the juice.
Best Chef Titan is a compact metal juicer and the base and body of the press are painted white. The tough zinc alloy material makes the juicer durable and it allows you to use the press daily without any stress. The rubberized handle grip gives you extra comfort while pressing the seeds. However, this juice press works efficiently with smaller pomegranates.
The juice press contains stainless steel shaft coated with a wide powder coated and funnel for effortless cleaning. Removable parts and funnel are dishwasher safe.
Comfortable rubber handle
Strong and durable zinc alloy construction
Coated with powder coating for quick and easy cleaning
Removable funnel and other parts dishwasher safe
0D
Too Small size for larger fruit
Balance and stability issues
This commercial-grade Titan juice press makes juicing grapefruit, oranges, lemons, limes, and pomegranates easy and fast. All that you need to do is pull down the handle and it squeezes the fruit till the last drop of juice straight into your glass so that you can enjoy freshly squeezed pomegranate juice every day. The zinc alloy construction and the extra heavy base makes pressing easy even with the difficult fruits.
Large Commercial Juice Press by Cookmaster
A large commercial juice press is a high-quality pomegranate juicer best for the home also. It is made of solid cast iron and 18/10 stainless steel. Comfortable rubberized handle that can withstand over 2,300 pounds per square inch (PSI). Cookmaster large commercial is great for squeezing the juice out completely from grapefruits, oranges, lemons, and other fruits. The heavy base gives greater stability and a bigger handle for extra leverage. The funnel and other parts require hand wash.
It is made with stainless steel and cast iron and has a grainy textured surface. However, it has an enamel surface, which makes it the least durable. The rubberized grip handle makes it more comfortable to squeeze the juice.
This commercial grade juice press delivers a freshly squeezed juice any time you want. It provides you cool and refreshing juice and without smashing the seeds. Whether you want to enjoy fresh squeezed grapefruits, oranges, limes, or lemons you can easily squeeze with this commercial juicer and make your morning refreshing and healthy. Removable parts are completely dishwasher safe. The width of the container is 4.75inches, height-28inches, handle down and handle up 15inches and the base is 7inches x 8.5inches.
Enamel protection
All metal construction
Strong and durable
Finishing is lacking
Balancing and stability issues
Does not fit large fruits
Lavohome Commercial Grade Juicer
Lavohome Commercial Grade Juicer makes Pomegranate juice quickly, easily, and cleanly. The long and comfortable rubberized handle produces sufficient force t and gets you every bit of the juice from the fruit as it presses up to 14000 pounds per square inch (PSI). Three Pivot point commercial quality structure facilitates maximum power with minimal pressure used. This commercial-grade juicer is made from solid cast iron, and all the removable parts are dishwasher safe.
The entire device is covered with black and only a few metallic surfaces are visible on this juice press. The parts that crush the fruit are made of stainless steel, while the exterior of the juicer is made of cast iron. Lavohome Pomegranate commercial grade juice can be purchased only from Unique Imports as it is the Trademark of Unique Imports.
All-metal structure
Sleek black appearance
Stable and durable body
Does not work well with large pomegranates
Balance and stability issues
Can-Can Juicer
Can-Can Pomegranate Juicer comes with the most significant features and its bowl diameter is 11.5cm, which can squeeze large grapefruits and pomegranates easily. Furthermore, the machine is very durable and has a long lifespan as it is made of high-grade materials. The juice press has a clamping system so that you can use it extremely anywhere you want, it will be very useful. It can squeeze every bit of juice from the fruit without putting high force for pressing. In addition, even when you put force in pressing, the device does stay stable.
The Can-Can juice press has a bit reddish tint on the cast iron parts of the device, and it shows clearly that it gives precedence to the fruit. You can use the juicer for other citrus fruits, but the strainer made for the Pomegranates and it fair better than any other fruit.
It is easy to clean the juice press you just need to rinse with water soon after you finish juicing. If you are using the juicer for commercial use, then you should know all parts of the juicer are made of either stainless steel or cast iron, and all these parts are dishwasher safe so cleaning is not a problem at all.
Can-can gives you fresh and tasty juice in just a matter of time and you can drink your favorite juice every morning and keep yourself refreshing the entire day. Juicing will be a quick procedure and it will not pain your arms even after juicer a lot of juice for the entire family or customers.
Rubber pads keep the machine stay stable while squeezing the juice
Short handle lessens the pressure that is required for juicing
Only the strainer and the top covering require to be washed often
The height between the base and press cannot be attuned
The strainer portion at the top is wide, which makes the small pomegranates hard to filter the liquid.
Chef Captain Commercial Citrus Juicer
Chef Captain is commercial graded citrus and pomegranate juicer and this professional –quality juice is perfect for home and available in dark gray or black. The juice press is made of stainless steel and cast iron and allows you to juice oranges, pomegranates, lemons, grapefruits, limes, and more. The best thing about this juicer is it leaves the seeds in the strainer core and delivers pure, fresh, and seedless juice. It comes with a heavy base, which gives great stability during pressing and the longer handle offers extra power or leverage. The Chefcaptain manual juicer's funnel parts and cone are easy-to-wash.
Stainless steel and cast iron structures make this juice a popular option and are available at a very affordable price. The enamel finish makes the device more durable and rust-free and allows you to use it regularly for a longer time.
The large ergonomic handle comes with a rubber grip for comfortable usage and the major advantage of this machine is that it allows you to use larger containers at the base. Most other popular juice press allows smaller glasses only. The strainer and funnel can be removed easily for quick cleaning.
Rubber grip on Handles gives you a comfortable grip
Strong metallic construction
Enamel protects the device from rusting
The stability of the base is not enough
Does not work perfectly with Pomegranates
Fit and finish is not as promoted
Hamilton Beach 932 Citrus Juicer
The Hamilton Beach 932 is a manual commercial citrus juice press and it is the best option for your everyday juicing needs. It is designed to deliver pure pomegranate and citrus juices from lemons, limes, oranges, and grapefruits. This commercial model is a standard globally because of its high-performance. This commercial manual citrus juice extractor 932 comes with a handle that leverages up to 2000 pounds of pressure that squeezes maximum juice out of the fruit and reduces skin, pulp, pith, peel, and oil are left in the strainer cone. The funnel and other parts of the device are removable and they can easily be cleaned.
All surfaces are enameled and are acid resistant
High-quality structure, fit and finish
The short handle allows you to press easily
Very efficient at squeezing the juice
However, the manufacturer does not mention explicitly that this juicer is best for pomegranates, but it can be used to extract juice from this fruit and it is one of the best juicers that you can find in the market. The device is designed for commercial use, and it is loaded with advanced features. The body of the device is coated with enamel-coated and it is very durable and acid-resistant. The short handle is provided for extra balance and efficiency.
Kitchen Kraft Commercial Juicer
Kitchen Kraft is a commercial-grade large manual juicer and it gives the best pomegranate juicer experience. This commercial-grade juicer makes juicing oranges, pomegranates, grapefruits, lemons, and limes fast and easy as it offers a quick pull-down mechanism, which squeezes the last drop of juice straightly into your glass, now, you can enjoy freshly squeezed fruit juice any time you want.
Kitchen Kraft is an affordable juicer that comes with an enamel-finish base and a metal body. The device is made of steel and cast iron. It is a simple mechanical device and you do not need to put a lot of force while pressing the handle down, press the handle gently and get every bit of juice without smashing the seeds. The unit parts are easy-to-clean, the removable parts can be cleaned often, and you just need to rinse them in the water every time you use the juicer.
Best juicer for juicing pomegranates
Strong metal body
The unit parts are easy-to-clean
Doesn't extract juice completely
Unstable base
Screws get loosened during regular use
The Pomegranate Juice Press
The Pomegranate Juice Press is an extra-large commercial grade juicer designed for commercial as well as home use. The juice press is made of solid cast iron and steel and contains an enamel-coated acid-resistant base. The components that are used for juicing are made f polished stainless steel, and it comes with a removable funnel and strainer cone for effortless cleaning.
With a fully extended handle, the device stands over 28 inches, and when the handle in the down position, the juice press stands almost 20inches tall. It comes with a 3-pinion lever-action design and weighs 16lbs. The rubber stop and rubber handle allow you to use the device comfortably and they are in the best position and allow you to extract maximum juice from the fruit. It is one of the best and efficient juicers available in the market. Also, it comes with an extra-long foot with rubber feet that stops the device from sliding while juicing.
Skidproof rubber feet
Very strong juicer
Enamel protected surfaces
Well balanced base
Works perfectly well with citrus and pomegranate fruits
Some minor flaws in the design
Messy with pomegranates
Buying Guide for Best Pomegranate Juicer:
The Juicers comes in high-graded stainless steel constructions that are easy-to-use and suites for both commercial and home purpose. The thick, strong, and heavy juicer can deliver your favorite fresh juices year after year, yet it can still look new if you maintain it well.
The juice press is easy to use, you just need to cut a pomegranate and any citrus fruit in halves and place them on the sheet or cone and press down the handle. The juice runs down the funnel and now you can enjoy the fresh juice, free of seeds and pulp. Also, if you want finer juice, then use a mesh filter that will be included in the package.
The 800CPXL stainless steel juicing cone with four fins can easily accommodate large citrus fruits to small fruits like grapefruits to limes and you can put non-citrus fruits like pomegranates. However, it is a bit complicated, to place some of these awkwardly uneven fruits on the top of the cone to get evenly and perfectly squeezed, but you will surely get used to it after some trial and error process.
You should know that there are different types of juice press devices accessible in the market. It is also important to know the details of juicing technology and how it works.
How do juicers work?
Juicers are not complicated devices; they are simple and easy-to-use. The juicers are used to extract juice from vegetables and fruits; they do the job by crushing or shredding them and squeeze the juice.
Many individuals might want to know why they need to drink juice when they can eat the whole fruit and vegetable. Well, drinking juice is the better alternative to eating whole fruits or vegetables because it allows you to have the last drop of juice from the fruit, and also it is easy to digest. However, drinking juice in the morning can be very helpful as it keeps your refreshing the entire day. You will have many health benefits especially when you drink pomegranate and citrus juices every morning.
Different types of juicers:
There are three major types of juicers available in the market that includes:
Centrifugal Juicers
Masticating Juicers
Triturating Juicers
Centrifugal Juicer: Centrifugal juicer contains a flat cutting blade and the fast-spinning strainer is on the bottom. Using the centrifugal force, the cut produce is pressed against the juicing strainer. This leverage separates the juice from the pulp through the juicing strainer.
Masticating Juicer: Masticating juicer does not use blades to slice instead it uses gears to grind. Some of these masticating juicers work on only one gear and they just grind food against hard surfaces and other juicers grind between two gears similar to the meat grinder. The masticating juicer also is known as a slow juicer as it takes a longer time than a centrifugal juicer.
Triturating juicer: It is also called a twin-gear juicer as it contains two gears placed close to each other. The gears rotate to grind and crush the produce when it goes into the machine, and it grinds the food into very tiny particles and extract every bit of juice from the fruit, and pushes the dry pulp out.
Advantages and Disadvantages of the different types of juicer:
Each of these juicers comes with several advantages and a few disadvantages.
Advantages of Centrifugal Juicer:
Contains fewer parts, so it is easy-to-clean and easy-to-maintain
Extracts juice very quickly from fruits and vegetables
A very popular type of juicer available in the market
Occupies less space in your kitchen
Handles softer fruits very well
Disadvantages of Centrifugal Juicers:
Not a perfect option for storing juice
More oxidation as portrayed by the amount of foam
Not the right juicer for extracting wheatgrass or other types of grasses
Advantages of Masticating Juicers:
They are slow juicers, so they can extract every bit of juice from the fruit or vegetable
Preserve more nutrients and less oxidation
Processes frozen fruits also
Perfect choice for baby food, nut butter, as they work as a grain mills
Disadvantages of Masticating Juicers:
Not efficient enough as centrifugal juicers, especially when it comes to extracting juice with less fiber
Contains a lot of units, therefore it takes more time for cleaning and assembling
Contains a smaller feed tube, so you have to cut the fruits before putting into the juicer
A Huge device, which means, it takes more counter space
Advantages of Triturating Juicers:
It is one of the best among all three types as it can extract maximum juice from the fruit
Contains twin gears, which makes it run slower compared to the masticating juicers and that is why it can extract more juice from fruits as well as vegetables
Perfect choice for homogenizing food, also, a perfect option for preparing fruit sorbets, baby foods, and pasta.
Disadvantages of Triturating Juicers:
Expensive compared to the other two types
The slow operation, which means you have to cut the fruits before feeding
The bigger device, therefore, occupies more counter space
What to consider before buying the Best Pomegranate Juicer?
Type of Produce: It depends on the fruits and the vegetables that you want to put your juicer, accordingly you should buy your juicer. For juicy vegetables and fruits like cucumbers, carrots, or oranges, centrifugal juicers are the best option.
If you want to use your juicer for wheatgrass, fibrous roots, and leafy greens like kale, spinach, or collard greens, then buying a masticating juicer is the best option. This slow juicer gives the best nutritional value and high yield. These juicers are also the perfect choice for making baby food, sauces, sorbets, etc.
Nutrient Value: Slow juicers are the best option if you want to have a nutritious juice every morning. The slow juice press devices prevent the produce from oxidizing and heating consequently, it retains the nutritional value of your greens, veggies, and fruits.
Juicing Speed: If you have a very short time to spend on juicing, then it is vital to get fast and sharp-spinning blade devices such as centrifugal juicers, as they are the best choice for people who want quick juice. However, you should know that when you want a quick juicing device, then you should compromise on nutrition value or quality.
Juice Quality: As said before, the higher the juicing speed, the quality of the juice will be lower.
Amount of Yield: Masticating models process the produce very slowly therefore, you will get the last bit of juice from the fruit or veggies. When you notice the pulp, you will know that it has extracted the maximum amount of juice into the glass.
Best Value for Money: Individuals, who feed organic produce in the juicer, surely wants to get the maximum yield and value for money. That is why these individuals prefer Masticating Juicers to feed the organic produce as it squeezes every drop out of the veggies, and they save a lot of money in the long run.
Amount of Noise: Centrifugal Models run on a higher rpm between 5,000 and 15,000 and these models are the noisiest ones, and blender juicers make a lot of noise. In general, the higher the rpm, the nosier the device will be.
Feeding Chute Width: The feeding chute is where you feed the produce, which means it is the mouth of the juicer. If the feeding chute is smaller, then you have to cut the fruit into small pieces. The smaller feeding chute takes smaller pieces so that it can crush them properly without jamming.
Time of Clean up: It is important to find the juicer that requires less clean up. Spending a lot of time cleaning the juicer cannot keep you motivated to use the device. However, the cleaning time on juicers depends on the size, type, and difficulty of the product.
When it comes to the cleaning part, horizontal cold press juicers and twin gear juicers are the most complicated ones and take a lot of time in cleaning up. These two types of juicers contain many parts, but again, it also depends on the brand and each model.
Centrifugal juicers contain lesser parts, but cleaning the mesh screen and cutting the disk can be a tough task. Vertical Masticating type juicers are easy to clean as they do not contain many parts and most of these parts are also dishwasher safe.
Nevertheless, the construction of each device also makes the cleaning process simple for some models and difficult for some juicers.
Ease-of-use: The vertical masticating and centrifugal juicers are considered easy-to-use devices. Also, horizontal dual ager or single auger takes only a few ties to get used to them. In addition, most of these models are easy-to-assemble.
Cost: It depends on the device type, the ban, and the extra features of the device. Mostly, centrifugal juicers are affordable ones, and single and double auger masticating models are available in the market at a very reasonable price.
Warranty Span: Some top manufacturers provide a longer warranty period for their product the warranty can reach up to 15years. If the manufacturers give you a longer warranty period, then you can avoid buying an extended guarantee when you purchase the juicer.
Company Reputation: It is always best to buy your juicer from a reputed company. However, there are many new juicer companies, that are sprouting all the time, but choosing the right product can last longer and allows you to make juices regularly for a longer period. Choose the top brands like Breville, Omega, Tribest, Hurom, GreenStra, and the above-mentioned brands.
Extra Features: Some of the best pomegranate juicer devices come with extra and advanced features like crushing garlic, grinding spices, frozen sorbets, making pasta, and more.
How to Use a Juicer for Pomegranate :
Here you can find seven simple steps on how to use a juicer so that you can start juicing like a professional.
Get the produce ready
Clean them properly and pat it dry before putting in the juicer
Take out your juicer, plug it in, and turn the switch on. It is advisable to read all the instructions carefully before using the machine.
Feed the produce into the machine, and the juice will be collected into the container
After juicing is finished, turn the machine off
Remove the pulp from the strainer
Clean the used units, and clean the screen and small parts carefully
Additional Information:
How Much Juice Is In One Pomegranate?
Well, it depends on the size of the pomegranate, a large size pomegranate contains about ¾ cup of juice.
Can You Juice Pomegranates?
Yes, it is easy to juice pomegranates in juicers. It takes only a few minutes to make homemade pomegranate juice. Drinking pomegranate juice every morning not only gives you good health but also keeps you refreshing all through the day. Pomegranate juice is a delicious and healthy drink as it is loaded with nutrients and antioxidants.
How Many Calories Are in Pomegranate Juice?
In one cup of pomegranate juice, you may acquire around 140 calories only.
Can you feed Whole Pomegranates in a Juicer?
No, you cannot feed the entire fruit in a juicer. You need to cut the fruit in two halves if you are using a juice press. However, if you are using a hand crank juicer or an electric juicer, you have to deseed the pomegranate before juicing them.
Conclusion:
Pomegranates are not easy-to-juice and easy-to-strain. The tough surrounding walls and the exterior cover the small edible seeds that make the extraction a bit difficult for many juicers. The manual juicers are popular devices for pomegranates. Most manufacturers make their juicers capable of extracting the last drop from the seeds, which is why the manual juices are compatible with pomegranates. Automatic juicers are mostly citrus juicers but some of them are capable of squeezing pomegranate juice.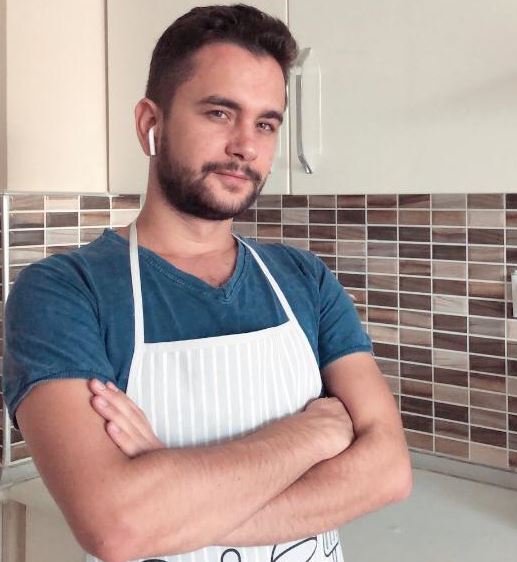 This is Berk from the JarKitchen Team. I am a Mechatronics Engineer and I like cooking in my spare time. By bringing my engineering background into the business, product reviews are a specialty for me. During my travels across Europe, I have learned/tested many recipes and now I plan to bring them to you here!