Especially during the pandemic, we, humans, have started to change the way we live. We are at home gaining all those calories from every junk food we have or for every food that we plan to cook, but not cook eventually because staying at home for months has drained our energy. If you have been exercising, of course, you need to watch out for your protein intake. In this article, we go into detail about Nutribullet for Protein Shakes.
In order to establish a healthier lifestyle, we need to do more exercise. Exercise is the key factor in surviving this pandemic with a healthy body. As Mustafa Kemal Ataturk once said, a healthy mind is with a healthy body. Therefore, make sure that you do 15 to 20 minutes of exercise per day. Trust me, it will keep you fresh and strong during the day. As your body adapts itself to your exercise routine, you will start to see some more changes. You will be able to wake up more comfortably, get a night of quality sleep, and not feel tired every time you eat something.
While doing sports or exercise, it is very important to get enough protein in your body. Protein is very important for muscular maintenance and muscular hypertrophy. There are various ways to take protein into your body which you can do easily by consuming protein-rich foods. If you do not have the time to cook real food, you can of course use protein shakes to feed your muscles with the protein it solely needs. If you want to add some extra flavor and ingredients to that shake, you surely need a blender. You are in the right place because we are going to talk about some blender action!
Nutribullet Protein Shakes
But first, let us talk about what to blend right? If you are looking for a premium protein shake, Optimum Nutrition is the choice for you. It is one of the best brands out there selling sports supplements. Supplements include protein powders, casein, creatin, etc. Our recommendation is with the Optimum Nutrition Gold Standard 100% Whey Protein Powder. It is going to supply you with the protein you need.
Nutribullet Rx Reviews
I have got to admit though, Nutribullet had to play their trump card, Nutribullet Rx to be able to properly compete against brands producing blenders like Vitamix and Blendtec. Nutribullet Rx is a powerful blender with many functionalities that can easily blend your protein shakes.
Pros
Lucky for Nutribullet, there are a lot of things to say about this particular blender as positive. Reviews are mostly positive and impressive. It can easily crush and blend any ingredient you throw at it including frozen berries, protein shakes, and ice. It can also break down the smallest of seeds thanks to its deadly blades. (Deadly for the ingredients of course!)
A 1700Watt motor gives life to this powerful blender. Thanks to it, it can blend green smoothies (which are high in fiber, best blended with chewing/masticating juicers) and soups. Some liquids like water, milk, or fruit juices are necessary for the blending operation. The reason for this is, that Nutribullet Rx does not have any pulse feature, mechanism, or tamper to get rid of any materials that are stuck within the container.
Blender's ease-of-use comes from the easily detachable container. You can start the blending, detach the container, and take it with you. You might be headed to the gym, to work, or even staying at home. say goodbye to Blender dishes!
Nutribullet has made some enhancements to the models that came before. The drive socket is now made out of metal which enables the blender to work more steadily and become more durable. Especially when compared with its plastic-made counterpart.
Cons
Now it is time for the cons. Do not get me wrong, the product is already awesome. The biggest downside is that the Nutribullet Rx does not have any on/off switch. If you are blending with less liquid, ingredients might get stuck in the container, requiring you to pull the container off its base, shake and reinsert. Shake well! and reinsert.
You might hear a grinding noise coming out of the gears if you try to remove the cup or pitcher at a slight angle. Do not do this, as this may cause wear and tear over time. This is of course within acceptable limits most of the time but, do not overdo it. This also resets the automated timer within the machine.
Another important downside of this product is the manual tightening tool. For a blender of this quality, you would not expect such a hurdle. You will constantly need to use the manual tool for moving the ingredients around in the jar.
Best Blenders for Protein Shakes
You are here to find a blender for the Protein shakes right? You are lucky because we also review the 3 best blenders for Protein Shakes as well. Let us have a look at the top 3, shall we?
Nutri Ninja Protein Shake Blender – Overall Best Choice
The Nutri Ninja Protein Shake Blender is the first item on our list. With it, you can blend just anything you want. A 900Watt motor powers this beast, which is also one of the best motors out there. With the price of this product in mind, you will be amazed by how powerful this motor is, that you will think that this is an industrial-grade blender.
The blades in this beast are made to crush and chew any ingredient that you throw at it, so you will definitely not have a problem while blending your protein shake.
Nutri Ninja Protein Shake Blender comes with two cups that serve as blending containers. After blending, you can use the change the blade cap with the travel cap. So that you are always ready to drink your protein shake on the go. The two cups also vary in size, one of them being an 18-ounce cup, while the other one being a 24-ounce cup. It is totally up to you which one to choose or which one suits your blending needs.
One downside of this beast comes from the motor in it. It is really loud. That's why you might have to reconsider before buying this blender to blend protein shakes or protein powder if you are blending at places where you do need to be silent. If you are wondering how to reduce blender noise or maybe some quiet blenders, be sure to check our article about quiet blenders. Long story short, if you are looking for a blender to blend some protein shake, this is the best overall choice for you.
Hamilton Beach 51103 Blender – High Price/Performance Ratio
Are you looking for a blender that excels in price/performance ratio? Then, Hamilton Beach 51103 Blender is the right one for you.
This blender is the best blender you can find on a budget if you want to make protein shakes. Hamilton Beach 51103 can easily make protein shakes but it kind of lacks the performance for your other blending needs. It has a weak motor inside, which will not be enough to crush the hardest ingredients you can put in it. If you decide to buy this blender, know in advance, that you need to do some pre-processing on the ingredients you use (chopping in smaller parts).
The downside is that this blender comes with only one lid. However, this should not be a problem if you consider the price of it. It easily meets the expectation while having the price in mind.
NutriBullet NBR-1201 Protein Shake Blender
This model of NutriBullet gives you the possibility to blend the nicest of protein shakes and the freedom of mind if you want to blend more stuff with it. It comes with three types of blades which are used for various ingredient types like hard vegetables, ice, fruits, and protein powder. Well, protein powder is a very easy to blend ingredient but still, it rocks the best of protein shakes. Having three different cup sizes enables you to blend just the exact amount you want to blend.
The motor of NutriBullet NBR – 1201 is a 600Watt motor. It can easily handle frozen ingredients and ice which you may choose to blend with your favorite protein powder. A downside of this product is, that it is not very durable. It has a tendency to start leaking after using it for a long time in its lifespan. This blender can also directly leak after the purchase. It seems NutriBullet has to pay more attention to its quality control department 🙂
Nutribullet Milling Blades
Just what is special about the Nutribullet milling blades? Let us have a closer look.
In order to maximize the blending efficiency of the blender, the design of the milling blades is very important. Nutribullet reaches maximum blending efficiency thanks to its milling blades.
This blade type is known for its 2 pronged((forks/jags) blades, which is called the milling blade. As you can also understand from its name, it excels in milling grains mostly. It is also very good for chopping herbs nuts.
Nutribullet Extractor Blades
Nutribullet Extractor Blades are good for extracting that delicious juice from any ingredient that you throw at it. Well, since ice can also be an ingredient, it is safe to assume that water is actually the juice of ice! 😛
There are two types of blades for Nutribullet. This blade type has four prongs(forks/jags). This type of blade is known as the extractor blade. Extractor blades excel in breaking tough ingredients like thick vegetable stems, seeds, and hard fruit/vegetable skins. They are the best option if you want to juice some fruits or vegetables with varying shell hardness. Since extractor blades are good at breaking ingredients, they can also crush ice and nuts. If you want to make a green smoothie, this might be the best blade option for your NutriBullet blender.
Conclusion
In this post, we have reviewed the brand NutriBullet for protein shakes and reviewed other blenders too in case you want to consider other options to make protein shakes. Protein shakes are a very easy way to feed your body with enough protein during the day, after a workout, or pre-workout. Of course, you can also add some peanut butter to it to enhance the nutritional value of the sake. Making a green smoothie is also an easy task with these blenders. Is style an important thing for you? Then you should definitely have a look at the Best Juice Bottles, which you can also use to store your protein shakes. It will show how classy you are at the gym.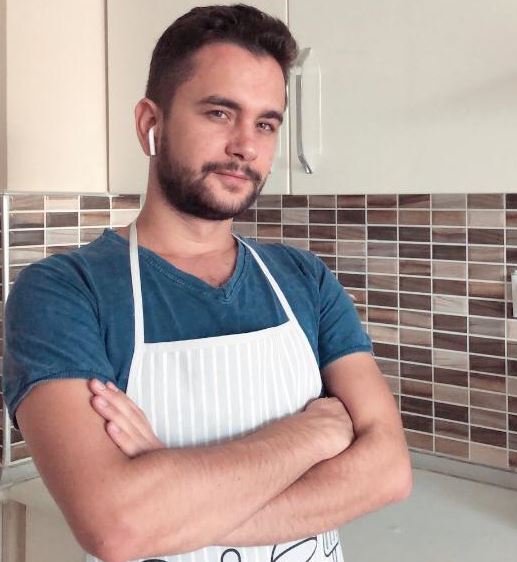 This is Berk from the JarKitchen Team. I am a Mechatronics Engineer and I like cooking in my spare time. By bringing my engineering background into the business, product reviews are a specialty for me. During my travels across Europe, I have learned/tested many recipes and now I plan to bring them to you here!