It has been 6 months since I have bought a blender of my own and I have been enjoying every smoothie I have made so far. It holds a great place in my kitchen. There is actually no limit to the things you can make with a blender. You can make smoothies, soups, and even knead some dough with them! Of course, this blender is not a blender that you can knead some dough with but Farberware Single Serve Blender will do just fine for your basic blending needs! What is good about single serve blenders is, that they are so fast. For example, a smoothie in the morning will not only give you the energy you require in the morning, but it will also supply you with some of the nutrients your body needs. For example, if you want to know how the daily value looks like after eating some berries, you can have a look at our article on can you juice berries. We as the JarKitchen team as always continue to provide you the best product reviews.
What is a single serve blender?
If you are looking for a cheap blender, this blender just might be the right option for you. It is small, fast, and cheap and will tend to your blending needs just easily. This is actually the advantage of these blenders. Farberware also looks very cool and will be a good-looking accessory in your kitchen.
What is the best single serve blender?
You might be wondering the answer to this question. In our opinion, Farberware is the best one. It is powerful and small in size, it will give you exactly what you expect from a single-serve blender.
What brand is good for blender?
The history of the Farberware brand is actually pretty old. It goes back to 1900 and was founded in the amazing city of New York. With more than a hundred years of experience in the kitchen industry, it can easily be said that the blenders they produce are of high quality and durability. Following a customer-oriented service, and being users themselves, they always keep the customer in mind. Now it is time to take a look at the Farberware Blender.
What is the best blender 2020?
It is impossible for a blender to be good at everything. There are many aspects to take into account like price, power, design, functionalities, etc. However, in our opinion, Breville Super Q is the best blender in 2020. While Vitamix Venturist 1200 is the best luxury blender and Ninja Professional Plus Blender with Auto-IQ ⁠is the best budget option for you.
Farberware Single Serve Blender 17 Piece Set Review
Farberware Blender is one of the best single serve blenders out in the market. It is a very versatile machine, that can easily handle a lot of tasks thanks to its accessory set. Furthermore from the price perspective, you will be amazed how cheap this product is especially if you know how efficient it blends. So, do not worry about the price.
Let us say, that you are willing to make a portion of lentil soup so that you can warm your belly before going to work on a cold winter morning. I really enjoy eating soup in the morning, it gives you the instant energy you require in the morning because the food is in a liquid form. Liquid foods are digested very easily and fast, making them a perfect breakfast! As a customer, I want to be able to blend many things with my blender.
This small beast can easily puree soups, slice ingredients like fruits and vegetables, mix some cocktails, and blend stuff, meaning you have many options to choose from.
Design and Material
The design of this blender unique and looks so stylish. Just like an apple product. It is basic, but also elegant. You can merely turn it on by twisting the cap on the base. It has a stainless-steel base which makes it a strong kitchen accessory. Thanks to this strong base, it can stand on your kitchen counter firmly and will not move around like some other blenders. Farberware blender comes with strong blades as well, it can easily crush ice. So you will not need to go to Starbucks every time you crave Berry Hibiscus.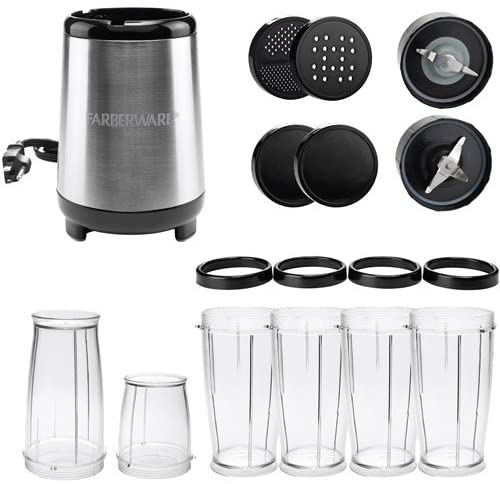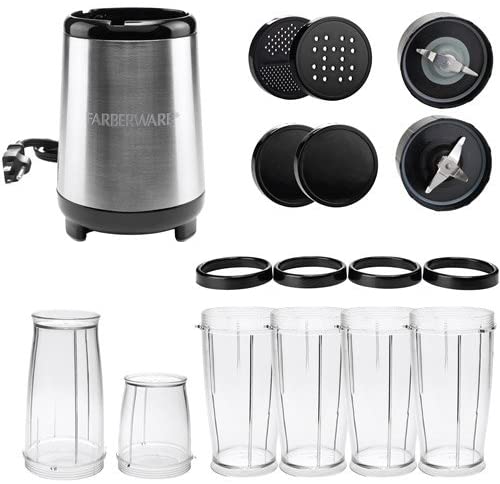 Operation and Power
One big advantage of this blender is that it has a very powerful motor inside that. That is why previously in this post, I called it a small beast. It is equipped with a motor of 240 watts. When a small size meets such a powerful motor, it can easily handle any tasks and ingredients you throw at it.
Ease of Use
This one is actually the most important factor for this blender. It is very easy to use! Furthermore, it is also very easy to clean. All the parts of the blender are dishwasher friendly, of course except the motor base. Do you blending and throw the parts in the dishwasher for some easy cleaning. It is also easy to use from another aspect because it comes with many accessories. You can just change the combination of the cups and blades so that the machine fits your exact needs. It comes with 2 blades for either chopping or blending. Further accessories include 4 rings, 4 lids, 1 small cup, and 5 small cups. So there are many options you can go with. Especially if one of those options will help you make a cocktail.
How do you use the Farberware Single Serve Blender?
It is really important to know how the machine works and what you must do to avoid any possible damage it may cause to you.
To use the Farberware Blender, put the ingredients in the cup, stick it to the motor base, and twist the cap to start blending. It is actually that easy. However, there are some things that you need to keep in mind before using the Blender.
Avoid contact with the moving parts
Do not operate in damp areas or outdoors
Run the blender only when the lid is in place
Close supervision is needed if children are using it
Blades are very sharp, be careful
Do not blend warm ingredients, especially liquids.
Do not operate if the plug or cord is damaged. You might get electrocuted
As also stated in this article before, DO NOT put the motor base in a dishwasher. It is not water-resistant
Always make sure the cup is correctly in place and tightened before operating
Do not forget to unplug the device when not operating, taking off pieces, or before cleaning
Are expensive blenders worth it?
This is a very tricky question.
If you ask me, I am neither a hardcore blender fan nor a hardcore juicer fan. But there are some people out there that have to blend ingredients. If you have a baby and you do not want to give her prepared foods, the best option would be to make a fruit puree. For those people it is especially important that the blender is of high quality, meaning the material has to be of high quality and the product must be very durable because it is going to be used multiple times a day. For hardcore blenders or juicers, expensive blenders are worth it.
However on the other hand, if you like enjoying the occasional smoothie or soup once or twice a week, then expensive blenders should not be worth it. It does not need to be very durable, it is not necessary to have quality material for the blender.
One simple fact is, it is totally up to you to decide.
What is the quietest blender?
Some blenders can be particularly noisy. That is because they have really strong motors inside and when it starts to blend all the ingredients in it, it will of course get noisy in the kitchen. However, there are some ways to prevent that from happening. For example, you can get a soundproofing casing to reduce the noise being emitted by the motor. Or you can also lay a towel underneath the blender to reduce the noise as well. However, there are some blenders specifically designed to be quiet. If you are looking for some quiet blenders, you should totally check out our Top 10 Quiet Blender Reviews to get informed how quiet blenders work and what can you do to make yours more silent.
Conclusion
Farberware Single Serve Blender has many advantages and fewer disadvantages. It has a very great price/performance ratio. The price of this thing is low if you consider how many things this small beast can do. It has many extra accessories, so you can change the equipment so that the machine fits exactly what you need. You can use it to make purees, smoothies, soups, and even small cocktails on the go before you leave home.
Be sure to check out our other reviews on juicers, blenders, ovens, and coffee makers. Here is an article for you if you like fruit juice 🙂 Best Pomegranate Juicer Reviews!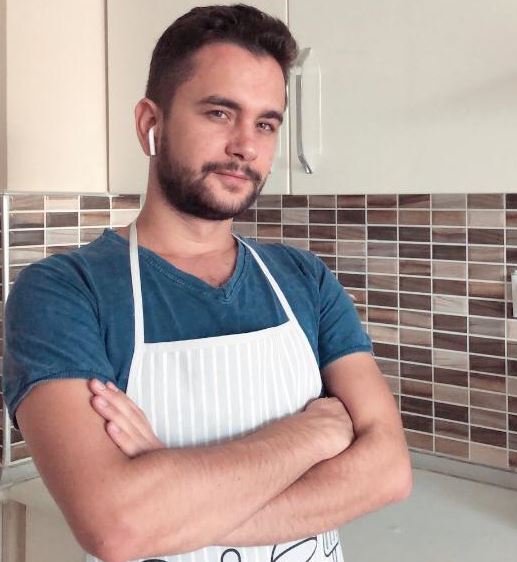 This is Berk from the JarKitchen Team. I am a Mechatronics Engineer and I like cooking in my spare time. By bringing my engineering background into the business, product reviews are a specialty for me. During my travels across Europe, I have learned/tested many recipes and now I plan to bring them to you here!