"Feel Alive!" Blair's famous motto. If you like burning alive, I promise that you will love this atomic bomb. Anyhow the hotness doesn't hit you immediately. First, it spreads in your mouth, then when you swallow it, that's the moment you FEEL ALIVE! Your neck will burn and then your nose will join. When you see the Scoville Scale, it all makes sense. It is 550.000!! As a chef, I have tried many hot sauces at my home and restaurant. You can always find a recipe for Sriracha Sauce but what about this deadly Blair's Mega Death Sauce? To be honest, we couldn't find any recipe, it really is not that easy… And then it has popped into our minds "Let's create a homemade recipe and research this friend."
Having a Look at Blair's Mega Death Sauce
Nutrition Facts
Blair's Mega Death Sauce does not contain any fat, carbohydrate, or protein. Since this sauce does not contain any fat it also doesn't contain any calories from fat. It does contain 105 mg of sodium and Vitamin C ( %4).
Flavor
The bottle definitely says "I will burn you" with its skull. When you taste it your eyes will be the same as the skull's eyes. You will see the planets and stars. The ingredient list of Blair's Mega Death Sauce consists of Habanero Chillies, Cayenne Chillies, Ancho Chilies, Chipotle Chilies, Natural Chilli Extract (contains soybean oil), Vinegar, Salt, Molasses, Water, Fresh Ginger, Guava Puree, Onion, Corn Starch (modified), Xanthan Gum, Spices, Ascorbic Acid (Vitamin C). I want to talk about something about this product.
Normally when you taste or smell like this kind of hot sauces, you can't always find any dept because of the hotness. As I said the Scoville Scale is 550.00. That means it should conquer your mouth and feelings with fire. But it doesn't completely. When you open the bottle you can actually smell the ginger. Molasses momentarily masks the dominant habanero, cayenne, and chipotle and then they come together. Molasses, fresh Guava, and the sweet side of Habanero Peppers shine together and the ginger  -some say that the ginger flavor is too strong in the original recipe but when it's diluted, all the flavors sit- brings everything up to a new level.
Heat Balance
Our shining fire lord is Natural Chilli Extract. This ingredient is the main reason for your burning throat. This sauce is over 100 times hotter than Jalapeno pepper. So we recommend that you should use this product diluted. Flavor-wise; If you dilute Blair's Mega Death Sauce with some tomato paste or any other tropical fruit paste and add some fresh herbs at the end of your cooking, YOUR DISH WILL GO SOME OTHER LEVEL BECAUSE OF THE UMAMI FLAVOR! I will give you some Kitchen 101 Tips on my "RECIPES" part.
Blair's Mega Death Sauce Score on Amazon – Out of 5 –
| | |
| --- | --- |
| Aspect | Score |
| Warmth | 4.9/5 |
| Packaging | 4.6/5 |
| Thickness | 4.6/5 |
| Value for Money | 4.6/5 |
| Flavor | 4.4/5 |
Note: I've read most of the reviews so I really needed to add my own opinion. This sauce is no joke. So if you use Blair's Mega Death Sauce like a dipping sauce to your chips or your shrimp cocktails you will mostly feel the heat and lose all the other flavors. If you use this product as a food additive with the right flavor matching and with the right technique, you will enjoy the result.
What is the Difference between Blair's Mega Death Sauce "Liquid Fury" and After Death Sauce "Liquid Rage"?
There are a few different things between Liquid Rage and Liquid Fury. After Death is 2 notches down from Mega Death. There is a Sudden Death between them.
Blair's After Death Scoville Unit: 50.000
Blair's Sudden Death Scoville Unit: 105.000
(Most Powerful) Blair's Mega Death Scoville Unit: 550.000
In addition to this, the ingredients are a bit different than each other. While Blair's After Death Sauce contains lime juice concentrate Blair's Mega Death Sauce does not contain lime juice. 
Did you know that not all hot sauces can be assessed using Scoville Heat Units? Check our article on Wasabi Scoville Heat Units to find out!
Should I add water before I pour the bottle? Is it too thick?
Blair's Mega Death Sauce does not come running out of the bottle. Consistency-wise it is in the middle. Not too thick, not too liquid. You just need to shake the bottle before you use it.
Is there any Kosher version of Blair's Sauces and Snacks?
It has not certified as "Kosher". It looks like they discontinued the "Kosher" version around 6 years ago.
Is Blair's Mega Death Sauce the hottest sauce of this brand?
No, it is not. Blair's Mega Dead Sauce's Scoville Unit is 500.000. There is also Ultra Death Sauce and that one is more dangerous. Ultra Death Sauce's Scoville Unit is 800.000. Also, the ingredients are a bit different. Ultra Death Sauce contains tomato puree, Naga Jolokia peppers, and Pirri-Pirri Chilies.
Homemade Mega Death Sauce Recipe
Since we could not find the exact recipe we just created our homemade version. Let's see what are the ingredients for our sauce.
Ingredients
| | |
| --- | --- |
| Ingredients | Amount |
| Water | 0.5L |
| Guava Nectar | 0.5L |
| White Vinegar | 2L |
| Peppers (Habanero, Cayenne, Ancho, Chipotle | 3Kg |
| Garlic Cloves | 10 |
| Molasses | 3Tbsp |
| Ginger (Grated) | 15 Grams |
| Salt | – |
| Spices (Coriander Seeds, Mustard Seeds, Cumin Seeds) | 1Tbsp each |
| Lime Juice (Optional) | – |
| Lime Zest (Optional) | – |
Homemade Mega Death Sauce Ingredients
Instructions
Get all the ingredients in a pot and heat it up until the liquid comes to a boil. Turn off the heat and let it sit for about 2 or 3 minutes. Make sure that the temperature does not go below 70 degrees Celsius.
Put the mixture into a food processor and blend it until it gets a silky smooth texture.
Transfer puree into a large container. Cover container with plastic wrap or some lid and place into a cool dark location for about 3 to 5 days. Stirring once a day. In this way, we will get fermentation. When you see bubbles on the surface, just be happy, we are getting close.
You can use your Mega Death Sauce right away or you can also strain your sauce through a fine-mesh strainer. Thereby you will get rid of the pulp.
Check the seasoning, consistency, and flavor. Transfer your sauce to jars or bottles and refrigerate.
Alternatively;
I am a huge fan of smoky flavor therefore I will recommend this. You can also smoke your peppers at your home easily. I mean if you have a wood-fire oven or cold smoke gun it's wonderful but actually, there is no need for that. You just need to fire up your stove and cook/smoke your peppers on the open fire and then continue your process.
Kitchen Tips!
The original recipe does not contain lime juice or zest. But if you add lime zest besides lime juice it will give the sauce more elegant freshness, citrus flavor, and smell.
Louisiana Style Fried Chicken With Homemade Mega Death Sauce
Since we have our homemade hot sauce what should we cook? FRIED CHICKEN IS THE RIGHT ANSWER! Here is the list of simple ingredients to cook amazing snacks for your beer.
Ingredients
| | |
| --- | --- |
| Ingredients | Amount |
| Buttermilk | 2 Cups |
| Mega Death Sauce | 1 Cup |
| Cayenne Pepper | 1Tbsp |
| Garlic Cloves (Grated) | 1 |
| Garlic Powder | 1Tsp |
| Smoked Paprika | 2Tsp |
Louisiana Style Fried Chicken Ingredients
Ingredients for Pimenton Smoke Paprika Variation
| | |
| --- | --- |
| Pimenton(smoked paprika) | 2Tbsp |
| Onion Powder | 1Tsp |
| Fryer Chicken | 2.5 Pounds |
1/2 Package Shore Lunch-Classic Fried Chicken Mix (instead of this mixture you can also use any bread crumbs or Panko/Japanese Bread Crumbs)
Note: The USDA defines a fryer chicken as between 7 and 10 weeks old and weighing between 2 1/2 and 4 1/2 pounds when processed.
Instructions
Mix all the ingredients in a bowl except chicken, breading mixture, and one-third of your Mega Death Sauce.
Add the chicken pieces, cover with plastic wrap, and refrigerate for about 12 hours to 15 hours.
Remove your chicken from the refrigerator and also remove them from the buttermilk marination. Shaking off the excess.
Over medium-high heat, warm oil to 350°F (175°C), using a kitchen thermometer to test oil temperature.
Add the breading mixture to a container or plastic bag and then put your chicken to the breading mixture. Toss to coat.
Gently place chicken into your preheated oil. Cook it for about 15 minutes. When the internal temperature reaches 165ºF (75ºC) -make sure about the temperature, otherwise, salmonella can cause food poisoning- remove it from the oil and let it rest on the kitchen towel.
Brush the fried chickens with the remaining of your Mega Death Sauce and serve immediately.
Conclusion
This Blair's Mega Death Sauce is for everyone whether you like heat or not. When we use this product with the right amount and right flavor-matching it will make us happy. It's time to get your hands dirty and spicy. We hope you liked this article and hope you will also enjoy the result. See you in another post.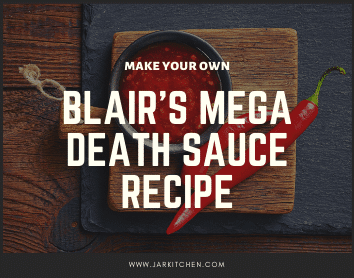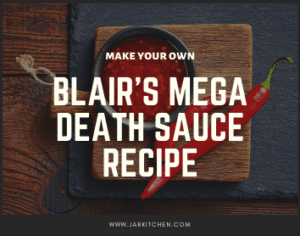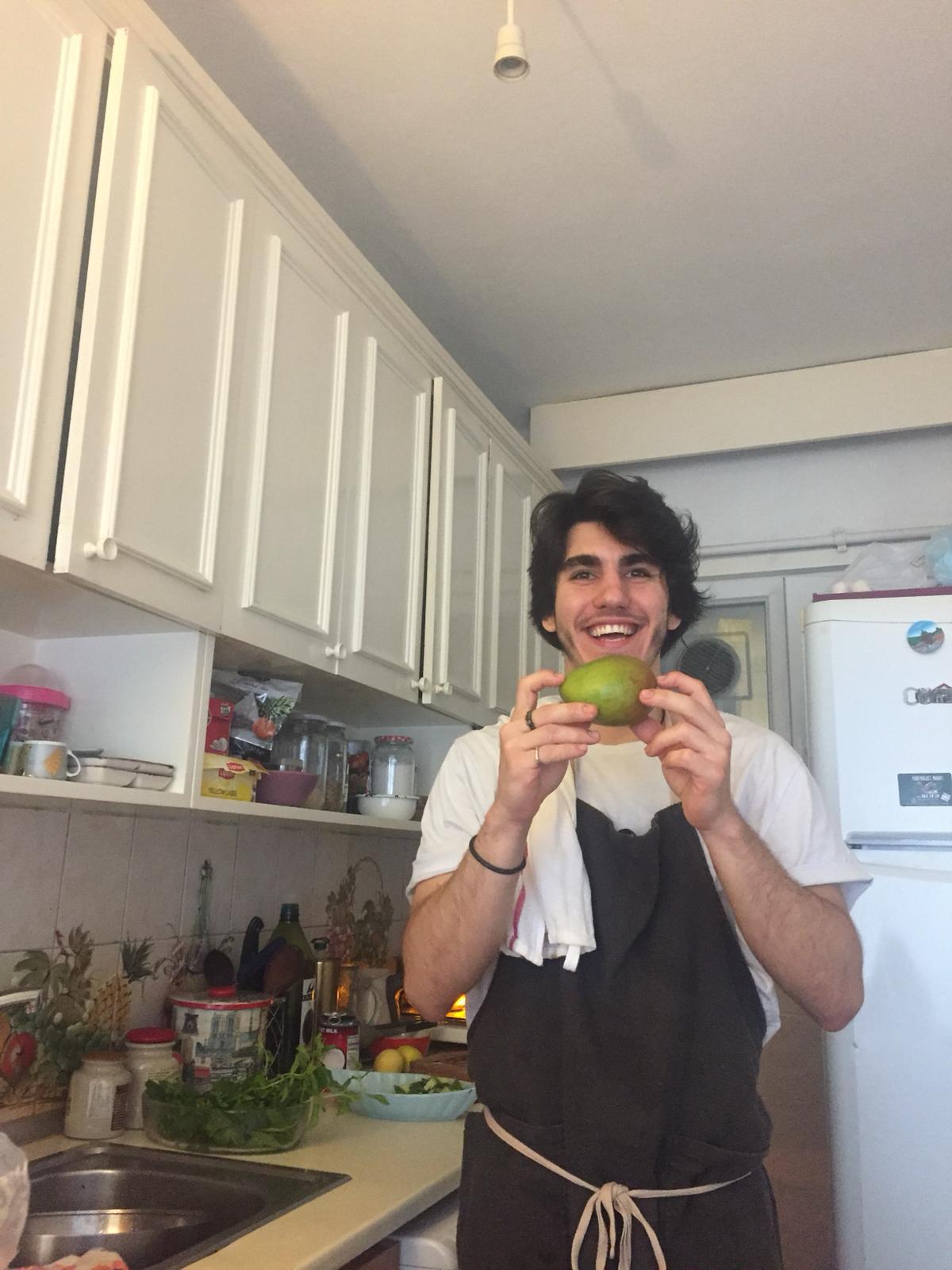 This is Pamir from the JarKitchen team. I am a chef who really likes cooking, learning, sharing. I believe cooking and eating is not just about flavor,flavor-matching, or need. It has a deeper meaning for me. At the end of the day, we are what we eat. Let's learn, cook, share, and evolve together.